Cameras in the Courts
The Radio Television Digital News Association is proud to present this comprehensive guide to state and federal laws regarding cameras in the courts. (Updated Nov. 2022)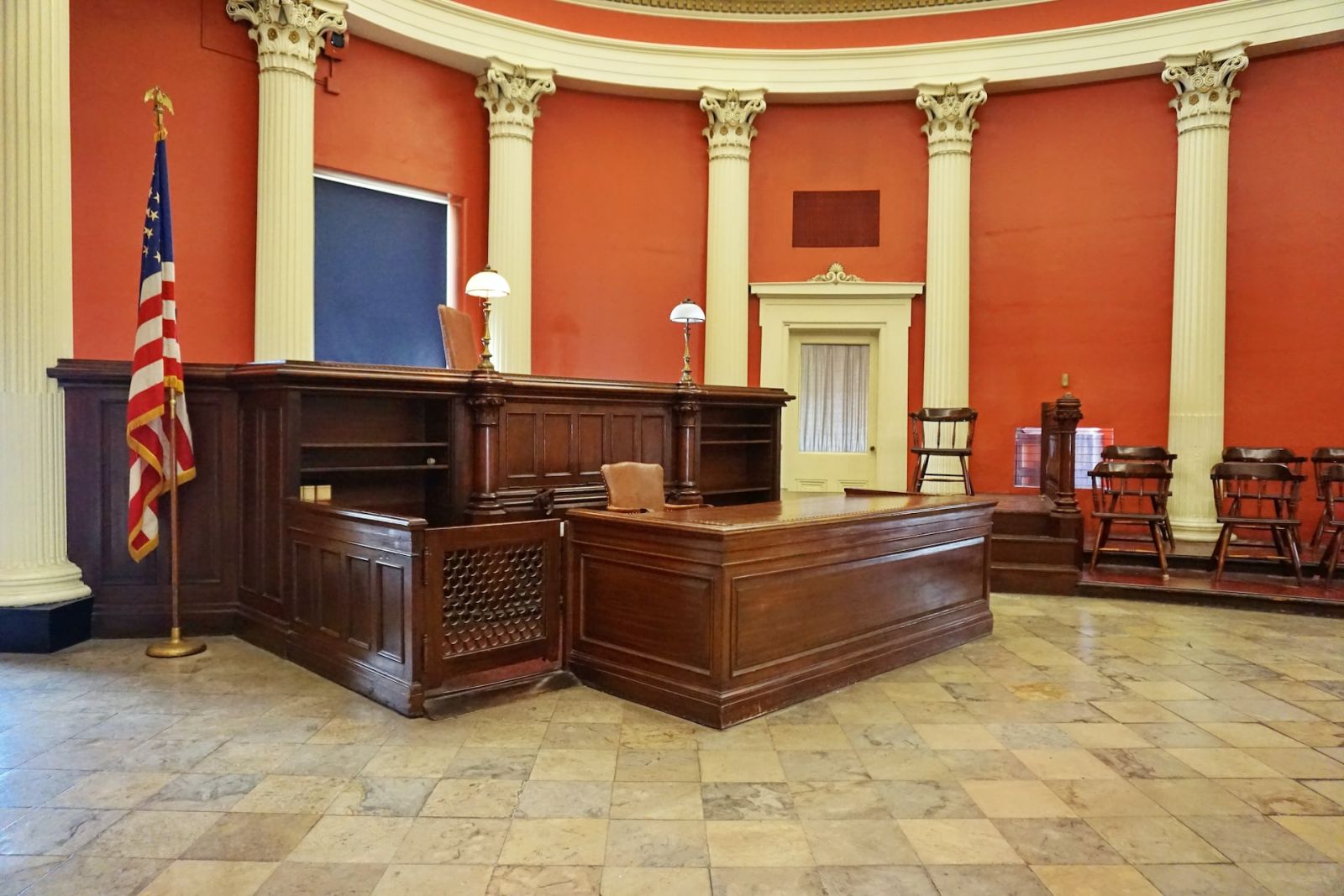 Nearly every state in the union has provisions to allow the media to use video cameras and microphones in courtrooms in some circumstances. In some, cameras are a routine sight at the trial court level. In others, on the state's appellate courts or supreme court have cameras, operated by the courts themselves. For the members of the media, understanding the rules and procedures in your state is necessary to provide the best and most complete coverage of your government's judicial branch in action.

RTDNA is the nation's leading advocate of opening courtrooms at all levels to electronic media coverage and works with newsroom and court leaders across the country to develop clear and fair rules to allows journalists and judges to best serve the people. To assist members of the media in understanding current court rules and procedures, we have developed the RTDNA Cameras in the Courts State By State Guide. Included here are the most current policies from each state, with links to relevant resources and complete details.

The RTDNA Cameras in the Courts State By State Guide is produced in cooperation with the Washington, DC law firm of Wiley Rein, LLP. It was developed by RTDNA Counsel Kathleen Kirby, Associate Kathleen Scott and Associate Ashley Criss. The current version was completely revised in late 2022 and is updated as laws and rules change. For questions regarding specifc rules in your state, please follow the links provided in each state section. If you believe the rules in your state are being overlooked or incorrectly applied, RTDNA may be able to help. Please contact us if you need assistance.
State Guide
Click below to find the guide for your state
Federal Guide
State
Alabama
Allows Cameras? Yes, with permission
Exceptions? None
Audio or Video Webcast? No
Media Guide Available? Yes
Allows Cell Phones to Record Video? No, but judges can authorize on a case-by-case basis
Alaska
Allows Cameras? Yes, with permission
Exceptions? Sexual assault victims (unless the victim agrees), jurors, minors (unless charged as adults in a criminal case), and bench conferences 
Audio or Video Webcast? Yes
Media Guide Available? Yes
Allows Cell Phones to Record Video? No
Arizona
Allows Cameras? Yes, with permission
Exceptions? Juvenile Court, jury proceedings, and bench conferences 
Audio or Video Webcast? Yes
Media Guide Available? Yes
Allows Cell Phones to Record Video? No
Arkansas
Allows Cameras? Yes, with permission
Exceptions? Closed proceedings, circuit court juvenile proceedings, circuit court probate and domestic violence proceedings, and drug court proceedings 
Audio or Video Webcast? Yes
Media Guide Available? No
Allows Cell Phones to Record Video? No
California
Allows Cameras? Yes, with permission
Exceptions? Los Angeles Superior Court, San Francisco Superior Court, and Orange County Superior Court
Audio or Video Webcast? Yes
Media Guide Available? Yes
Allows Cell Phones to Record Video? No
Colorado
Allows Cameras? Yes, with permission
Exceptions? Closed proceedings
Audio or Video Webcast? Yes
Media Guide Available? Yes
Allows Cell Phones to Record Video? No
Connecticut
Allows Cameras? Yes
Exceptions? None
Audio or Video Webcast? Yes
Media Guide Available? Yes
Allows Cell Phones to Record Video? No
Delaware
Allows Cameras? No
Exceptions? Non-jury, non-confidential proceedings where presiding judge grants limited permission
Audio or Video Webcast? Yes
Media Guide Available? Yes
Allows Cell Phones to Record Video? No
District of Columbia
Allows Cameras? No
Exceptions? Request permission to take photographs
Audio or Video Webcast? Yes
Media Guide Available? Yes
Allows Cell Phones to Record Video? No
Florida
Allows Cameras? Yes
Exceptions? None
Audio or Video Webcast? Yes
Media Guide Available? Yes
Allows Cell Phones to Record Video? Yes, with permission
Georgia
Allows Cameras? Yes
Exceptions? None
Audio or Video Webcast? Yes
Media Guide Available? Yes
Allows Cell Phones to Record Video? None
Hawaii
Allows Cameras? Yes, with permission
Exceptions? Closed proceedings
Audio or Video Webcast? Yes
Media Guide Available? Yes
Allows Cell Phones to Record Video? No
Idaho
Allows Cameras? Yes, with permission
Exceptions? Closed proceedings
Audio or Video Webcast? Yes
Media Guide Available? Yes
Allows Cell Phones to Record Video? No
Illinois
Allows Cameras? Yes, with permission
Exceptions? Supreme Court Orders grant permission in some courts
Audio or Video Webcast? Yes
Media Guide Available? Yes
Allows Cell Phones to Record Video? Yes
Indiana
Allows Cameras? Yes, with permission
Exceptions? Each trial court has its own unique policy
Audio or Video Webcast? Yes
Media Guide Available? Yes
Allows Cell Phones to Record Video? No
Iowa
Allows Cameras? No, but can request permission
Exceptions? Closed proceedings
Audio or Video Webcast? Yes
Media Guide Available? Yes
Allows Cell Phones to Record Video? No
Kansas
Allows Cameras? Yes, with notice
Exceptions? Closed proceedings
Audio or Video Webcast? Yes
Media Guide Available? No
Allows Cell Phones to Record Video? No, but presiding judge can grant exceptions in specific cases with advanced notice 
Kentucky
Allows Cameras? Yes, with permission
Exceptions? Juvenile court
Audio or Video Webcast? Yes
Media Guide Available? No
Allows Cell Phones to Record Video? No
Louisiana
Allows Cameras? No
Exceptions? Appellate courts upon request
Audio or Video Webcast? Yes
Media Guide Available? Yes
Allows Cell Phones to Record Video? No
Maine
Allows Cameras? Yes, with permission
Exceptions? Family Division cases and trade secret subject matter 
Audio or Video Webcast? Yes
Media Guide Available? Yes
Allows Cell Phones to Record Video? No
Maryland
Allows Cameras? Yes, with permission
Exceptions? Criminal trials
Audio or Video Webcast? Yes
Media Guide Available? Yes
Allows Cell Phones to Record Video? No
Massachusetts
Allows Cameras? Yes, with permission
Exceptions? Motions to suppress, dismiss, or of probable cause; jury selection hearings
Audio or Video Webcast? Yes
Media Guide Available? Yes
Allows Cell Phones to Record Video? Yes
Michigan
Allows Cameras? Yes, with permission
Exceptions? None
Audio or Video Webcast? Yes
Media Guide Available? Yes
Allows Cell Phones to Record Video? No
Minnesota
Allows Cameras? Yes, with permission
Exceptions? Only notice is required for appellate courts
Audio or Video Webcast? Yes
Media Guide Available? Yes
Allows Cell Phones to Record Video? No
Mississippi
Allows Cameras? Yes, with notice
Exceptions? Closed proceedings
Audio or Video Webcast? Yes
Media Guide Available? No
Allows Cell Phones to Record Video? No
Missouri
Allows Cameras? Yes, with permission
Exceptions? Closed proceedings
Audio or Video Webcast? Yes
Media Guide Available? Yes
Allows Cell Phones to Record Video? No
Montana
Allows Cameras? Yes, with notice
Exceptions? Closed proceedings
Audio or Video Webcast? Yes
Media Guide Available? No
Allows Cell Phones to Record Video? No
Nebraska
Allows Cameras? Yes, with permission
Exceptions? Coverage is prohibited in specific proceedings as listed in Article 20, § 6-2003(F).
Audio or Video Webcast? Yes
Media Guide Available? Yes
Allows Cell Phones to Record Video? No
Nevada
Allows Cameras? Yes, with permission
Exceptions? None
Audio or Video Webcast? Yes
Media Guide Available? Yes
Allows Cell Phones to Record Video? No
New Hampshire
Allows Cameras? Yes, with notice
Exceptions? Supreme Court proceedings require express permission
Audio or Video Webcast? Yes
Media Guide Available? Yes
Allows Cell Phones to Record Video? No
New Jersey
Allows Cameras? Yes, with a signed agreement and permission
Exceptions? Juvenile court
Audio or Video Webcast? Yes
Media Guide Available? Yes
Allows Cell Phones to Record Video? Yes, with permission
New Mexico
Allows Cameras? Yes, with notice
Exceptions? None
Audio or Video Webcast? Yes
Media Guide Available? Yes
Allows Cell Phones to Record Video? No
New York
Allows Cameras? Yes, with permission
Exceptions? None
Audio or Video Webcast? Yes
Media Guide Available? No
Allows Cell Phones to Record Video? No
North Carolina
Allows Cameras? Yes, in designated media booths
Exceptions? Closed proceedings, presiding judge can exempt booth requirement and maintains discretion to close court proceedings regarding juvenile matters and involuntary commitment matters 
Audio or Video Webcast? Yes
Media Guide Available? Yes
Allows Cell Phones to Record Video? No
North Dakota
Allows Cameras? Yes, with permission
Exceptions? None
Audio or Video Webcast? Yes
Media Guide Available? No
Allows Cell Phones to Record Video? No
Ohio
Allows Cameras? Yes, with permission
Exceptions? None
Audio or Video Webcast? Yes
Media Guide Available? No
Allows Cell Phones to Record Video? No
Oklahoma
Allows Cameras? No rules
Exceptions? None
Audio or Video Webcast? No
Media Guide Available? No
Allows Cell Phones to Record Video? No
Oregon
Allows Cameras? Yes, with permission
Exceptions? Cases involving family law and juveniles, trade secrets, and sex offense proceedings (at the victim's request)
Audio or Video Webcast? Yes
Media Guide Available? Yes
Allows Cell Phones to Record Video? Yes, with permission
Pennsylvania
Allows Cameras? No
Exceptions? Non-jury, non-confidential proceedings where presiding judge grants limited permission
Audio or Video Webcast? Yes
Media Guide Available? Yes
Allows Cell Phones to Record Video? No
Rhode Island
Allows Cameras? Yes
Exceptions? None
Audio or Video Webcast? Yes
Media Guide Available? Yes
Allows Cell Phones to Record Video? No
South Carolina
Allows Cameras? Yes, with permission
Exceptions? None
Audio or Video Webcast? Yes
Media Guide Available? Yes
Allows Cell Phones to Record Video? No
South Dakota
Allows Cameras? Yes, with permission
Exceptions? None
Audio or Video Webcast? Yes
Media Guide Available? Yes
Allows Cell Phones to Record Video? No
Tennessee
Allows Cameras? Yes, with permission
Exceptions? Closed and juvenile court proceedings
Audio or Video Webcast? Yes
Media Guide Available? Yes
Allows Cell Phones to Record Video? No
Texas
Allows Cameras? Yes, with permission
Exceptions? None
Audio or Video Webcast? Yes
Media Guide Available? No
Allows Cell Phones to Record Video? Unclear
Utah
Allows Cameras? Yes, with permission
Exceptions? None
Audio or Video Webcast? Yes
Media Guide Available? Yes
Allows Cell Phones to Record Video? No
Vermont
Allows Cameras? Yes, with registration
Exceptions? None
Audio or Video Webcast? Yes
Media Guide Available? Yes
Allows Cell Phones to Record Video? Yes, with permission
Virginia
Allows Cameras? Yes, with permission
Exceptions? Closed proceedings, in addition to juvenile court and matters involving family law, sexual offense, and trade secrets
Audio or Video Webcast? Yes
Media Guide Available? No
Allows Cell Phones to Record Video? No
Washington
Allows Cameras? Yes, with permission
Exceptions? None
Audio or Video Webcast? Yes
Media Guide Available? Yes
Allows Cell Phones to Record Video? Unclear
West Virginia
Allows Cameras? Yes, with permission
Exceptions? None
Audio or Video Webcast? Yes
Media Guide Available? Yes
Allows Cell Phones to Record Video? No
Wisconsin
Allows Cameras? Yes, with notice
Exceptions? None
Audio or Video Webcast? Yes
Media Guide Available? Yes
Allows Cell Phones to Record Video? Yes, with permission
Wyoming
Allows Cameras? Yes, with permission
Exceptions? None
Audio or Video Webcast? Yes
Media Guide Available? No
Allows Cell Phones to Record Video? No
Federal
First Circuit
Allows Cameras? No
Exceptions? None
Audio or Video Webcast? Yes
Media Guide Available? No
Allows Cell Phones to Record Video? No
Second Circuit
Allows Cameras? Yes, with notice 
Exceptions? Criminal matters and civil or criminal pro se proceedings
Audio or Video Webcast? Yes
Media Guide Available? Yes
Allows Cell Phones to Record Video? No
Third Circuit
Allows Cameras? No
Exceptions? None
Audio or Video Webcast? Yes
Media Guide Available? No
Allows Cell Phones to Record Video? No
Fourth Circuit
Allows Cameras? No
Exceptions? None
Audio or Video Webcast? Yes
Media Guide Available? No
Allows Cell Phones to Record Video? No
Fifth Circuit
Allows Cameras? No
Exceptions? None
Audio or Video Webcast? Yes
Media Guide Available? Yes
Allows Cell Phones to Record Video? No
Sixth Circuit
Allows Cameras? No
Exceptions? None
Audio or Video Webcast? Yes
Media Guide Available? No
Allows Cell Phones to Record Video? No
Seventh Circuit
Allows Cameras? No
Exceptions? Oral arguments, with permission given by the court only after receiving a request for video recording at least one week in advance 
Audio or Video Webcast? Yes
Media Guide Available? No
Allows Cell Phones to Record Video? No
Eighth Circuit
Allows Cameras? No
Exceptions? None
Audio or Video Webcast? Yes
Media Guide Available? No
Allows Cell Phones to Record Video? No
Ninth Circuit
Allows Cameras? Yes, with permission
Exceptions? Conferences between attorneys and clients, co-counsel, or among panel members
Audio or Video Webcast? Yes
Media Guide Available? Yes
Allows Cell Phones to Record Video? Yes, with permission
Tenth Circuit
Allows Cameras? No
Exceptions? None
Audio or Video Webcast? Yes
Media Guide Available? No
Allows Cell Phones to Record Video? No
Eleventh Circuit
Allows Cameras? No
Exceptions? None
Audio or Video Webcast? Yes
Media Guide Available? No
Allows Cell Phones to Record Video? No
District of Columbia Circuit
Allows Cameras? No
Exceptions? None
Audio or Video Webcast? Yes
Media Guide Available? No
Allows Cell Phones to Record Video? No
Federal Court
Allows Cameras? No
Exceptions? None
Audio or Video Webcast? Yes
Media Guide Available? No
Allows Cell Phones to Record Video? No