Boyd Huppert Honors Father, Salutes Hard Work in John F. Hogan Speech
Date posted
October 12, 2023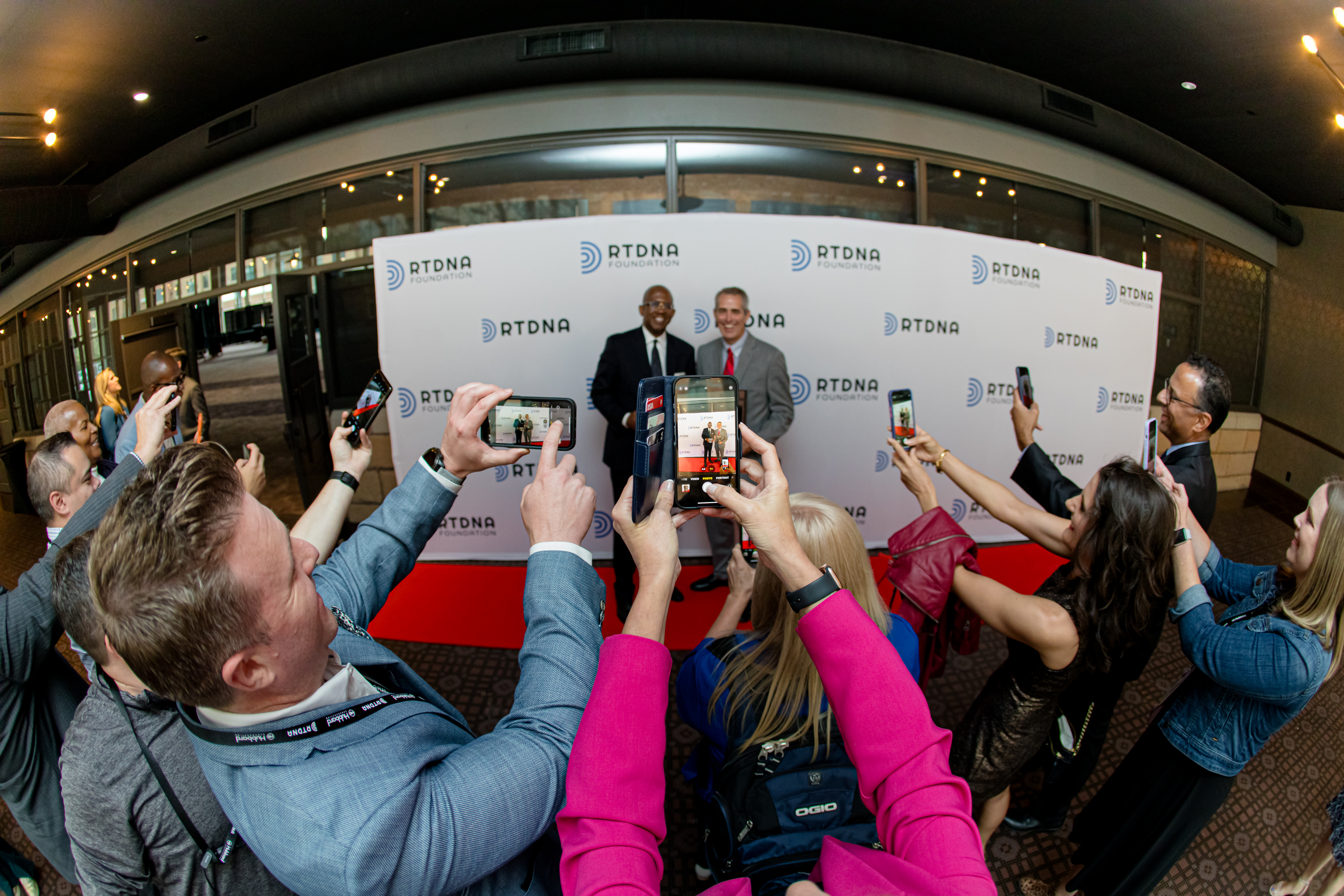 Boyd Huppert keeps a picture of his father, Andy, on his desk at KARE11 in Minneapolis. Andy Huppert was a dairy farmer. He milked 50 cows on 200 acres of land, where Boyd was raised in rural Wisconsin.
"My dad was in the barn every morning at 5 o'clock and it was rare for him to be back in the house before 8 o'clock at night," Huppert said during his acceptance speech for RTNDA's John F. Hogan Award on Sept. 21 in Minneapolis. "For those math challenge journalists like me, that's a 15-hour day."
The photo on Huppert's desk was taken at harvest time, "the busiest time of the year." Andy Huppert was unloading corn, his clothes were filthy with dust — so dirty, you no longer could read the name of the corn seed company on his hat.
"And he was smiling," Huppert said. "Not just a grin, but the kind of smile that says there is no place on Earth that I would rather be at this moment."
If you choose your career wisely, Huppert's father taught him, work and happiness walk hand in hand.
Huppert is a notoriously hard worker, who routinely makes time for the extra interview or hurries for that extra shot. His days often start before sunrise and end after sunset, with icy sojourns on Minnesota's roads in between as he tries to tell the next great story.
That work ethic, that dedication has made him a local TV legend — the winner of 24 national Edward R. Murrow Awards — and the 2023 recipient of the John F. Hogan Distinguished Service Award. He accepted the award at RTDNA23 in Minneapolis, his home at KARE for 27 years now.
Named for the founder and first president of RTDNA, the John F. Hogan Distinguished Service Award recognizes an individual's contributions to the journalism profession and freedom of the press.
"I can't even begin to state how appreciative I am for this honor," Huppert said, looking out at an RTDNA23 crowd that included many of his KARE and TEGNA coworkers.
It is the second time this year that Huppert has been recognized by RTDNA; he earned the Lifetime Achievement Award from the RTDNA Foundation in March at the First Amendment Awards.
Beyond his work at KARE, Huppert serves as the National Storytelling Coach for TEGNA, the owner of KARE, where he imparts his extensive knowledge and expertise to the 49 newsrooms under TEGNA's umbrella. His dedication to sharing his craft has extended beyond the United States, as he has conducted numerous visual storytelling workshops both domestically and internationally. Before joining KARE, Huppert has worked at WITI-TV in Milwaukee, KETV in Omaha, NE, and WSAW-TV in Wausau, WI.
Two years ago, Huppert was diagnosed with multiple myeloma. It has not stopped him from telling impactful stories in the Land of 10,000 Lakes. He joked that he hopes RTDNA doesn't view this "as some sort of parting gift."
"Because I'm not done," he said, "and as long as there are stories out there about people … I still have more work to do.
"And when I'm out there on the road and it's been the the occasional 15-hour day with a little bit of dust on my shoes from a gravel road and a smudge on my khaki pants from a fast food cheeseburger eaten in the car … you'll always know that I'll be smiling."
(Photo: BP Miller / Chorus Photography)
Watch Huppert's full remarks below: