Paul White Award
Named for the first news director of CBS, the Paul White Award is RTDNA's highest honor and recognizes an individual's lifetime contributions to electronic journalism. The Paul White Award is presented annually at RTDNA's conference.
2023 Recipient: Pierre Thomas, ABC News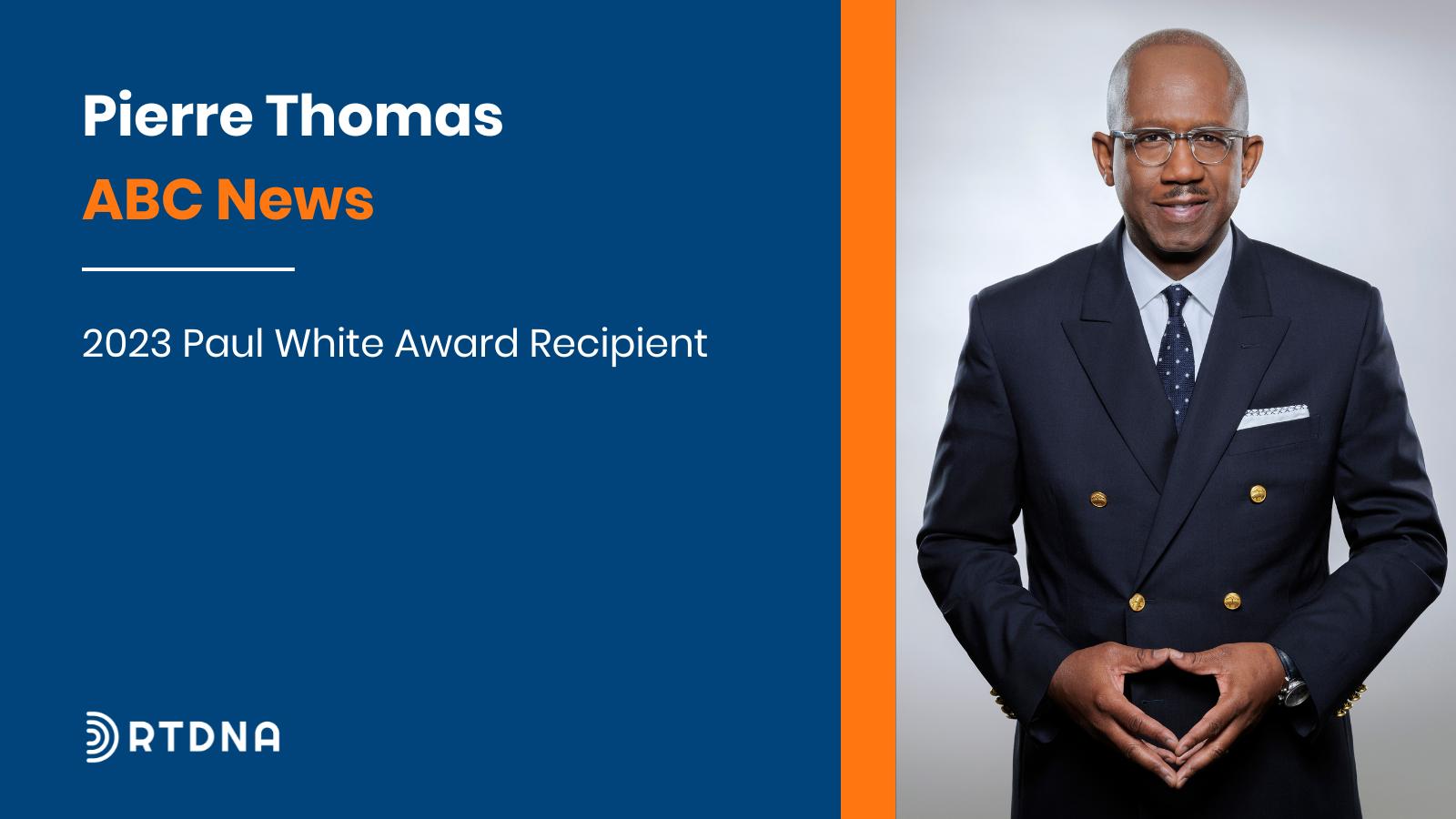 Pierre Thomas, Chief Justice Correspondent for ABC News and one of the most respected names in journalism, will be the 2023 recipient of the Radio Television Digital News Association's Paul White Award.
"The Paul White Award is RTDNA's highest honor, and Pierre Thomas is incredibly deserving," said RTDNA nominating committee chair Allison McGinley. "Pierre is a brilliant journalist whose tremendous work has helped Americans understand the most important stories of the past generation. We are proud to honor him."
Thomas will be recognized during an awards ceremony and reception Sept. 22 at RTDNA23 in Minneapolis.


Past Recipients
2022: Judy Woodruff
2021: Susan Zrinsky
2020: Byron Pitts
2019: Scott Pelly
2018: Bill Whitaker
2017: Lester Holt
2016: Charlie Rose
2015: Lesley Stahl
2014: Dick Ebersol
2013: Chris Wallace
2012: Jeff Fager
2011: Linda Ellerbee
2010: Steve Kroft
2009: Fred Young
2008: Sam Donaldson, Tim Russert
2007: Christiane Amanpour
2006: Charles Gibson
2005: Charles Osgood
2004: Ted Koppel
2003: Bob Schieffer
2002: Tom Brokaw
2001: Jim McKay
2000: Ed Bradley
1999: Tom Johnson
1998: Jane Pauley
1997: Dan Rather
1996: Bernard Shaw
1995: Peter Jennings
1994: Charles Kuralt
1993: Ed Bliss
1992: Paul Harvey
1991: Mike Wallace
1990: Robert MacNeil, Jim Lehrer
1989: R.E. "Ted" Turner
1988: Douglas Edwards
1987: Don Hewitt
1986: Fred Friendly
1985: Barbara Walters
1984: Ralph Renick
1983: John Chancellor
1982: David Brinkley
1981: Walter Cronkite
1980: Pauline Frederick
1979: Dick Salant
1978: Bill Monroe
1977: Eric Sevareid
1976: Ted Koop
1975: Elmer Lower
1974: Bill Small
1973: Julian Goodman
1972: Sam Ervin
1971: Dr. Frank Stanton
1970: Walter Cronkite
1969: Judge Herbert B. Walker
1968: W. Theodore Pierson
1967: Sol Taishoff
1966: Morley Safer
1965: Ralph Blumberg
1964: Edward R. Murrow
1962: Howard K. Smith
1961: John F. Kennedy
1959: Jim Hagerty
1958: Robert D. Swezey
1957: Dr. Frank Stanton
1956: Hugh Terry