Boyd Huppert to Receive Prestigious John F. Hogan Award at RTDNA23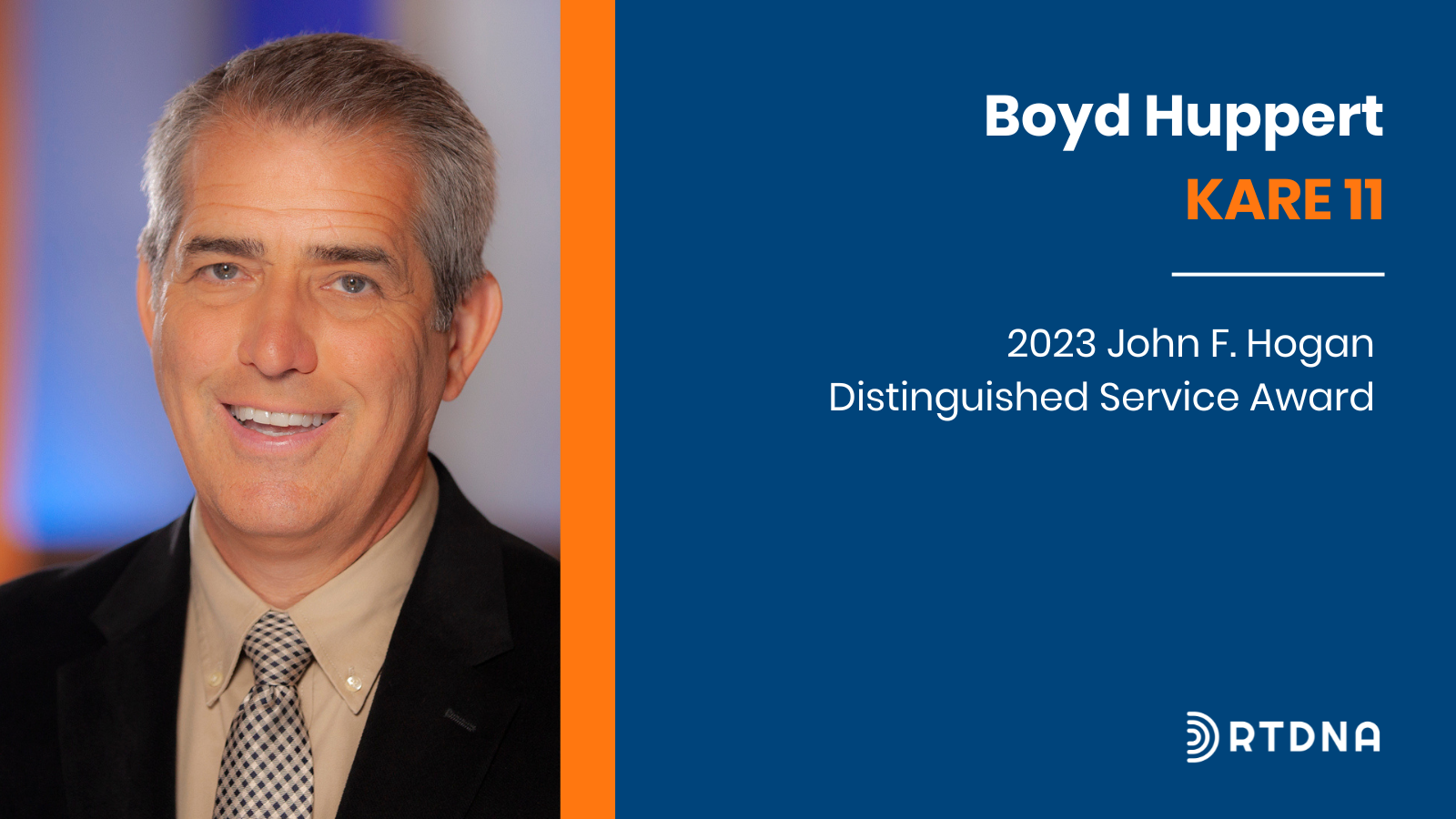 JULY 27, 2023 — Known for his incredible work in producing and reporting in KARE11's award-winning series, "The Land of 10,000 Stories," renowned video storyteller and teacher Boyd Huppert will be the 2023 recipient of the prestigious John F. Hogan Award from the Radio Television Digital News Association.
Named for the founder and first president of RTDNA, the John F. Hogan Distinguished Service Award recognizes an individual's contributions to the journalism profession and freedom of the press.
"This esteemed accolade is a testament to his exceptional contributions to the field of journalism and his unwavering commitment to the craft," said Allison McGinley, the chair of the RTDNA Foundation and the RTDNA Nominating Committee.
With an illustrious 39-year career in television news, Huppert has captivated audiences with his compelling storytelling and dedication to excellence. He has been an integral part of KARE-TV in Minneapolis, the "land of 10,000 lakes," for an impressive 27 years, and it is only fitting RTDNA will give him this honor in Minneapolis during RTDNA23.
"Through his exceptional reporting and storytelling abilities, Boyd has touched the hearts of countless viewers, taking them on emotional and impactful journeys through his captivating narratives," said RTDNA President and CEO Dan Shelley.
Beyond his work at KARE, Huppert serves as the National Storytelling Coach for TEGNA, the owner of KARE, where he imparts his extensive knowledge and expertise to the 49 newsrooms under TEGNA's umbrella. His dedication to sharing his craft has extended beyond the United States, as he has conducted numerous visual storytelling workshops both domestically and internationally. Before joining KARE, Huppert has worked at WITI-TV in Milwaukee, KETV in Omaha, NE, and WSAW-TV in Wausau, WI.
Throughout his career, he has garnered an impressive array of awards and accolades, including an outstanding 22 National Edward R. Murrow Awards, multiple National Headliner and Sigma Delta Chi Awards, the Scripps Howard Award, the national Emmy for feature reporting, and a remarkable 148 regional Emmys.
In recognition of his extraordinary contributions, Huppert earned the Lifetime Achievement Award from the RTDNA Foundation in March at the First Amendment Awards.
Huppert's journey began on a dairy farm in Wisconsin, where he developed a strong work ethic and a deep appreciation for storytelling. He pursued his passion by earning a journalism degree from UW-River Falls, where his exceptional talents and dedication were recognized, leading to his appointment as the university's distinguished alumnus in 2013.
We congratulate Boyd Huppert and look forward to awarding him with the John F. Hogan Award during RTDNA23 in Minneapolis. His remarkable career, marked by extraordinary storytelling and a commitment to excellence, has left an indelible impact on the field of journalism. We look forward to celebrating Boyd's achievements and witnessing his continued contributions to the craft of video storytelling and his invaluable guidance as a teacher.