Pierre Thomas Offers Thanks, Blueprint for Journalism in Paul White Speech
Date posted
October 2, 2023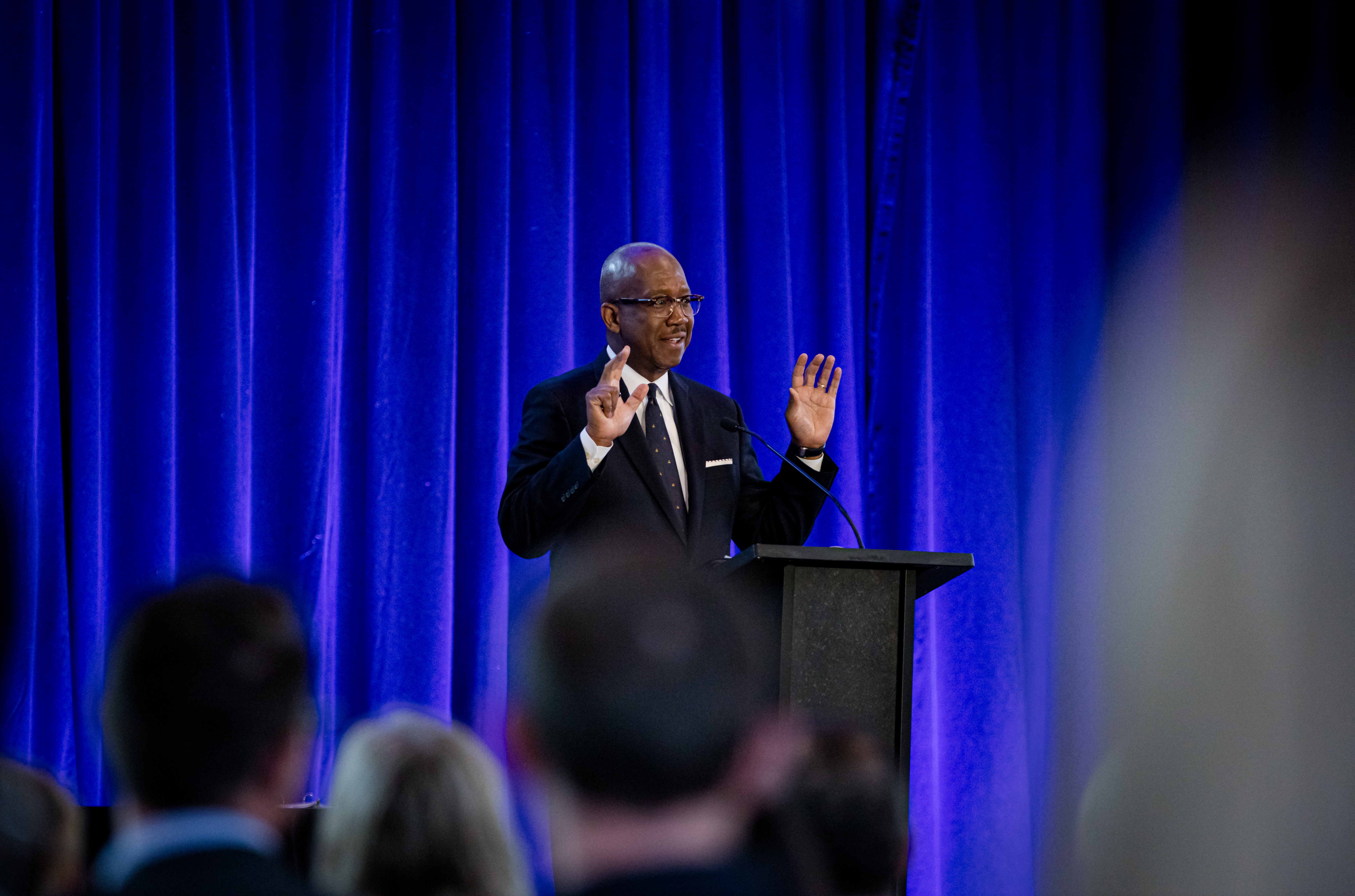 ABC News Chief Justice Correspondent Pierre Thomas spent much of his Paul White Award acceptance speech thanking those closest to him. He thanked his ABC News colleagues for their support, guidance, inspiration, and even their time for traveling to Minneapolis for RTDNA23 to celebrate his award, RTDNA's highest honor.
He thanked his son, Nathaniel, who inspires him "to be at my best for you, and that's enough every single time." He thanked his wife, Alison, a Georgetown-trained attorney who has helped the newsman with COVID-era camera setups and the occasional ride to and from remote locations for an early morning appearance on GMA.
But Thomas saved most of his thank yous for his parents. His father, also named Nathaniel, showed Thomas what it meant to work hard, spending day after day on the factory floor, working a 200+ degree shaker. Poverty, Thomas said, cut short his father's education, but Nathaniel praised his son routinely for his good grades.
"That was like jet fuel," Thomas said.
His mother, Helen, was whip-smart with a "deep abiding faith in God" that "gave me my blueprint for living."
More than anything, she taught Thomas it was OK to be different.
"Before I became a benchwarmer on my very successful high school basketball team — which provided a bit of a cool factor for boosting my popularity — I was a bit of a nerd," Thomas said. "The straight-A student who didn't miss a day of school between the fourth and 12th grade, a little black boy who almost always had the best grades in each and every class.
"There were a lot of days where I was searching for where I fit. But Mom made me feel like I could do amazing things."
The Paul White Award, named for the first news director of CBS, is presented annually to celebrate an individual's lifetime contributions to electronic journalism. Thomas is just the third person to win both the Paul White Award and RTDNA's John F. Hogan Award for Distinguished service, joining Walter Cronkite and former CBS president Frank Stanton.
Since joining ABC News in 2000, Thomas has earned a reputation as one of the most trusted names in journalism with his thorough, accurate and ethical reporting on the biggest stories of our time — 9/11, the election of President Barack Obama, the killing of Osama Bin Laden, the Boston Marathon bombing, the election and investigations of President Donald Trump, the Jan. 6 attack on the Capitol, the gun violence epidemic in the United States and countless others.
Thomas has also secured a number of exclusive interviews, including Attorney General William Barr in 2020, FBI director Chris Wray, and the first television interview with U.S. Capitol Officer Harry Dunn following the Jan. 6 attack on the Capitol. His work has been recognized again and again, with multiple national Edward R. Murrow Awards, multiple Emmy Awards, a Peabody Award and Alfred I. duPont-Columbia University Award for team coverage, and more.
"I have great respect for the fact that you looked at my work through the years and thought I've done it at a noteworthy level," Thomas said. "It has me just full of emotion. I'm about to burst up here but I'm trying to keep it together. I think I can also speak for Ed Bradley, Bernard Shaw — God rest their souls — Bill Whitaker and my friend and colleague at ABC News, Byron Pitts, in saying in honoring us, it sends a powerful message that high-level work comes in all shades."
Thomas ended his remarks by addressing the current state of journalism. He has a great deal of dread, he says, about the constant battles about truth and rewriting history. Whether intentionally or unintentionally, has caused a lot of hurt and destruction.
"In the face of all this," he said, "those of us who care about the truth and informing the people have to be pretty thick skinned and we must strive to improve daily in a profession where there's never truly perfection, only the pursuit of it."
Though platforms may change, our standards never should, Thomas said.
"None of us are perfect," he said, "but I believe that if we keep the best intentions and do not lose sight of the essential truths, we can weather the withering storms we face and be the better for it."
(Photo: BP Miller / Chorus Photography)
Watch Thomas' full remarks below: