RTDNA Foundation Announces 2023 Scholarship, Fellowship Class
Date posted
August 2, 2023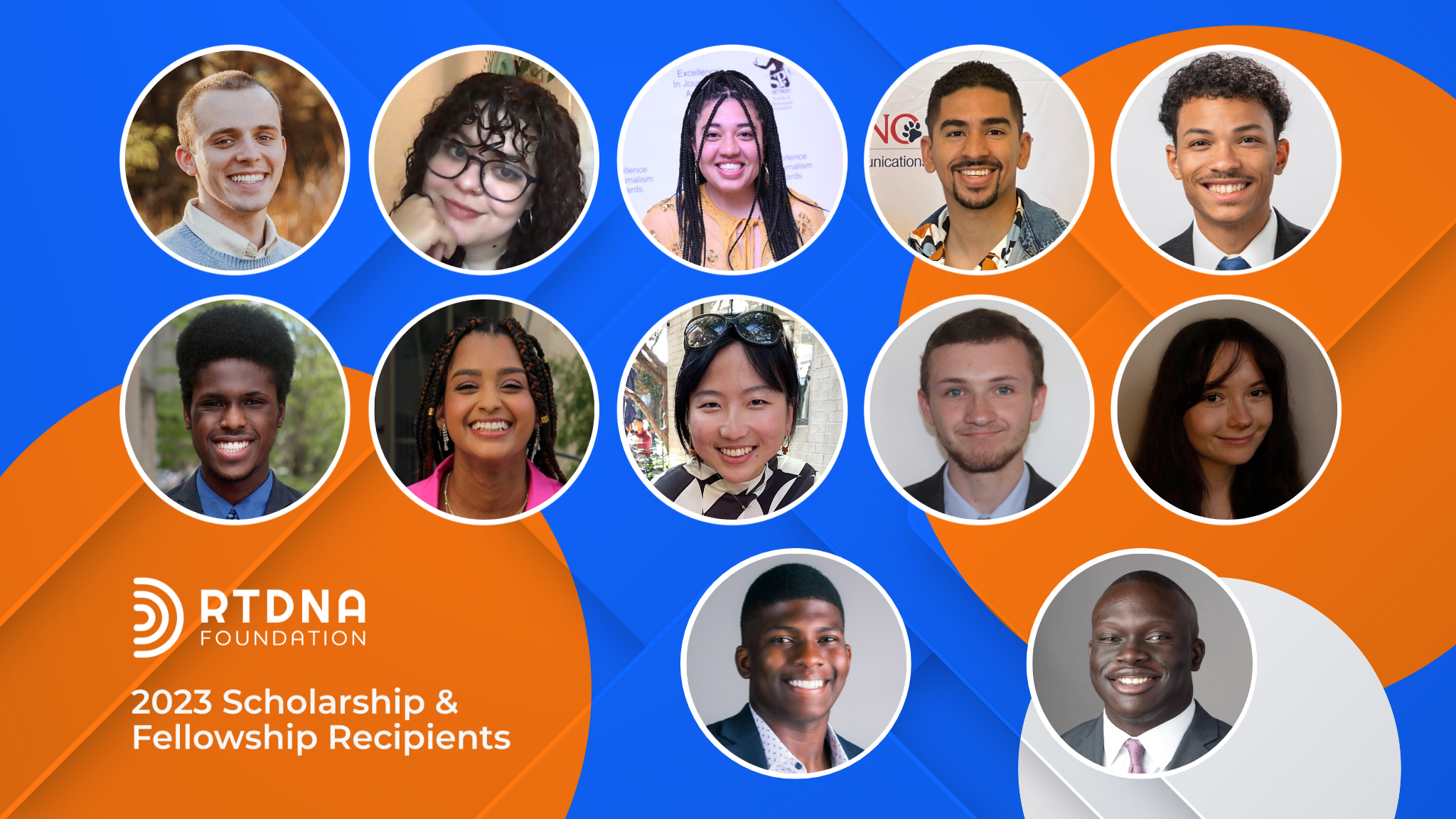 The Radio Television Digital News Association Foundation is proud to announce the recipients of the 2023 scholarship and fellowship program. This year, the RTDNA Foundation is awarding more than $35,000 to 12 talented students and early career journalists.
Scholarship and fellowship winners will be attending RTDNA23, Sept. 20-22 in Minneapolis.
Since its establishment in 1970, the RTDNA Foundation has provided over $1 million in scholarships and fellowships to nearly 600 aspiring journalists, fulfilling its role as the educational and charitable wing of the Radio Television Digital News Association. Thanks to this support, numerous past awardees have achieved remarkable success in the field of journalism, taking on roles as accomplished reporters, anchors, and news directors.
Some have ventured into related professions, such as becoming White House speechwriters, media regulatory attorneys, and journalism educators. Additionally, several former recipients have actively contributed to RTDNA's leadership by serving as board members, while many others have been honored with prestigious Murrow Awards.
Below are this year's recipients:
David Louie Scholarship, presented by David Louie, the recipient of the RTDNA Foundation's very first scholarship in 1970 while a student at Northwestern University's Medill School of Journalism. This $2,000 scholarship is given to full-time Northwestern/Medill students with a preference for applicants of Asian American descent.
Hannah Zhihan Jiang is a driven fourth-year student at Northwestern University studying journalism and international studies. Originally from Suzhou, China, she has covered Congress in Washington D.C., reported for a campus broadcast station, and produced multimedia pieces on healthcare in Johannesburg, South Africa. Her passion lies in exploring diverse communities. In her professional aspirations, Hannah values collaboration above all. Thriving in a team-oriented environment, she believes in uplifting and caring for her colleagues while striving for excellence. While Hannah is hardworking, she rejects the idea that the best journalism must stem from competition and stress. Instead, she aspires to work in an environment where everyone is dedicated to making a positive impact on communities and society, with a focus on the greater good rather than industry accolades.
Mike Reynolds Scholarship, in memory of the late KCCI-TV editor, this $1,000 award recognizes a student's writing and dedication to news.
Alex Amrine is a journalism major, with an emphasis in sports, at Brigham Young University, boasting two years of practical experience in live television at BYUtv Sports. His ultimate goal is to secure a position at a major sports broadcasting network like ESPN, Fox Sports, or CBS Sports, with aspirations to become a producer for a prominent studio show. The recipient of the Mike Reynolds scholarship, Alex is deeply grateful for the financial support that will help him embark on his educational journey. He hopes to pay it forward one day, aiding others in need while using his storytelling prowess to captivate audiences in the world of sports.
Carole Simpson Scholarship, presented by barrier-breaking journalist Carole Simpson, this $2,000 award is given annually to a student of color and supports media diversity.
Chinanuekpele "Chinanu" Okoli is a passionate student journalist at Boston University, skilled in radio, TV, and print communication. He aims to amplify voices and share impactful stories while advocating for fair news coverage of oppressed communities and sustainable journalism practices. Chinanu dreams of working with a team of journalists to produce long-form local content that caters to marginalized communities without reliance on advertising. Being selected as this year's Carole Simpson scholarship recipient by the RTDNA Scholarship/Fellowship Committee has eased his financial burden, allowing him to continue his journey as a journalist making a positive difference.
Pete Wilson Scholarship, honoring the late San Francisco broadcast journalist, this $2,000 grant is awarded to a Bay Area journalism student.
Bella Arnold is an enthusiastic audio and magazine journalist with a passion for celebrating communities, book writing and public record requests. A proud CSU, Long Beach graduate and former editor-in-chief of DIG Magazine, she is now pursuing her master's in audio journalism at UC Berkeley, where she actively chairs NAHJ and Women in Media. As a Vulture editorial intern, Bella covered news, entertainment, strikes and internet culture. Her dream job is to share joyful, whimsical stories from marginalized communities. She extends her heartfelt appreciation to RTDNA for supporting early-career journalists, an organization she finds truly amazing.
Lee Thornton Scholarship, a $2,000 scholarship awarded to an undergraduate student in honor of Lee Thornton, the first African American woman to cover the White House for a major news network and the first African American host of All Things Considered on NPR.
Jennifer Gable is a senior journalism student at The University of Maryland with a Law and Society minor. She is an emerging news and visuals intern at The Baltimore Sun through The Local News Network and the audience engagement editor for Her Campus. She is also a freelance writer for Southern Maryland News. She worked for the Capital News Service Annapolis Bureau in the spring of 2023, reporting on criminal justice and gun control. Her most memorable journalism moment was a heartfelt conversation with a man from the LGBTQ community she interviewed for a follow-up story on a potentially hate-motivated incident. The conversation went into the experience of growing up in a less accepting era and reminded her the of the importance of sharing people's stories sensitively and approaching her work with empathy and humility.
Bob Horner Scholarship, presented by veteran broadcast executive Robert Horner, this $2,500 scholarship is awarded to an undergraduate student studying journalism or communications with aspirations of a career in broadcast or video journalism.
Carlos Rene Castro, a senior at Fresno State University majoring in digital journalism, is a multimedia reporter for The Collegian, the student-run newspaper. Utilizing writing, photography, and video, he tells the stories of the Fresno State community, with a passion for amplifying voices in underserved communities. Following his graduation in May 2024, Carlos aims to pursue a master's degree in video journalism at UC Berkeley. His best moment in journalism has been the invaluable experience of working as a student journalist for The Collegian, where he feels a strong sense of purpose and responsibility in uncovering compelling stories on campus alongside supportive colleagues and advisors.
Presidents Scholarship, a $2,500 award in memory of past RTDNA presidents in recognition of two broadcast journalism students' excellence.
Hudson Crozier is a University of North Texas journalism student, specializing in broadcast and digital media. He holds prominent roles as the associate editor for Upward News, a reporter for the College Fix, and a Summer 2023 Washington Examiner fellow. Hudson's journalistic focus revolves around politics and social issues. He aims to apply his creativity, attention to detail, and curiosity in all his work while embracing feedback and relishing challenges as opportunities for growth.
Yaw Bonsu is a rising senior journalism major at Hofstra University, focusing on sports journalism. He serves as the Sports Director at WRHU-FM New York on campus and holds positions as a weekend news anchor for 77 WABC Radio and a sports department intern for WABC-TV in New York City. Yaw's impressive journey includes internships at prominent companies like NBC 4 New York, Fox News Channel, Turner Sports, NBA on TNT, and SiriusXM. He looks up to journalist Jeremy Schaap for his impactful storytelling beyond the field of play and aims to make a similar difference in communities. As someone who largely relies on loans to cover school costs, receiving this scholarship means the world to him. Yaw expresses heartfelt gratitude to the selection committee for awarding him the Presidents' Scholarship and eagerly looks forward to personally conveying his thanks in Minnesota.
George Foreman Tribute to Lyndon B. Johnson Scholarship, presented to a student at the University of Texas at Austin, this $6,000 award established by the boxing champion honors his inspirations, President Johnson and RTDNA Foundation Founder Barney Oldfield.
Joseph Duffey is a sophomore at The University of Texas at Austin, majoring in Radio-Television-Film within the Moody College of Communication. With a lifelong love for sports, Joseph aspires to become a play-by-play commentator, believing that commentary is an art form that can be forever attached to the most legendary sports moments. He aims to be a significant piece of that puzzle. As an admirer of journalist Kevin Harlan, Joseph is grateful and humbled to be chosen by the selection committee for this prestigious award, vowing to seize the opportunities it provides.
Ed Bradley Scholarship, a $10,000 award presented to an outstanding student of color in memory of the late CBS News' 60 Minutes correspondent and groundbreaking journalist.
Derryl Barnes Jr. is a motivated rising senior at the University of Miami, studying broadcast journalism and sports administration. He's actively involved in anchoring, reporting, and producing live news and sports TV shows at the university. Derryl's internships at ESPN and The Wall Street Journal, along with his experience in creating digital and social video content for the Miami Hurricanes athletics department, have equipped him with valuable skills. Derryl's creative flair is evident through his ever-growing library of motivational screenshots and screen recordings from newscasts on his phone, inspiring him to infuse his storytelling with engaging edits, graphics, and standups, ensuring viewers remain captivated and informed.
N.S. Bienstock Fellowship, established by Richard Leibner and Carole Cooper of the talent firm now known as Bienstock, a UTA Company, this $2,500 award supports a new professional minority broadcast journalist.
Dominique LaVigne is a multimedia journalist and weekend weather forecaster at 23ABC News in Bakersfield, California, with a passion for sharing stories from underrepresented minority communities to create lasting change in society. Hailing from Chicago but raised in Texas, she holds a Bachelor of Journalism and a Bachelor of Science in Radio Television and Film from the University of Texas at Austin. A cherished moment in her career occurred during her initial weeks on air when she wore braids. A touching message from a viewer explained that his biracial daughter had felt hesitant to wear braids due to fear of judgment, but seeing Dominique on air with braids helped break down that fear for her. Dominique aims to empower young girls by showing them that anything is possible, embracing their cultural backgrounds wholeheartedly.
Michele Clark Fellowship, named for the CBS News correspondent tragically killed in a plane crash while on assignment, this $1,000 award supports a new professional minority broadcast journalist.
Briana Rice is a dedicated reporter based in Detroit, currently working for Michigan Radio. Her journalism journey began at the University of Cincinnati, where she graduated, and she initially served as a breaking and trending reporter for her hometown newspaper, The Cincinnati Enquirer. Additionally, Briana gained experience as an assignment editor and digital producer at Cincinnati's FOX19. Recently, she earned the esteemed title of 2022's Young Journalist of the Year by Detroit's Society of Professional Journalists. As for her dream job in journalism, Briana aspires to host a weekly news show that prominently highlights BIPOC voices.