RTDNF Announces Recipients of 31st Annual First Amendment Awards
Date posted
January 31, 2022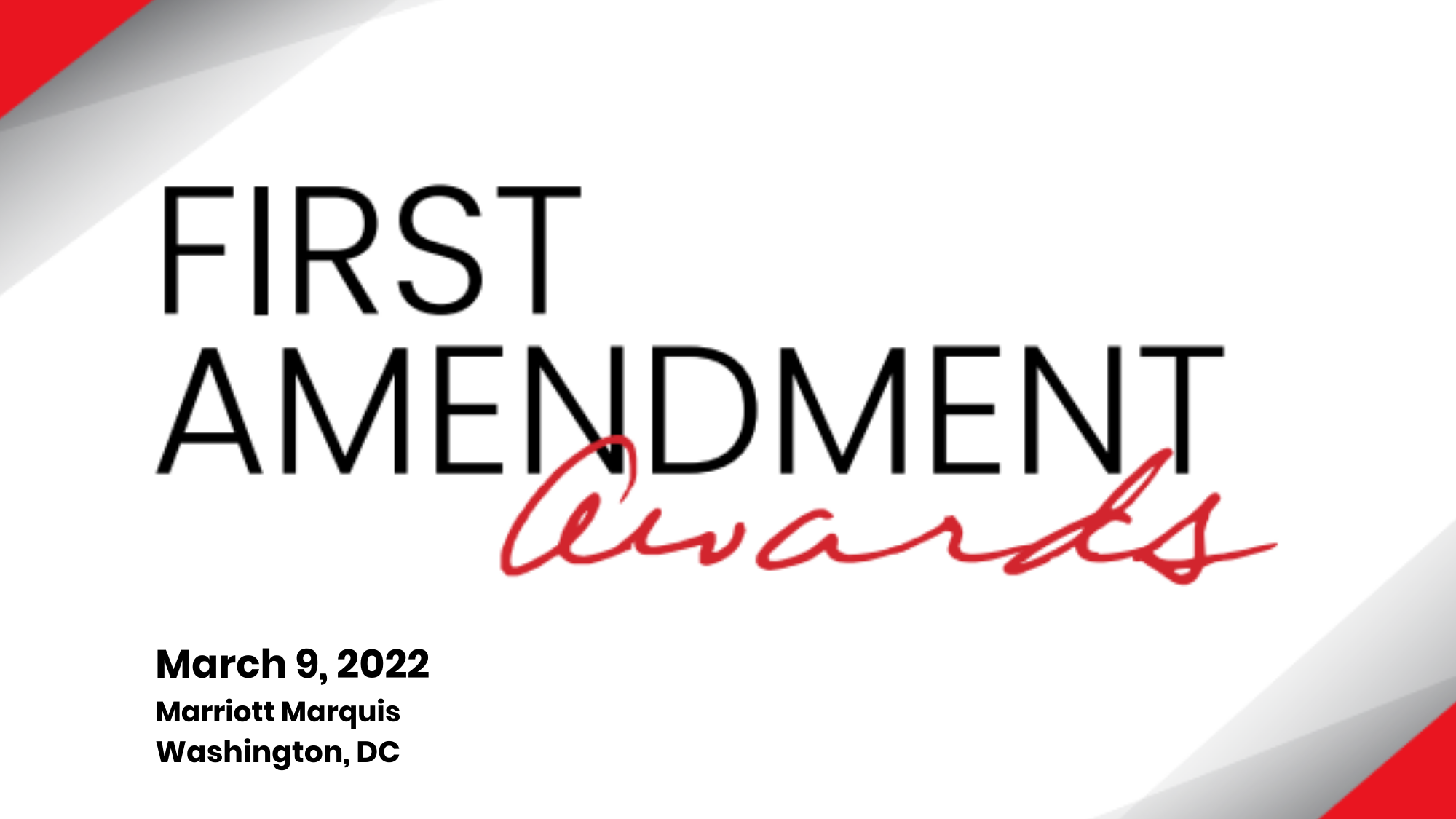 The Radio Television Digital News Foundation has announced recipients of the 31st annual First Amendment Awards, which honor individuals and organizations that exemplify responsible journalism and who practice their constitutionally guaranteed duty to seek and report the truth.
This year, RTDNF will honor 10 individuals and organizations, an expanded group that recognizes the 2021 and 2022 recipients of the First Amendment Awards. They will join 122 previous recipients who stood for the values of the First Amendment.
Honorees will be recognized at the First Amendment Awards Dinner on March 9 at the Marriott Marquis in Washington, DC.
The honorees at this year's First Amendment Awards Dinner are:
Leonard Zeidenberg First Amendment Award

—This award is presented to a radio or television journalist or news executive who has made a major contribution to the protection of First Amendment freedoms. It is named for the late Broadcasting & Cable senior correspondent, Leonard Zeidenberg.

2022:

Mary Louise Kelly, NPR

Co-host of "All Things Considered," NPR's award-winning afternoon newsmagazine, Kelly spent a decade as national security correspondent for NPR News, and she's kept that focus in her role as anchor. That's meant taking "All Things Considered" to Russia, North Korea, and beyond. Her past reporting has tracked the CIA and other spy agencies, terrorism, wars, and rising nuclear powers.

2021:

Cesar Conde, NBCUniversal News Group

The first Hispanic to lead a major English-language television news organization, Conde gained oversight of NBCU News Group amid one of the most intense and challenging news cycles in recent history. As chairman of the Group, which includes NBC News, MSNBC and CNBC, he steered the nation's most viewed news organization through a global pandemic, an ensuing economic crisis and historic social unrest, which all unfolded against the backdrop of a complex election cycle.


First Amendment Leadership Award

—

This award honors an outstanding individual or organization which champions the First Amendment and press freedoms.

2022:

Jessica Rosenworcel, Federal Communications Commission

Confirmed as FCC Chairwoman in 2021, Rosenworcel works to promote greater opportunity, accessibility, and affordability in our communications services to ensure that all Americans get a fair shot at 21st century success. She believes strong telecommunications markets can foster economic growth and security, enhance digital age opportunity, and enrich civic life.

2021:

First Draft

First Draft works to empower society with the knowledge, understanding, and tools needed to outsmart false and misleading information. Founded in 2015 with a mission to build a journalism training portal around social media verification, First Draft now has a global reputation as the leading nonprofit working to tackle misinformation.


First Amendment Service Award

—

This award honors professionals in local or network news who work in an off-air, management, largely behind-the-scenes capacity.

2022:

Kim Godwin, ABC News

As president of ABC News, Godwin oversees editorial and business operations for broadcast, digital, streaming and audio news across the organization. Over her career, Godwin has been honored with six National News and Documentary Emmy Awards, two Edward R. Murrow Awards, an Alfred I. DuPont-Columbia award, and a Sigma Delta Chi Award.

2021:

Mike Allen and Jim VandeHei, Axios

As co-founders and leaders of "Axios," Allen (Executive Editor) and VandeHei (CEO), along with co-founder Roy Schwartz (President), have helped develop an innovative digital media company, delivering journalism that is clear, smart, efficient, and trustworthy through its website, newsletters, podcasts and partnership with HBO. The "Axios on HBO" documentary news series secured and produced an influential interview with President Trump that won an Emmy in the category of Outstanding Edited Interview in 2021.


First Amendment Award

—This award is presented to a business, government or other leader who has made a significant contribution to the protection of the First Amendment and freedom of the press.

2022:

"Face the Nation with Margaret Brennan,"

produced by CBS News

"Face the Nation with Margaret Brennan," is America's most-watched Sunday public affairs program. It's the second longest-running program on television and has been on the CBS Television Network for more than 67 years, establishing itself as America's premier Sunday news discussion and analysis broadcast. In this interview and discussion broadcast, with the topics determined by news events of the week, moderator Margaret Brennan interviews principal newsmaker guests. The program broadcasts from Washington, DC, and features expert analysis on politics, policy, and issues facing the country.


First Amendment Clarity Award

— This award recognizes a journalist or group of journalists who go to extraordinary lengths to provide meaning and context to complicated news stories or issues of extreme public importance.

2022:

Steve Kornacki, NBC News

A national political correspondent for NBC News & MSNBC, reporting on the latest political developments across all platforms, Kornacki consistently provides real-time analysis of voting patterns, exit polls, and electoral data. During the 2020 election, Kornacki drew praise for his performance at the Big Board.


RTDNF Citation of Courage

—

This award is presented in recognition of distinguished service to journalism and extraordinary courage.

2022:

Kevin Nishita

(posthumous)

After retiring from 25 years in law enforcement serving the Bay Area communities, Nishita still had the passion to protect others, so he continued as an armed security guard, specifically protecting the Bay Area News Media teams. Nishita was killed when protecting a TV news crew from an armed robbery in Oakland.


RTDNF Lifetime Achievement Award

2022:

Jayne Miller, WBAL-TV

Miller has been a reporter at WBAL-TV in Baltimore for more than 35 years and has a reputation for breaking stories that otherwise may never be told. Her work has uncovered corrupt public officials and unethical practices in private business. It has raised issues of accountability and effectiveness in the criminal justice system.
"RTDNF is so proud to honor these individuals and organizations as recipients of the First Amendment Awards," said Dan Shelley, executive director of RTDNA/RTDNF. "We thank each of them for their continued service to the First Amendment."
In addition to recognizing responsible journalism, the First Amendment Awards Dinner & Show is the Foundation's biggest annual fundraiser, enabling the Foundation to ensure the broadcast and digital news profession remains a critical part of our nation's free press for generations to come and supporting scholarships for journalism students.
###
About RTDNF
RTDNF, a 501(c)3 educational foundation, was created to help RTDNA members embody and uphold the standards of ethical journalism and promote leadership in the newsroom. The Foundation works for an America in which the press is able to hold the powerful to account, shine a light on corruption and act as a catalyst for positive change in local communities without denial of access, undue restriction, or fear of attack. We train and equip local journalists and journalism students to know their rights and report seek and report truth ethically – upholding your right to know.