5 Personal Finance Story Ideas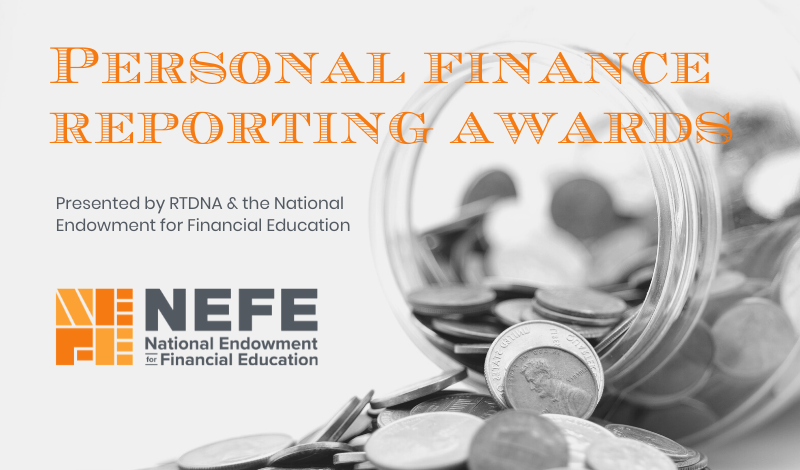 In 2020, some of the biggest stories covered by newsrooms were related to the uncertainty around money, whether it be about unemployment, stimulus checks, eviction moratoriums or student loan deferment.

Now, as restrictions loosen and vaccination rates rise, the economy is expected to launch into what economists are calling a "post-COVID boom." In times like these, stories on financial issues will continue to be in high demand in newsrooms across the country.
To honor the very best in personal finance reporting, RTDNA and the National Endowment for Financial Education are hosting the Personal Finance Reporting Awards, with winners being honored on September 23-24 at the RTDNA21 news leadership retreat. Entries are now open and will close on July 22, 2021.

As we start to receive submissions from journalists across the country, we wanted to share some of our favorite personal finance stories from our 2020 NEFE Award and 2021 Regional Murrow Award winners. These five stories capture some of the best in personal finance and consumer reporting.

Check them out, share your favorites and submit your work for a chance to win a $1,000 prize and an invitation to participate in our Money Matters panel at RTDNA21 in Denver!
---
2020 NEFE Award Winners
Nebraska Schools Tackle Financial Literacy
In his story for Nebraska Public Media, Brandon McDermott reported on the different ways Nebraska's schools are trying to educate their students on financial literacy. According to the Nebraska Council on Economic Education, about 60% of Nebraska students get mandatory lessons on managing personal finance. The state ranks in the middle of the pack when it comes to financial literacy nationally.
The Inside Story of Robinhood's Billionaire Founders, Option Kid Cowboys and the Wall Street Sharks That Feed on Them
In a story that became the most viewed article in Forbes.com history, Forbes's reporters investigated the tragic story of Alex Kerns, the complex options trade he made and how the Robinhood app he used likely led him to misunderstand the trade. The story sparked a discussion on Robinhood's responsibility to create a safe trading app with adequate guardrails for users. Two days after the story was published, Robinhood announced it would do more to educate users on stock options by improving user experience and hiring new customer service staff members.
Getting Hosed: Chicago Water, A Bungled Bureaucracy
In a story released by CBS2, Investigative reporter Brad Edwards and his team examined the case of a 70-year-old Vietnam Veteran who got a $10,700.57 water bill for a house he never lived in. The story exposed a flawed system with regressive billing policies. The story paired with Edward's persistence eventually got the bill cut by 70% and has saved residents hundreds of thousands of dollars.
---
2021 Regional Murrow Award Winners
Growing Pains: An Out-Of-The-Box Solution to Rising Property Taxes in in Ada County
Boise State Public Radio's "Growing Pains" series explores stories and issues surrounding the rapid growth and increasing unaffordability of the Treasure Valley. Reporters explore how and why property taxes have been going up as well as some solutions to help ease the burden on homeowners.
Monetary Li Speaking
Michelle Li explores money topics related to the pandemic in a quick and dirty podcast that she records during her toddler's naptimes.