How Journalism Students Can Generate New Ideas to Grow the Audience
Date posted
August 2, 2021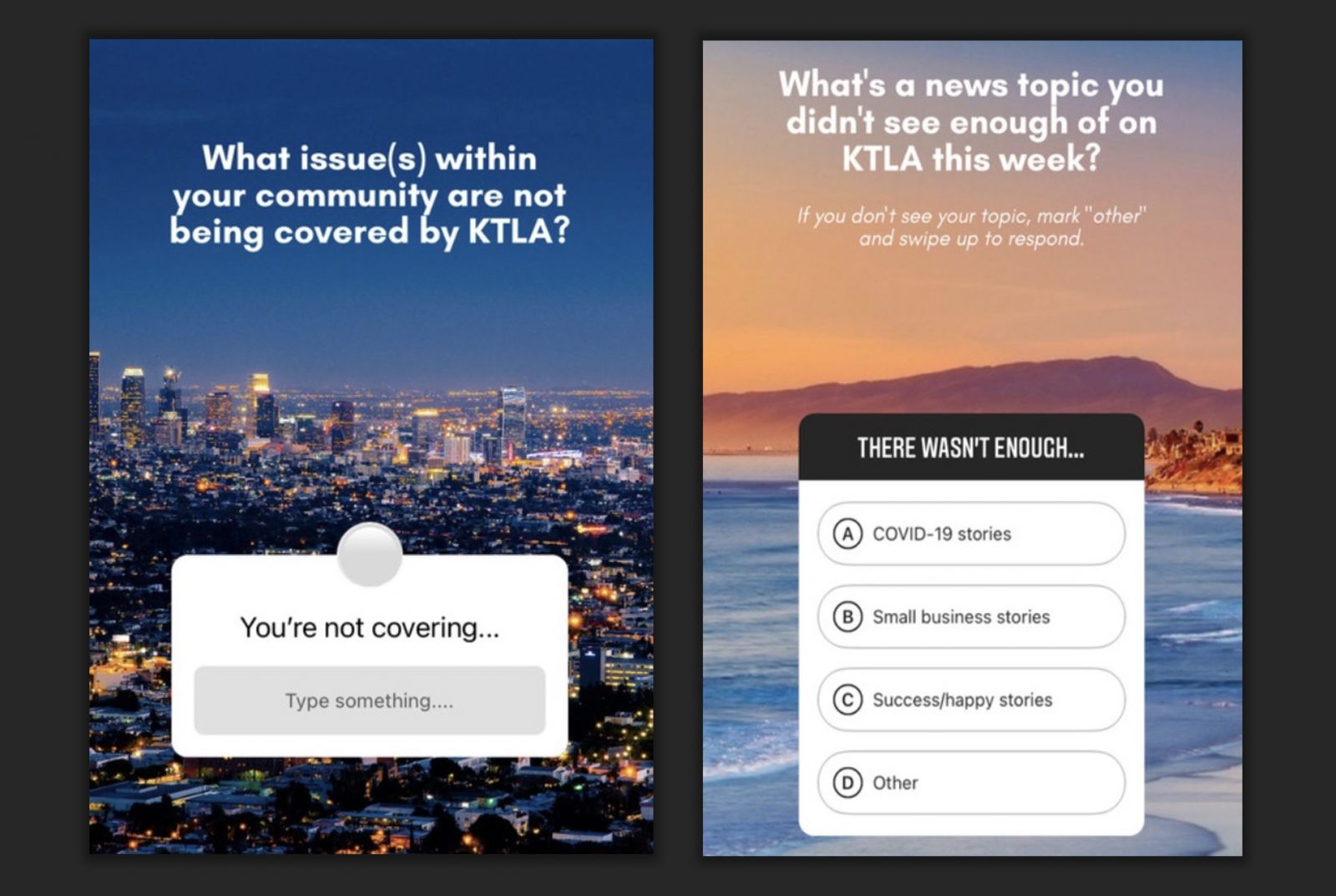 While local TV news continues to be a trusted source for millions of viewers, younger Americans are increasingly getting news elsewhere. As a former television producer, I have had many conversations with a colleague at the USC Annenberg School of Journalism about television news and how stations might attract a younger audience. Those conversations became the impetus for an experimental course we taught this spring. It's a course that could be taught at other journalism schools where there's a desire to expand the reach of television news and connect with the community.

What made this hands-on course so authentic was the opportunity to partner with a local TV station in Los Angeles. KTLA was excited to gain the perspective of Gen Z students, their research, and insights different from those recommended by costly consultants. My colleague, Laura Davis, was committed to using the human-centered design approach as a framework for the course, as it would allow students to focus on the community, listen and empathize, brainstorm solutions, and iterate based on real-world constraints.
Here is what our students set out to do:
Become consumers of KTLA news

Create user personas of KTLA viewers and non-viewers based on demographic data and interviews

Identify a design challenge (i.e., a "problem" KTLA wants to solve) informed by research

Develop a proposal for KTLA aimed at engaging new and diverse audiences
Getting to Know KTLA
Our students watched KTLA newscasts, became followers of their social media, and viewed content on their app. During the first of three meetings with KTLA's top news managers, the students asked questions to understand the station's reach, priorities, and goals.
These are a few of their questions:
How would you describe your average viewers?
Do you engage in community outreach to see what audiences want covered?
Where does digital rank on your priorities?
After an hour with KTLA managers, the students had insight into what matters to the station, where the newsroom sees the most engagement, and the challenges of covering so many Southern California communities.
Creating Personas Using Data & Demographics
One takeaway from that first meeting with KTLA was a description of the station's average viewer. One manager described her as a woman between 35 and 55, the "everyday working person who's got bills to pay." Using that as a starting point, we asked the students to create a user persona of someone who watches KTLA. What is her precise age? Her ethnicity? What issues does she care about? The students also created two more personas, grounded in research, who represent people not part of KTLA's audience.
Using a variety of sources, including data from the U.S. Census Bureau and Pew Research Center, the students discovered why many people do not watch television news, from not having a television or cable to complaints about too much crime coverage.
"I honestly haven't really watched much TV news in college since I haven't really had a TV where I've been living." - Taylor, business student
Later in the semester the students conducted more research. But first they needed to define a design challenge for KTLA, a problem for which they would eventually propose a solution. During our initial conversation with KTLA, newsroom managers raised several issues:
Doing the "right mix" of stories
Determining the ideal length of stories
Figuring out how much investigative reporting viewers want
Framing the Design Challenge & Interviewing Community Members
Devising a design challenge begins with identifying the problem. Each student had to consider how people get and feel about local news, the impact KTLA is hoping to have, and the constraints that might make implementing a solution difficult or unrealistic.
Once each student developed a design challenge, she launched more research, interviewing at least ten community members and asking questions specific to each design challenge. This assignment resembled focus groups that stations conduct to learn about the habits, motivations, and preferences of the audience. As with focus groups, it was important for students to share their goals with participants, prepare clear, open-ended questions, and follow up to gain more insights.
At mid-semester we had our second meeting with KTLA. Our students shared takeaways from their research, presented their design challenges, and sought input from KTLA. We also asked KTLA to choose one design challenge they would like the students to focus on. Here is what station managers selected:
How

can KTLA stay in touch with its current and prospective audience to make sure it is providing the information on topics that are important and relevant to various cross-sections of the Southern California community?
Developing a Proposal
Our students brainstormed possible solutions for this one design challenge. They also conducted more interviews to see if their ideas were interesting to people and might make them feel more connected to a local TV station.
Once the students got feedback, they each created a prototype for an idea that would provide a possible solution to the design challenge. The students used simple storyboards to show how their idea would work. Discussing and iterating took several weeks. Here again, the students sought feedback from people who do and do not watch TV news.
Eventually, the students selected one prototype, one possible solution for the design challenge. They called it KTLA Changemakers. Using the Close Friends feature on Instagram, community members would have the opportunity to provide feedback and ideas for KTLA's coverage. The students created a detailed Google form allowing people to sign up as a KTLA Changemaker and allowing the station to keep track of Changemaker demographics. If Changemaker participants did not reflect the diversity of Southern California, the station could be intentional about expanding the group through targeted outreach. The students also created detailed prototypes of pitch submission and feedback templates that were user friendly and aligned with KTLA's digital and on-air look.
What I Learned From Teaching This Course
The takeaways from this class were many, but here are some that underscore its value: The students were challenged by all the research but figuring out how to find and talk to people about their news consumption habits revealed fresh insights into how local news and audience engagement matter.
Community members appreciated the opportunity to share their thoughts. Several people thanked the students for reaching out and listening. Many were eager to provide feedback and ideas to improve local news.
Television news managers who embrace working with Gen Z journalism students can gain innovative ideas to expand their reach in ways that resonate with a younger audience, one vitally important to the future of local TV news.
Photo: Prototype created by Annenberg students for KTLA Changemakers proposal