KUNR's Virtual Events in Spanish Connect Community to Pandemic Resources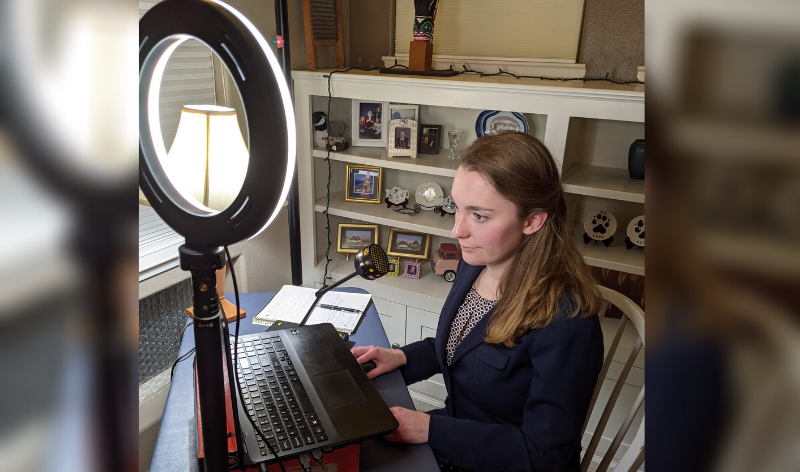 Natalie Van Hoozer
A year into the COVID-19 pandemic, KUNR Public Radio, the NPR member station in Northern Nevada, has organized four Facebook Live community events in Spanish. These sessions ranged from discussions on schools reopening to debunking misconceptions about COVID-19 vaccines.
As the organizer of these events, here are some tips and lessons my team and I learned putting on virtual events for the Spanish-speaking and Latino community in our area. While this work isn't simple, we now know that it is possible and we have a better understanding of how to listen to our community virtually.

Why Host Virtual Engagement Events in Spanish?

Even before the pandemic, Spanish speakers in Northern Nevada had to navigate a patchwork of public health information coming from different government and community organizations. There is also a historical lack of news in Spanish in the region, which is why KUNR started producing bilingual Spanish/English reporting in 2017 in partnership with the Reynolds School of Journalism's Noticiero Móvil bilingual student newsroom at the University of Nevada, Reno.
Through my bilingual reporting for KUNR at the start of the pandemic, it became clear that the COVID-19 crisis made these disparities in Spanish-language news and public health information greater. Latinos in Northern Nevada and nationwide are also disproportionately impacted by COVID-19. In Washoe County, where Reno is located, Latinos make up approximately 36 percent of COVID cases while only comprising about 29 percent of the state population.

In addition to virtual events being a safer way to connect than in-person gatherings during the pandemic, hosting Facebook Live events allows our reporting team to interact with the community though a free platform many people already use. Doing video events helps us reach members of our community with varying levels of literacy as well as those who would have a difficult time attending an in-person event.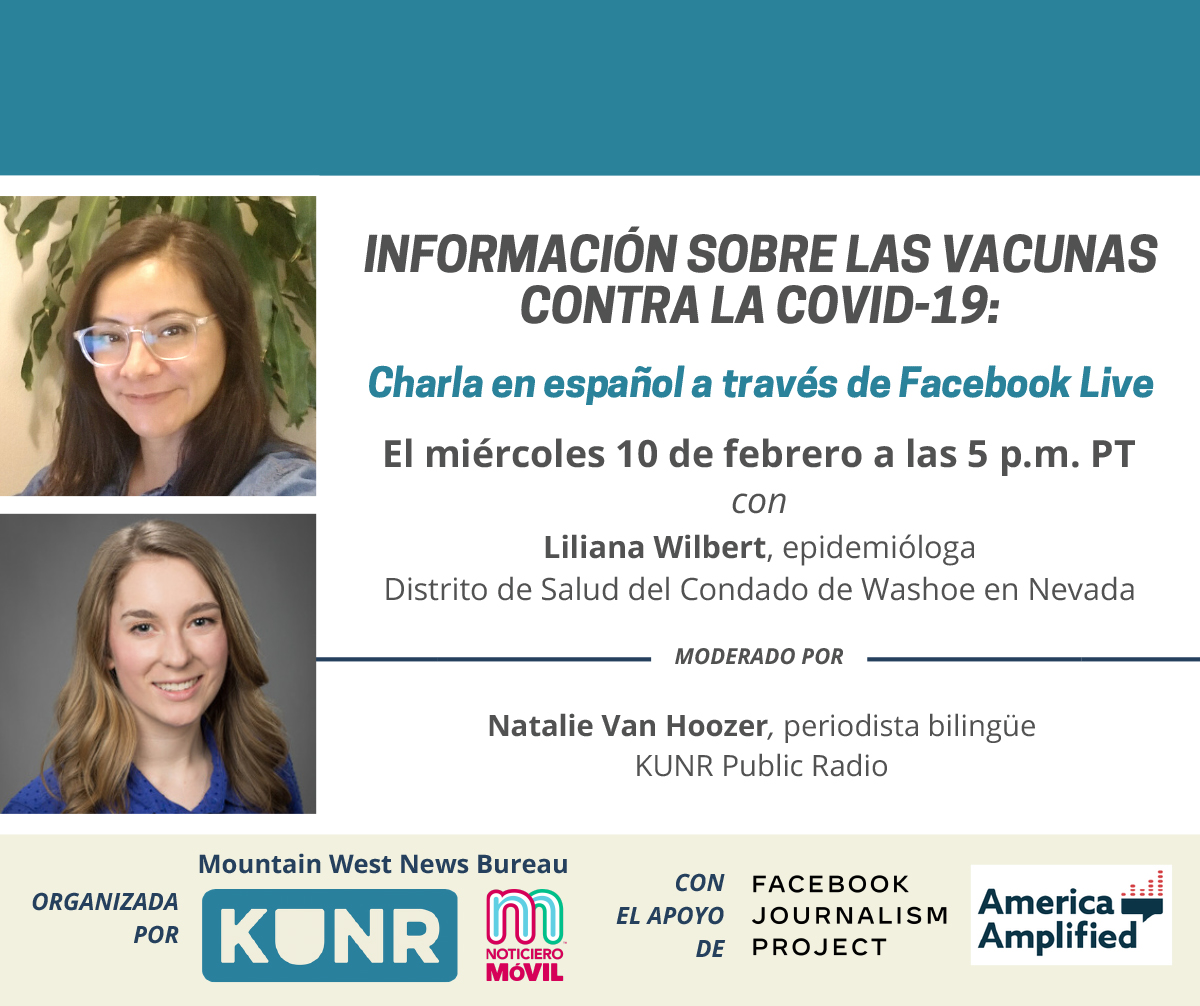 Elements for Success

For KUNR, our goal with each event was to increase direct interaction with the Spanish-speaking community, both before and during the event. So far, the recordings of these events have been viewed over 4,000 times collectively by audience members in the U.S. and in Spanish speaking countries.

To accomplish this, we thought about how we could incorporate the audience at various stages, not just during the livestream itself. For each of our events, we collected audience questions via Google Forms and Hearken, an engagement management tool. We made sure to encourage questions in both Spanish and English to include all members of the bilingual community. We adapted the content of our conversation to these questions and concerns. To decide on event topics, we reflected on what we heard through our bilingual reporting and informal phone and video conversations with community organizations.

After each event, I produced a digital and audio recap, in both English and Spanish.
Lessons Learned
Developing an audience for virtual events can be a gradual process, especially when offering programming to a Spanish-speaking audience when KUNR is a predominantly English-language news outlet. At KUNR, we know we still have work to do; however, consistency and commitment to your audience can make an impact. Over the last seven months, we have noticed the amount of questions and interactions increase. With our most recent event on vaccines, we received the most pre-event and real-time questions yet.

Partnerships are Essential
With our first event, we recognized the value of co-hosting with other Spanish-language news organizations. We established a connection ahead of the event so that KUNR's Facebook Live video automatically cross-streamed to our partner organization's Facebook page. This allowed us to reach more community members and provided these organizations additional high-quality news programming.

The KUNR team working on virtual events consists of two or three people working on these events part-time. With financial support from the Facebook Journalism Project, we collaborated with a variety of news partners, who contributed different skills to each event. The Mountain West News Bureau's engagement coordinator guided my team through the logistics of setting up our first Facebook Live event. Noticiero Móvil provided day-of event production support in Spanish for all of our virtual events, and America Amplified and This Is Reno provided professional copy editing of event materials in Spanish.

Not only have these partnerships let us expand the reach of our engagement work, they have allowed us to let more community members know that KUNR has reporting to offer in Spanish.
Best Practices

Through experimentation, we've learned some key lessons about preparing for a virtual event:
For any event, it's helpful to have both the event host and guests prepare their talking points ahead of time. This becomes even more essential when doing an event in a second language on a highly technical subject, like vaccines, with specialized vocabulary. For language questions, have wording checked by a professional translator or highly bilingual journalist, for the sake of accuracy and building trust with a historically underserved audience.
Always do a tech rehearsal prior to the event with your internal event planning team and guests. This rehearsal is a key opportunity to troubleshoot issues with Internet connection as well as sound and video quality.
Test your livestream connection ahead of the event. To make the most of this test, you can turn it into a short, one-minute livestream promotion reminding people that a Facebook Live event will be happening in a few days. If you're cross-streaming the event to a partner organization's Facebook page, this test stream is also the time to make sure the cross-streaming connection between your pages is working properly.
Take the time to send personalized event invitations to community leaders and organizations. It can pay off attendance-wise to send a reminder text or email to people you know would be especially interested in your event. Social media promotion and email blasts to the community are helpful too, but this one-on-one communication lets people know you value their participation.
While it may be tempting to focus exclusively on reporting stories for the air or web, during this time of pandemic I have had some of my most authentic interactions with the Spanish-speaking community during these events. The questions and concerns shared by the community during these virtual events have also informed the topics we report on and the framing of our coverage. What's more, I know that attendees have received critical health, education, and voting information directly from experts, which they most likely would not have received through another channel. Though this process, it is clear to me that engagement work like this is essential to better inform and have an open dialogue with the community, even if your news team is small.