Local News Innovation Focuses on Streaming, Social & Coping with COVID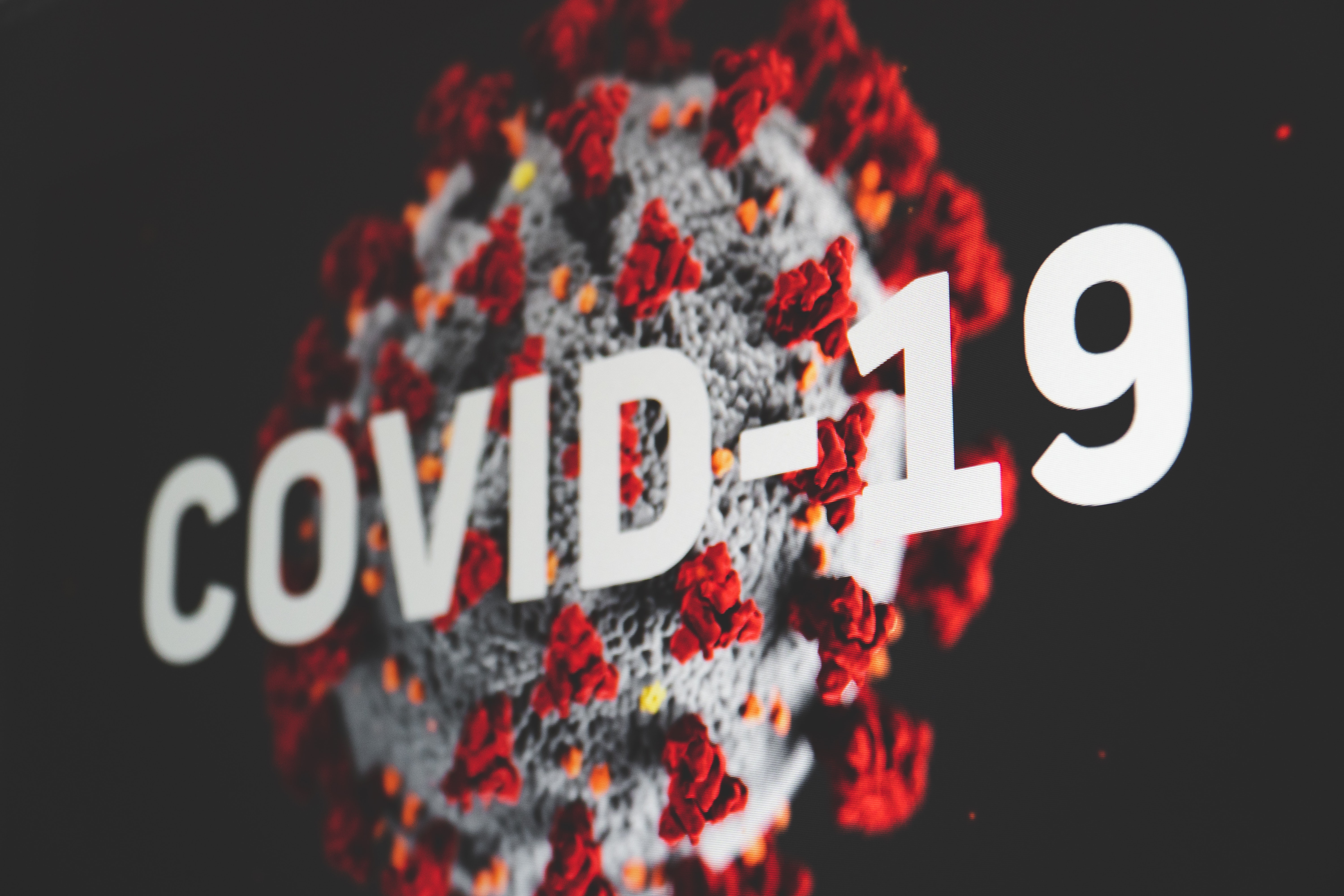 What did local news departments do in 2020 that was new or different? In the words of one radio newsroom manager: "survived a pandemic and worldwide social unrest."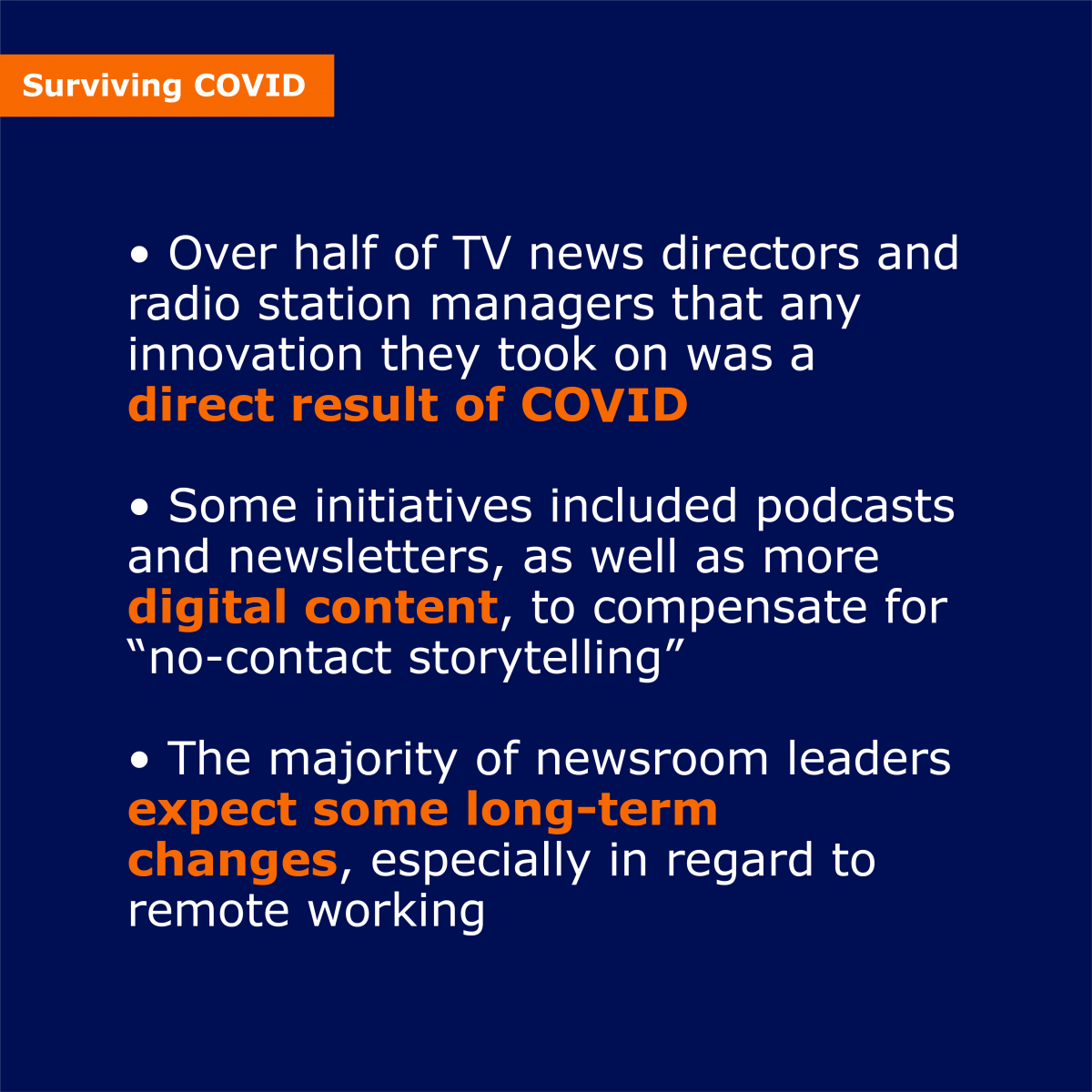 Close to half of local TV news directors and half of radio managers report any innovation their station took on during 2020 was to cope with COVID. Local news managers cited the "enormous logistical challenge" of moving workflows remote and cloud based. "No-contact storytelling" posed another challenge.

Most local news managers reported these innovations were merely for survival and were relatively successful in keeping newscasts airing and station staff healthy, if not sustainable sacrifices in compromised production quality.

Most TV news directors do expect long term or permanent changes, including remote work. Reflecting that prediction, more planned technology purchases during 2021 than last year's record low. Still, fewer than 20 percent indicated planned purchases, primarily remote broadcasting equipment.
A quarter of TV newsrooms and a quarter to a third of radio newsrooms report other, more strategic initiatives. Some also driven by COVID, more local newsrooms report producing virtual town halls, specials and longer-form or digital-exclusive content. Among radio newsrooms, podcasts, newsletters or just more local coverage were most reported new initiatives. Public radio stations were twice as likely to report doing something new during 2020, as were stations in larger markets and with bigger staffs.
OTT & NextGen TV
In the survey's second year asking TV news directors about OTT, more than half report they are producing over-the-top streaming content, up only slightly. Stations in the top 25 markets are most likely, at 72%, to report having OTT channels. Commonly reported types of OTT content include 24-hour-a-day streams, OTT-exclusive shows and some live content. Many stations with OTT content report establishing OTT/streaming desks has yielded good results, though some reported low demand for OTT content by their local audiences. Close to 60% of OTT user stations say it's too early to determine how OTT will benefit their newsrooms, but almost as many report reaching new audiences is the biggest benefit of OTT so far. Another third say it offers opportunities to produce more in-depth content.

Also called ATSC 3.0, just 12% of local TV newsrooms overall report working on NextGen TV initiatives. The enhanced quality, internet-enabled TV enables offering finely tailored content, but requires compatible new TVs and tuners for consumers to receive. 25% of top 25 market stations are getting started in the ATCSC 3.0 game, primarily getting ready for or testing NextGen broadcasting technology.
Digital Content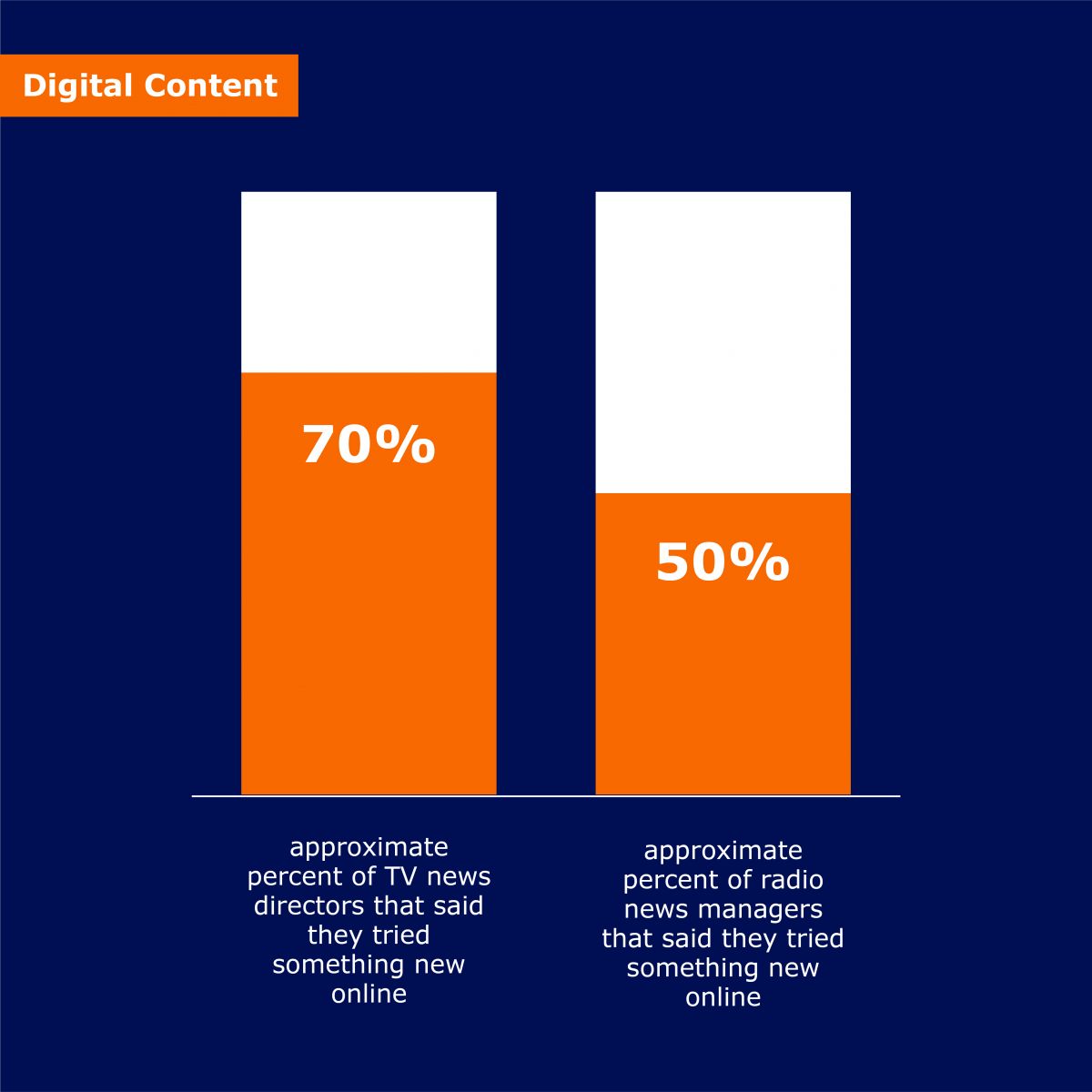 Just under 70% of local TV news directors – down noticeably – say they tried something new online during 2020, as did just over half of radio news managers – a slight increase.
TV
Among those TV news directors, 40% report new-to-the-station OTT or streaming initiatives. Almost a quarter mentioned management or digital strategy moves, with many building digital-specific teams. A quarter mentioned new or different types of digital content.

However, most stations didn't significantly increase the amount of content they produce that was web-only, and digital exclusive content reflects about a quarter of what local TV stations produce. 41% of news directors didn't know their station's web traffic numbers for 2020, an increase from 2019 when just under one third didn't. New directors who did know their traffic numbers primarily reported substantial gains in web views.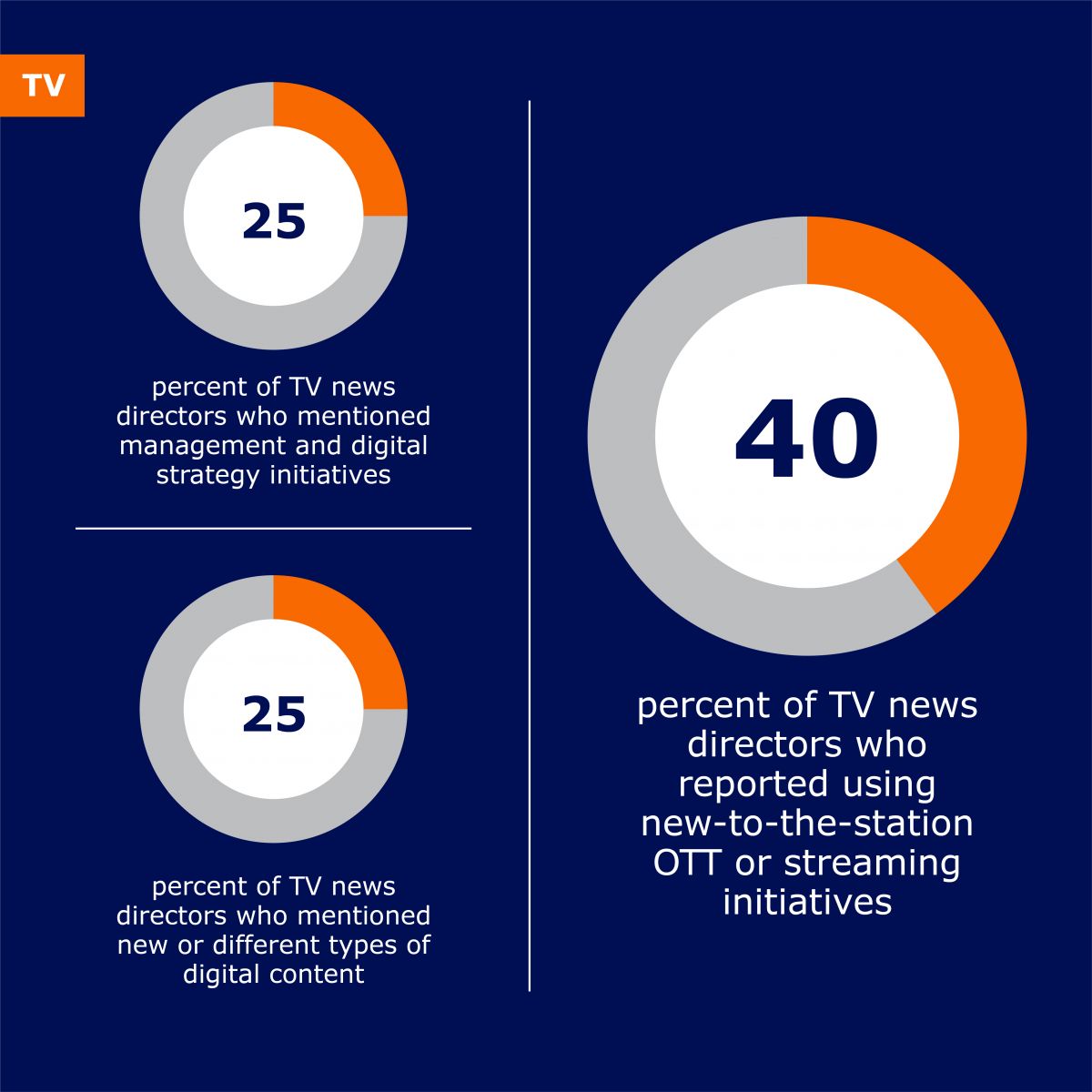 Local TV news departments didn't produce many more podcasts or launch new apps in 2020, either. The typical station, measured by median, has no podcasts and the average per station is less than one half. Stations that have a podcast, in other words, are in the minority. On the other hand, 96% of TV newsrooms have at least one app, with the median and average number of apps per station, up marginally, at around two.
Radio
Of more than 200 responses from radio news managers who say they undertook new digital initiatives in 2020, almost 80% say they focused on more, better and new types of digital content. A quarter specifically mentioned COVID coverage online. Radio managers report slightly more digital-only content, with just over 17% of web content, on average, as web-exclusive. Not all radio stations that air news post news online, though. While almost 98% say they have a website, just over 80% have news sections on those sites. Among those that do – and could report their web numbers – traffic was up in 2020, especially in large and major markets.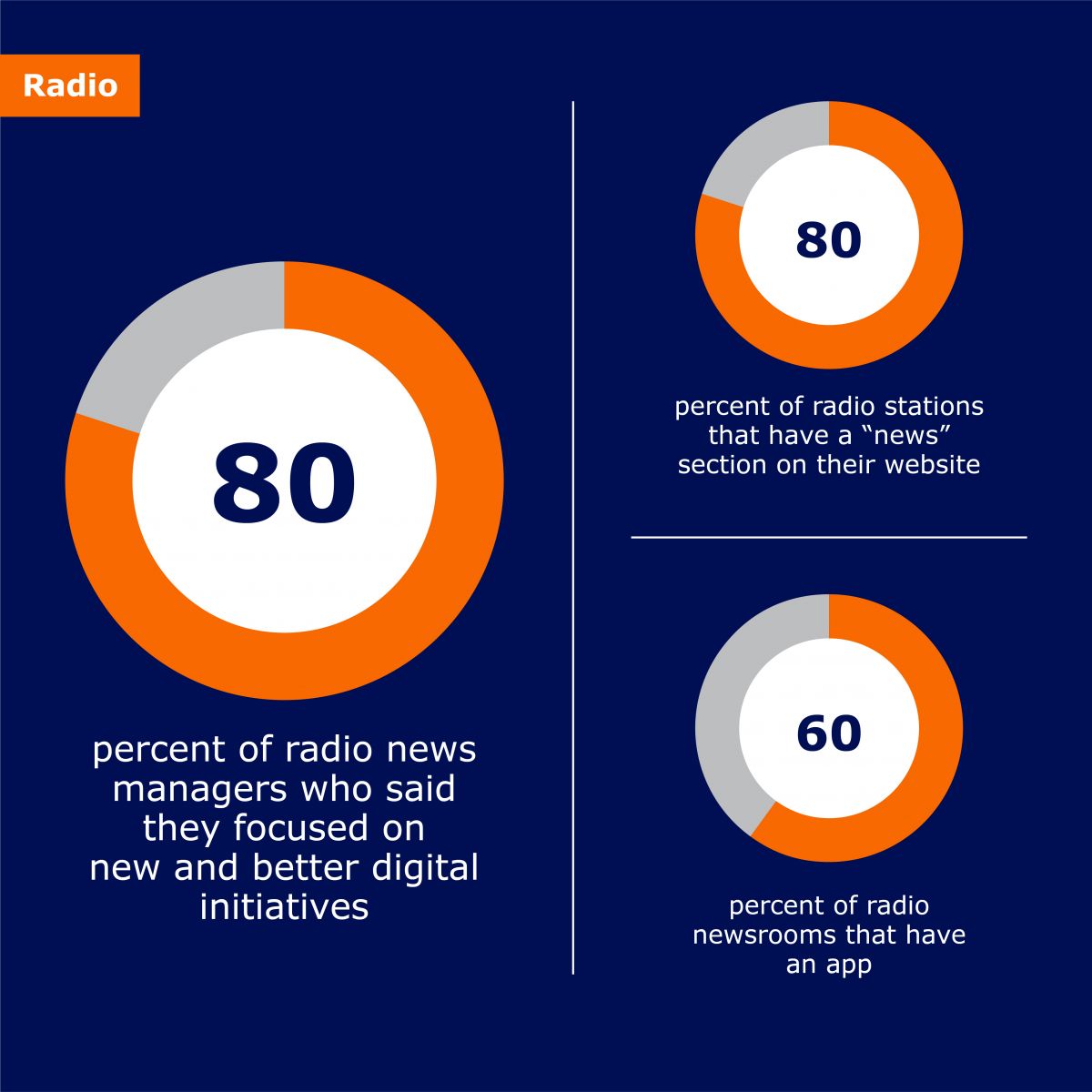 Like in TV, podcasting is growing slowly, with the typical radio news department reporting zero podcasts. The average of three, up slightly, indicates that radio stations with podcasts are among the minority, but the few stations with one or more podcasts pull up the average.

For the second year in a row, fewer radio newsrooms – now under 60% – say they have an app. Public stations are more likely to report having an app than commercial radio newsrooms, but commercial stations that do have apps are more likely to report having multiple apps.
Social Media
According to the Pew Research Center's Social Media Use in 2021 report, YouTube is the social media site with the most reach among American adults, reaching some 80%, and is also one of the few platforms with growing use. Facebook is the second most widely used platform at just under 70% of adults overall, with high levels of use across adult age groups. Instagram ranked third, reaching some 40% of adults, with Twitter and other platforms like Snapchat and TikTok used by a quarter of adults or fewer. Adults under 30, the report finds, are similarly likely as older adults to use social media at all, but much more likely to use Instagram, Snapchat and TikTok.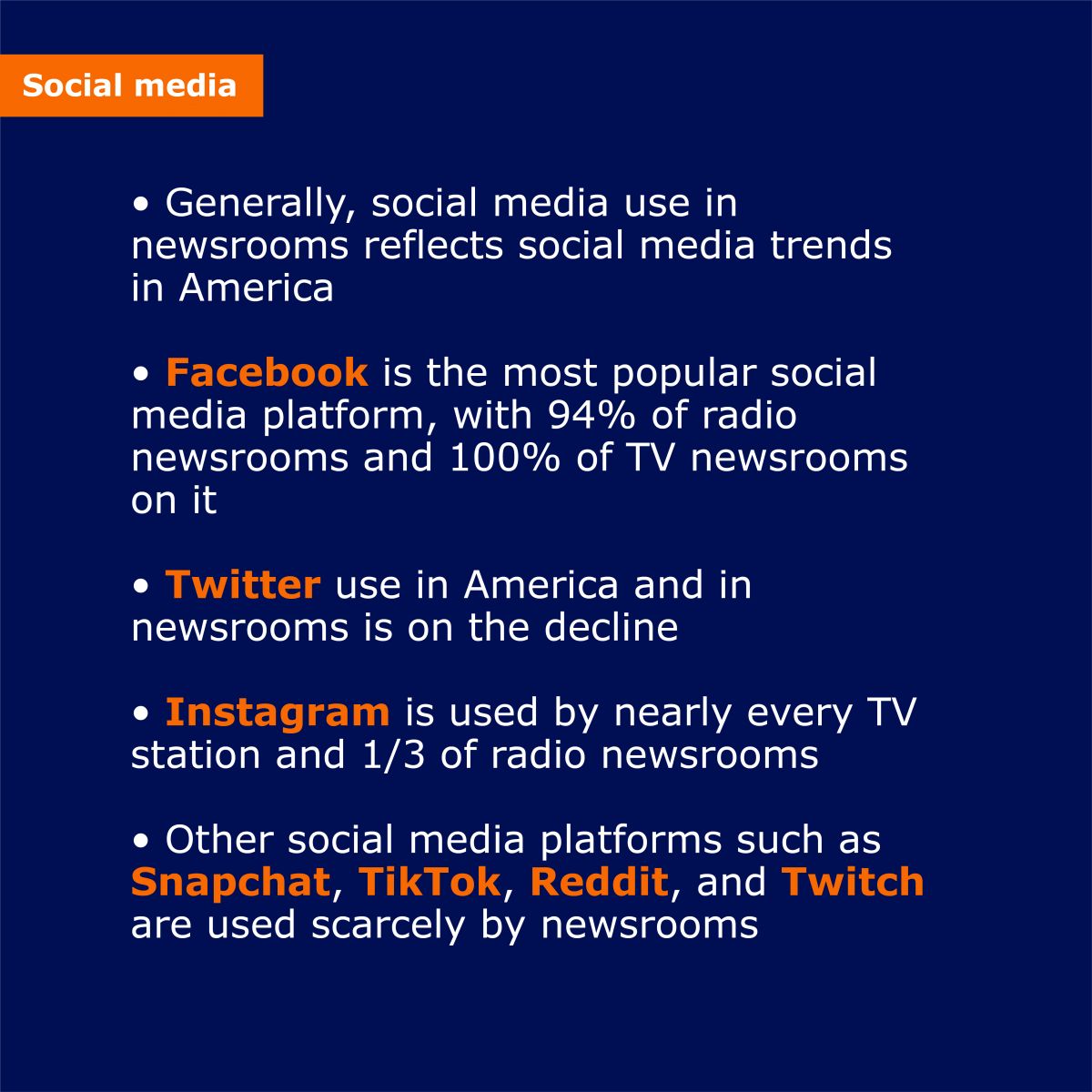 How similarly do local broadcast newsrooms' social media use match their audience's? Relatively closely, in that Facebook is the most universally used platform for local newsrooms, the RTDNA/Syracuse survey finds, and the primary focus of many newsroom social media strategies. A few radio newsrooms left Facebook during 2020, but 94% still use it, and no TV newsroom in the last six years of the survey has said it doesn't use Facebook.
Mirroring Americans' use trends, Twitter use among local news has been declining for several years, with most TV newsrooms using the platform, but less frequently. Close to 40% of radio newsrooms don't use Twitter. 60% of radio stations overall report they only use Facebook and/or Twitter, but there's a significant public-commercial gap. 61% of public radio newsrooms say they use more or other social platforms while 71% of commercial stations do not.

Instagram use is now almost universal among TV newsrooms and is used by about a third of radio newsrooms. Other social media platforms, like YouTube, Twitch, Reddit, SnapChat and TikTok, earned only a handful off mentions by radio or TV stations. Local newsrooms' social media strategies, in other words, have matured from experimental to strategic. "That wide range of options has narrowed dramatically," researcher Bob Papper says, adding, "at the same time the focus and purpose of social media has been steadily shifting from an end in itself to a means to an end: moving people to the station website where making money is possible."

Despite that aim, relatively few news directors knew their social media engagement or traffic metrics. Among those who did, TV news directors report 40 to 44% of their web traffic is from social sources –down slightly – and radio news directors reported earning a quarter to a third of their website traffic from social media sources.

Slightly more local news managers – 60% of TV news directors and 37% of radio managers – did report trying something new on social media during 2020. Among radio managers, strategy efforts led social media initiatives in 2019, while in 2020 46% report content-related social media efforts and 30% focused on strategy. Among TV managers, 48% focused on strategic moves including using Instagram more, better social media monitoring and more two-way engagement efforts. 34% report changing up social streaming including, for some stations, more Facebook live videos, but, for many, less Facebook streaming. And 17% of TV managers say their social media efforts in 2020 focused on new or different content, particularly locally-focused.
---
Bob Papper is Adjunct Professor of Broadcast and Digital Journalism at Syracuse University and has worked extensively in radio and TV news.

About the Survey
The RTDNA/Newhouse School at Syracuse University Survey was conducted in the fourth quarter of 2021 among all 1,780 operating, non-satellite television stations and a random sample of 3,379 radio stations. Valid responses came from as many as 1,336 television stations (75.1%) and 765 radio news directors and general managers representing 2,310 radio stations. Some data sets (e.g. the number of TV stations originating local news, getting it from others and women TV news directors) are based on a complete census and are not projected from a smaller sample.