MOS Doesn't Have to Be Bad
By Simon Perez, Associate Professor of Broadcast and Digital Journalism, Syracuse University
Getting people on the street to agree to an interview is no easy task. Here's the reporter striking out over and over, a common experience for TV news people. But, there are ways to improve your batting average. Source: Simon Perez

---
"Go get some MOS." Ugh, the bane of TV reporting - trying to get random people on the street to talk to you. But much like live shots in the rain or traffic jams on deadline or editing software that crashes repeatedly, this is something we sometimes simply must accept as part of the job. So, how to make it easier? Here are four tips that make "yes" a more likely answer when you ask: "Can I talk to you about my story?"
Be ready. Especially when you're working as an MMJ, there's no way to hide the fact you're a TV reporter. Burdened with camera, tripod and mic, you won't be able to sidle up to someone and randomly start a conversation about the topic of the story. So you might as well get all the equipment out and be prepared to do the interview. That means camera on the tripod, INWF (iris, neutral density filter, white balance, focus) and mic check. If you're ready the instant someone even considers talking to you, you give that person less time to think about backing out. The moment someone shows interest, hit record and stick out the mic. Once the interview's begun, most people realize it's painless and will continue.
Get to the point quickly. Long, rambling initial statements just give potential interviews more time to think about saying "no." I've never found pleasantries such as "Hey, how's it going? Nice day, huh? What are you doing today?" result in more people agreeing to an interview. Instead, go quickly: "I'm doing a story on…." That helps the person make a snap judgment on whether to go further. After you see the person is engaged and at least thinking about it, then you can introduce yourself and give more background on the story.
Keep your promises. Do the story you say you're going to do. Ask the questions you say you're going to ask. Be as fast as you say you're going to be.
Be cheerful. No matter how many times people ignore you or are rude to you, shake it off and start anew with a smile and a positive attitude. Each new person you engage is judging you – and whether to talk to you – from scratch. No one knows how many times you've struck out.
Conducting interviews while following social distancing guidelines has obviously changed the physical interaction between reporter and interview subject. Standing several feet away from the people you want to talk to certainly makes it more difficult to establish a personal connection, but not impossible. The suggestions above work no matter how far away you stand.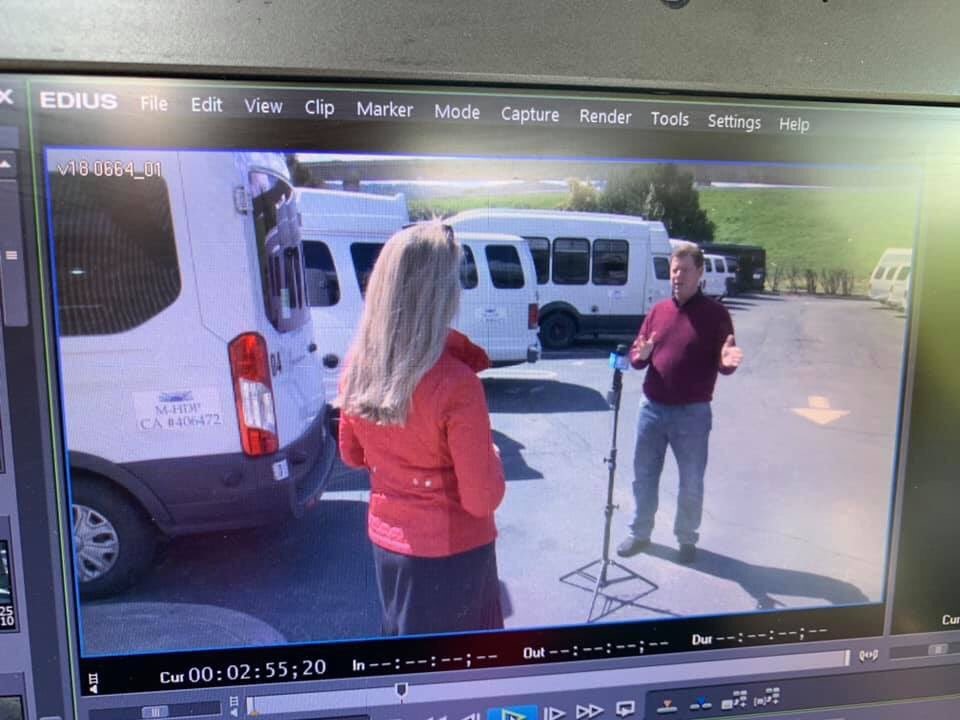 KPIX reporter Juliette Goodrich maintain distance from her interview subject by using a light stand to support a microphone. Courtesy: Juliette Goodrich, KPIX.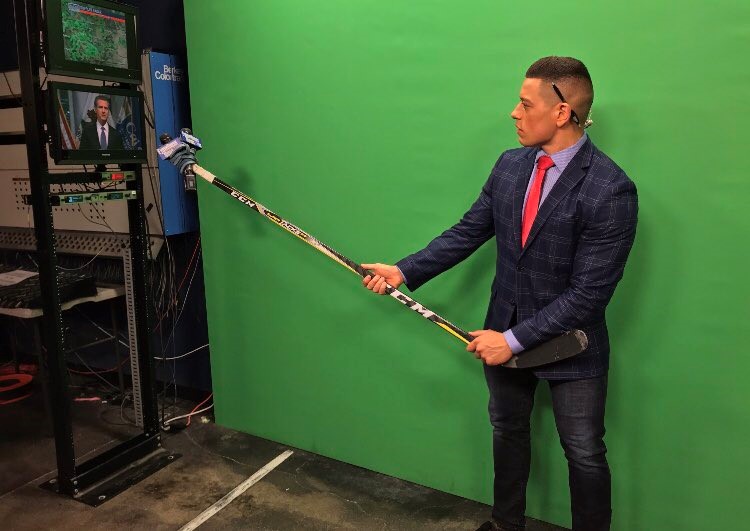 KBAK sports anchor/reporter Jonathan Singh shows how a hockey stick can extend a microphone closer to an interview subject. Courtesy: Jonathan Singh, KBAK.

---
Simon Perez is an associate professor of broadcast and digital journalism at Syracuse University's S.I. Newhouse School of Public Communications. In the summers of 2012, 2014, 2015, 2016, 2017, 2018 and 2019 he returned to his former job as reporter for KPIX TV in San Francisco. He has chronicled his newsroom experiences and the lessons he hopes to bring back to the classroom at http://www.simonperez.com/blog.