RTDNA Remembers Paul Davis, Past RTDNA President and Treasurer
Date posted
April 21, 2021
I'll never forget the first time I met Paul Davis.
We were both attending a journalism conference in Boston. It was the summer of 1988. Paul was news director at the behemoth WGN-TV, Chicago; I was news director at a small-market radio station in Missouri.
At the end of the day, Paul put together a group of people to go to dinner at the original Legal Sea Foods restaurant in Cambridge. So I joined Paul and six other people as we crammed into his rented Crown Vic for the drive to the restaurant. We were packed like canned sardines.

The restaurant had a 90-minute wait. Paul put his name on the list and then decided we should all stuff back into his car and go to Lexington to see a monument commemorating where the Revolutionary War had started in 1775.

Later, on the way back to the restaurant, Paul, navigating from a roadmap draped across the steering wheel, inadvertently drifted into the oncoming lane of traffic. Someone in the car yelled out, and he swiftly swerved back into the correct lane, barely missing a phalanx of Boston Police motorcycles.
It was the motorcade for then-governor and Democratic presidential nominee Michael Dukakis.
While his passengers, including me, were mortified, Paul let out a bellow of laughter. Someone suggested that maybe she could read the map so Paul could concentrate on his driving.
"This is nothing," he said. "I do a crossword puzzle on the Dan Ryan (or was it the Kennedy?) every day on my way to work!"
He would be news director at WGN-TV for 13 years, building the "super station's" newsroom into a nationally recognized powerhouse and founding a Washington, DC bureau serving all of parent company Tribune's stations across the country.
Broadcast journalism was in Paul's DNA. Born in Effingham, Illinois, Paul spent many of his formative years at the local radio station, WCRA-AM, where his mother Zona was the news director, sole reporter and a local legend.
When he was old enough, at age 15 – after "my voice dropped," he later said – Paul worked as the station's staff announcer. And boy, did his voice drop. His deep baritone would serve him well through college, throughout his career, and indeed, his entire life.
By my count, throughout his 67 years as WCRA's former staff announcer, Paul worked at nine radio and television stations, most notably at WGN-TV (and Radio) and, just before that, as an anchor/reporter and then news director at WCIA-TV in Champaign, Illinois, where he had graduated from the University of Illinois. He also worked as a TV news consultant and advocated for First Amendment issues. He left the Midwest to live in Los Angeles for a time.
Paul also found ways to give back to journalism. He was RTDNA's treasurer from 1973 to 1977. He was our elected president in 1979. He later was president of the Society of Professional Journalists. He was president of the Illinois News Broadcasters Association. He was on the board of the Chicago/Midwest chapter of NATAS and served on many other journalism boards and committees.
Paul's voice was silenced this week when his years-long effort to stave off cancer ended peacefully, in his sleep, in a hospice facility. But his influence on RTDNA and the broadcast journalism industry will never be squelched.
When news of his passing spread Monday, the praise and remembrances began pouring in:

I always called Paul Davis "Mr. Basso Profundo." I will miss that deep resonance from our many phone conversations over the past couple of years. I'd been urging Paul to write a book about his mother; a true broadcasting and journalism pioneer, a fascinating woman and one he always spoke of. Sadly that book won't be done now. Paul was a mentor for me, a sounding board for so many news directing issues, a tremendous raconteur and a good friend. And there are hundreds of us now saying the same thing. He was large, he contained multitudes.

– Paul Paolicelli, former RTDNA Board member, former TV news director, author
Paul may be gone but his legacy, and his booming voice, will live on. Every time I talked to Paul, I teased him about being my hero. But I meant it. He did more for journalism and those of us in it than anyone I know. – Joe Rovitto, TV news consultant, former news director
Paul was a large man in many ways – his stature, his presence in the industry, but mostly at heart! What a nice, kind man. He will be remembered fondly by so many people!

– Bob Feldman, former Associated Press TV executive
A couple of years ago I was at the RTDNA conference and by the second day it crossed my mind that I hadn't seen Paul and I wondered if he was there. A short time later I was looking for a particular meeting room and I stepped into one and Paul was finishing up a demo tape review and critique with a young reporter. He immediately beckoned me over and told me that he had been having a great time reviewing tapes and was impressed with the young professionals he had met. I gave the reporter a card and told her to stop by the Nexstar recruiting booth, which Paul immediately encouraged her to do as well. Later when she arrived at the Nexstar booth she was so excited about being at the conference and said that she had no idea she would be able to get such good advice from someone such as Paul. She was truly excited to have met him and to learn from him. That is, I believe, a sentiment that would be expressed by many. It was certainly a feeling for me!

– Mark Kraham, RTDNA Region 12 Director, past RTDNA Chairman, news director WDVM-TV, Hagerstown, MD
I will remember Paul most for his friendliness and good will toward all, and for his phone calls with that great voice of his. We picked each other's brains in the many years that followed our close association when he was elected president and I was legal counsel for RTNDA. Paul was an ardent advocate for the First Amendment and its protections for the news media. He was a talented leader, and he cared.

– Larry Scharff, retired RTDNA general counsel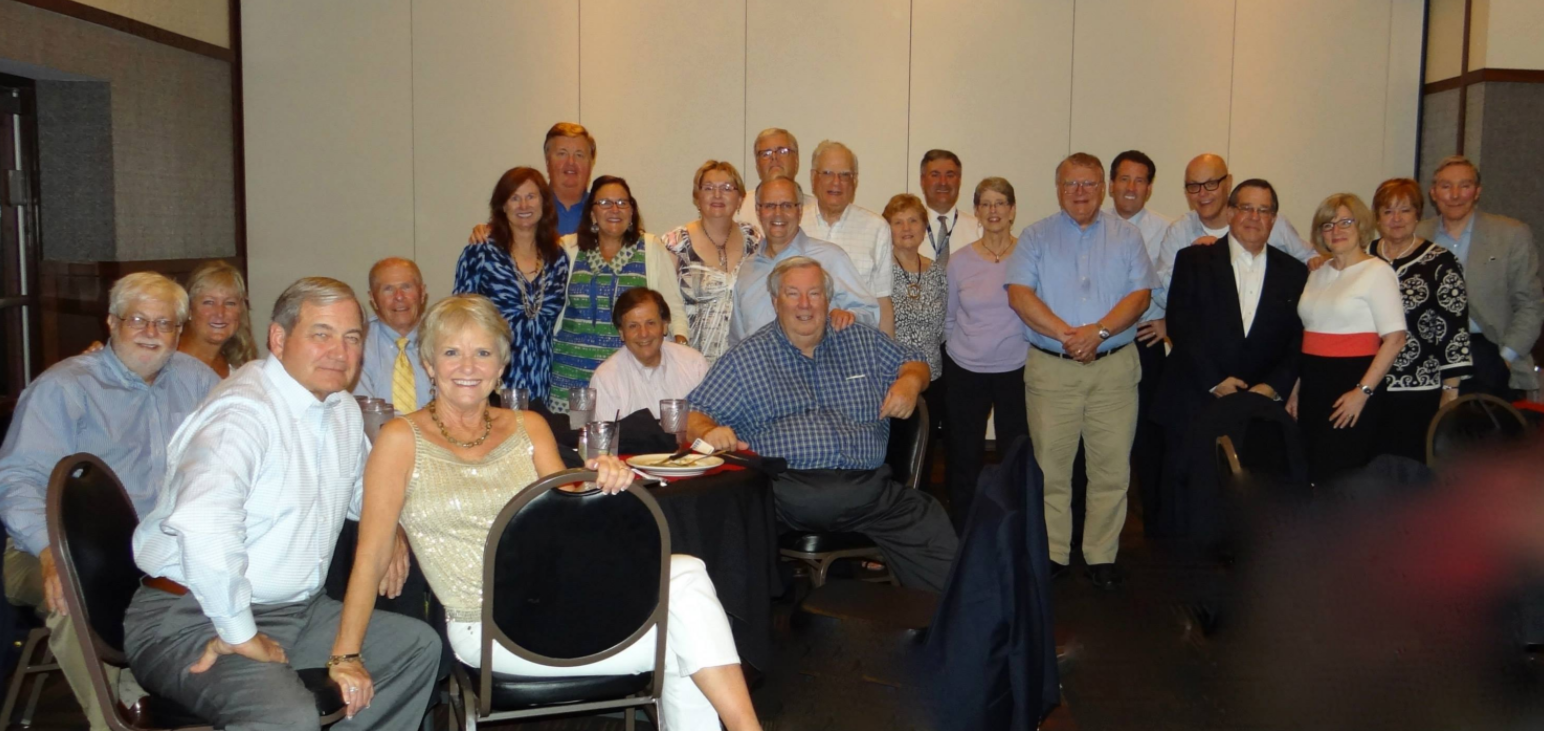 Past RTDNA President and Treasurer Paul Davis, center, at an RTDNA leadership reunion, Nashville, TN, 2015, submission
What a sense of humor. What a laugh. What a sense of right and wrong. What a command of the language. What a teacher. What a journalist. What a guy.

– Jeff Marks, past RTDNA Chairman and longtime TV news director and general manager
People write a lot about employers or co-workers who helped shape their career. Paul Davis did that for me, and we never worked in the same building or for the same company. As a first-time "small market" news director, I met Paul through (then) RTNDA. Our company had no consultants, lawyers or corporate staff. I often needed advice and, even though he was playing in the "big leagues", Paul never failed to return a call. I relied on his wisdom, and those conversations had the additional benefit of making us friends. Paul Davis invested himself in my career when he didn't have to. I am better because of it and will always be grateful. – Marci Burdick, past RTDNA Chairwoman, former longtime TV news director and corporate executive
Many years ago, Paul called before an RTDNA convention in Las Vegas. He explained that he was a big fan of Cirque du Soleil, that he had planned to go to a show with friends, but they had canceled. Would my wife Karen and I like to join him? Of course. The show he had chosen was "Zumanity." It was adult-themed. VERY adult-themed. Karen and I kept looking at each other asking, "Paul likes this?" We endured to the end and left the theater. As we walked away Paul, in that great voice of his, said in measured tones, "That wasn't what I expected." We never spoke of it again.

– Rick Gevers, owner and president, Rick Gevers & Associates, former longtime TV news director
Meeting Paul Davis at my first RTDNA convention in 1976 was a big deal and I'm not sure what was more impressive to my parents when I told them about the convention, that I sat behind Walter Cronkite during one of our sessions or that I met Paul Davis. Paul was the news director at WCIA-TV in Champaign-Urbana then. I grew up in the town of Sullivan, about halfway between there and his hometown of Effingham. We watched Paul every night. I thanked him several times through the years for being the only association leader to approach me and speak to me at my first convention, the kind of event that probably influenced my later involvement more than I realize. I kept that in mind throughout the years I was in leadership positions in the association. Paul was a friend to everyone. His continued involvement in RTDNA long past his own leadership touched the lives of, dare I say, thousands of young journalists. His quiet but deep commitment to the best qualities of journalism and his quiet but fierce advocacy for them as he talked to young people will be felt for a long time. He loved life. He loved journalism. He loved people. He was remarkable. – Bob Priddy, past two-time RTDNA Chairman, retired news director at Missourinet, Jefferson City, MO
During an RTNDA convention long ago, actor James Earl Jones was on the convention floor to promote a syndicated news series. At one point, Paul and Jones took the stage together. There was an instant "This Is CNN" voice-off. Both used their rich baritone voices to thunder to the crowd: "This Is CNN!" The attendees went wild. I wondered how much money CNN could have saved by using Paul as its announcer.

– Brian Trauring, former RTDNA Board member, executive vice president at Lilly Broadcasting
My favorite memory of Paul at an RTDNA convention comes from several years ago, when we partnered each spring with the NAB in Las Vegas.
Paul and I both attended a radio luncheon, at which the NAB was honoring the Mormon Tabernacle Choir. The choir performed a few songs, the last one – Messiah's "Hallelujah Chorus" – so moving that I teared up. Embarrassed, I glanced around the table quickly to see if anyone had noticed. Nobody had, but I saw that Paul had tears streaming uncontrollably down his face.
He had a heart as big as his laugh was loud.
Paul is survived by two sons, a daughter and seven grandchildren. He was preceded in death by his former wife Marilynne, who, long after their divorce, he told me was still "my best friend." Due to COVID restrictions, services are expected to be limited to close family.
During Paul's final days and after, many who knew him through RTDNA and the Radio Television Digital News Foundation have asked how to honor him. Some have chosen to donate to our Foundation in his honor. If you are inclined to do the same, please do so here.
Smooth driving and stirring melodies from here on out, my friend!