RTDNA to Honor Judy Woodruff with 2022 Paul White Award
Date posted
August 1, 2022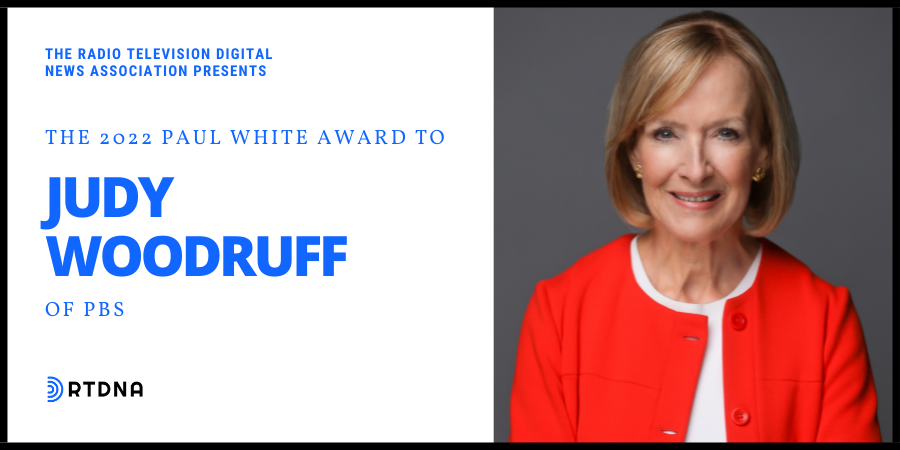 The Radio Television Digital News Association (RTDNA) is pleased to honor Judy Woodruff with the 2022 Paul White Award for her achievements in and contributions to the field of electronic journalism.

"The Paul White Award is RTDNA's highest honor, and Judy Woodruff has been a trailblazer in journalism," said RTDNA Nominating Committee Chair Andrea Stahlman. "She has spent her career holding the most influential decision-makers in Washington accountable, and has done so with grace, humility and dedication to the truth."

Named for the first news director of CBS, the Paul White Award recognizes an individual's lifetime contributions to electronic journalism. Since 1956, honorees have included Edward R. Murrow, Walter Cronkite, Barbara Walters and Ted Koppel. Woodruff will be recognized during an awards ceremony and reception Sept. 15 at RTDNA22 in Indianapolis.

"Judy Woodruff's work as a journalist is legendary as one of the most influential Washington journalists since the Carter administration," said RTDNA President and CEO Dan Shelley. "Almost as impressive, though, is her volunteer work on various boards to enhance the journalism community. Our profession has no greater ambassador."

Woodruff is the anchor and managing editor of the PBS NewsHour. She has covered politics and other news for five decades at NBC, CNN and PBS.

At PBS from 1983 to 1993, she was the chief Washington correspondent for the MacNeil/Lehrer NewsHour. From '84 to '90, she also anchored PBS' award-winning documentary series, "Frontline with Judy Woodruff." Moving to CNN in 1993, she served as anchor and senior correspondent for 12 years; among other duties, she anchored the weekday program "Inside Politics." She returned to the NewsHour in 2007, and in 2013, she and the late Gwen Ifill were named the first two women to co-anchor a national news broadcast. After Ifill's death, Woodruff was named sole anchor.

Woodruff is a founding co-chair of the International Women's Media Foundation, an organization dedicated to promoting and encouraging women in journalism and communication industries worldwide. She serves on the boards of trustees of the Freedom Forum, The Duke Endowment and the Carnegie Corporation of New York, and is a director of Public Radio International and the National Association to End Homelessness. She is a former member of the Knight Commission on Intercollegiate Athletics, a former director of the National Museum of American History and a former trustee of the Urban Institute.

A past recipient of the Radio Television Digital News Foundation's Leonard Zeidenberg First Amendment Award, she also has received the Radcliffe Medal, the Poynter Medal for Lifetime Achievement in Journalism, the Gwen Ifill Press Freedom Award from the Committee to Protect Journalists and the Cronkite Award for Excellence in Journalism from Arizona State University, among many others.

Woodruff lives in Washington, D.C., with her husband, journalist Al Hunt, and they are the parents of three children: Jeffrey, Benjamin and Lauren.