RTDNA Awards NBC News' Richard Engel 2022 John F. Hogan Award
Date posted
August 1, 2022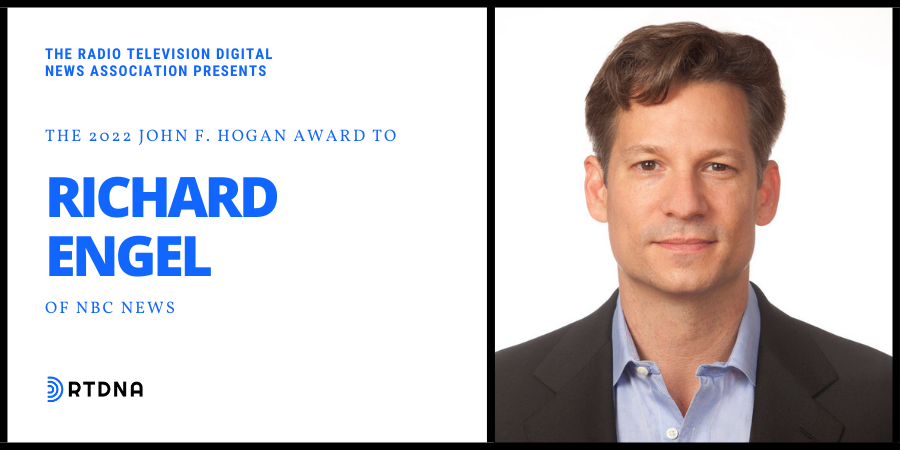 The Radio Television Digital News Association (RTDNA) is honored to present Richard Engel, NBC News Chief Foreign Correspondent, with the 2022 John F. Hogan Distinguished Service Award for achievements in and contributions to the field of broadcast journalism.

"Richard Engel is on the front lines of history and helps to humanize the most important events in the world," said RTDNA President and CEO Dan Shelley. "His work sets an important standard for journalism, and viewers around the world are better for it."

Named for the founder and first president of RTDNA, the John F. Hogan Distinguished Service Award recognizes an individual's contributions to the journalism profession and freedom of the press. Engel will be recognized during an awards ceremony and reception Sept. 15 at RTDNA22 in Indianapolis.

"Richard Engel regularly puts himself in harm's way to show the world the dangerous reality of conflict zones," said RTDNA Nominating Committee Chair Andrea Stahlman. "His courage and dedication are an inspiration to every journalist who seeks to report the truth, no matter how difficult it can be at times."

Engel is widely regarded as one of America's leading foreign correspondents for his coverage of wars, revolutions and political transitions around the world for over twenty years. He is recognized for his outstanding reporting on the Syrian civil war, the 2011 revolution in Egypt, the conflict in Libya, the wars in Iraq and Afghanistan, and overall unrest throughout the Arab world.

He was named chief foreign correspondent of NBC News in April 2008. His reports appear across all NBC News and MSNBC platforms, including "NBC Nightly News with Lester Holt," "TODAY," "Meet the Press," "Dateline," NBC News NOW and NBCNews.com.

Engel also hosts the special ongoing award-winning series "On Assignment with Richard Engel" on MSNBC, which draws on his over twenty years of experience of award-winning original reporting in the field and combines in-depth reporting with interviews in key locations across the world.

He lived in the Middle East after graduating from Stanford University in 1996 with a B.A. in international relations. He speaks and reads fluent Arabic, which he learned while living in Cairo. He has also traveled extensively in the Middle East and can comfortably transition between several Arabic dialects spoken across the Arab world. He is also fluent in Italian and Spanish.

Engel and "On Assignment with Richard Engel" are on Twitter at @RichardEngel and @OARichardEngel.