Local News Staffing Doesn't Stick to the Trend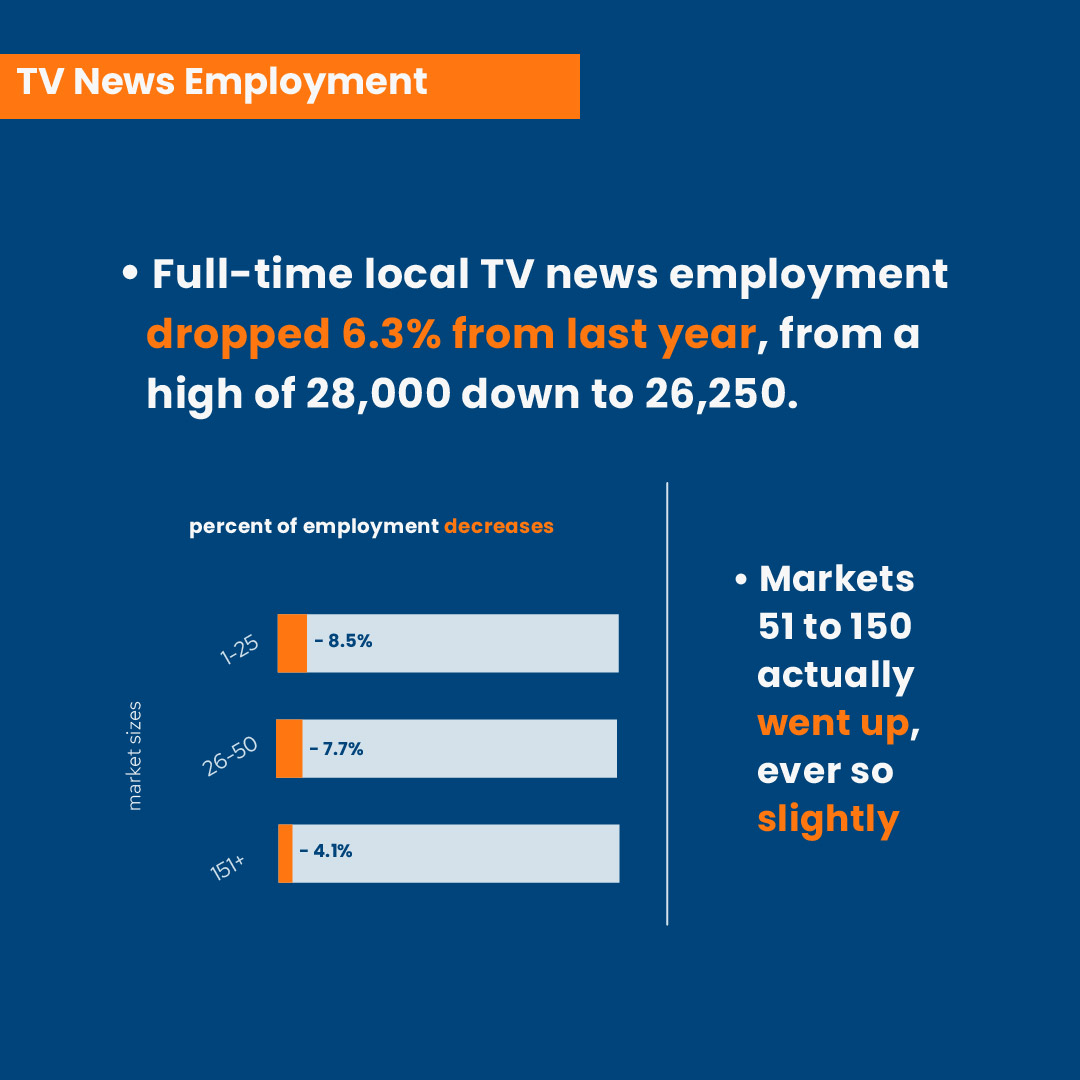 TV
After a surprisingly strong rise the previous year, TV news employment went down 6.3% last year, according to the latest report from the RTDNA/Newhouse School at Syracuse University Survey — from a record high 28,000 in the 2021 survey down to 26,250.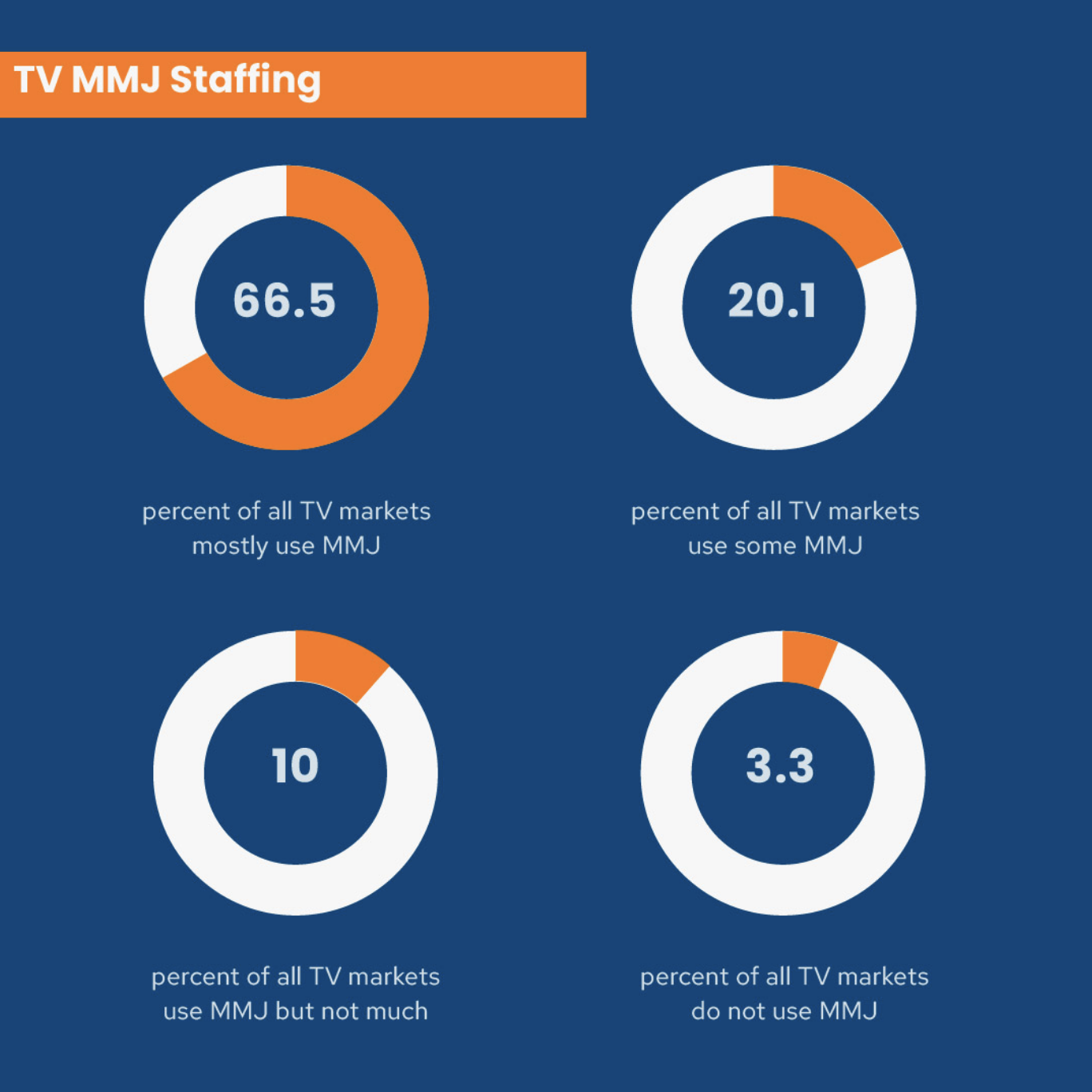 The biggest hits in full-time employment came in the smallest markets, which dropped 8.5% in staff size from last year to this, followed by markets 26 to 50, which fell 7.7%. The top 25 markets went down 4.1% while markets 51 to 150 actually went up, ever so slightly.

Median part-time staff held steady, but average part time went down pretty much across the board.

Some of the overall drop in employment came from the loss of four newsrooms, as the total number of local TV newsrooms fell from 710 last year. The pain was remarkably widespread. Other commercial stations got hit harder than the big four affiliates, but everyone went down. All the affiliate groups went down; all the regions of the country went down.

As you'd expect, more stations reported decreasing staff than increasing staff, although the margin is surprisingly close given the overall drop. The most widespread decreases came in markets 26 to 50 and markets 101 to 150. Both groups had more than 30% of stations cutting staff. Fox affiliates, followed by NBC affiliates, were much more likely to cut staff than ABC or CBS stations. Stations in the Northeast took the biggest hit. Nearly half the stations in the Northeast reported cutting staff — more than three times as many as added staff.

But 2022 appears to be a different story. Local TV news directors are optimistic about hiring this year. The percentage expecting to add staff is up a whopping 18 points from last year — and at its highest level since we started tracking the question 21 years ago. News directors in every market size overwhelmingly expect to add staff, with those in the smallest markets, followed by those in the biggest, leading the way. Other commercial (and non-commercial) stations are not nearly so optimistic.
Download Full TV News Staffing Report
Radio
The typical (median) radio news operation had a full-time news staff of one — the same as it's been since these surveys started 28 years ago.

But there has been slippage in total radio news staffing in the last year. It's not a lot, but the average radio news operation dropped from 3.2 full-timers to 3; part time edged down a tenth. The slippage is across the board but appears to have hit non-commercial radio just a bit harder, with the average non-commercial radio news operation going from 6.7 full time to 5.9 and part time dropping from 2.4 to 1.8.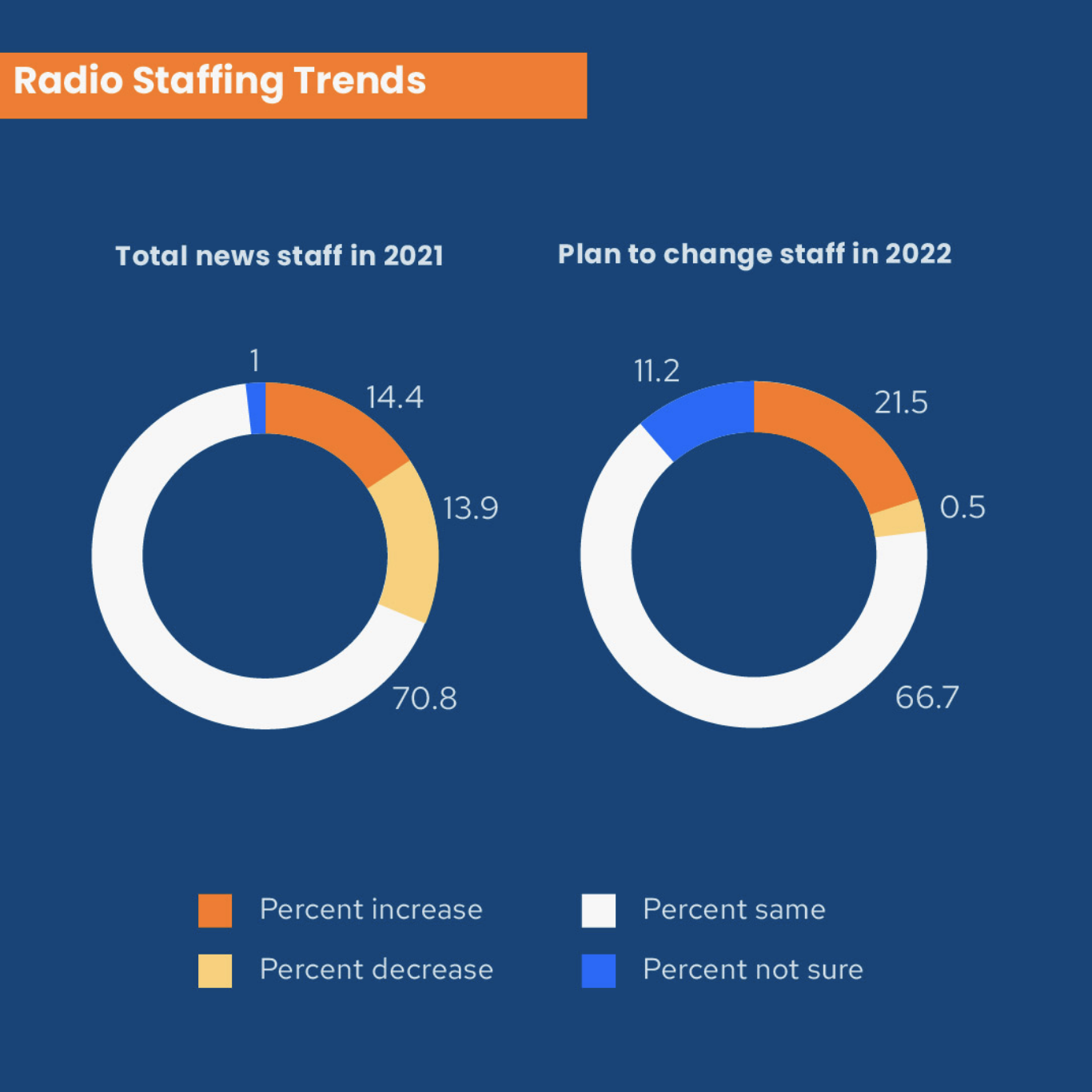 The use of a centralized newsroom by multi-station groups dropped as well. All told, two-thirds (66.6%) of all multi-station local groups operate with a centralized newsroom, but that's down a surprising 10 points from last year.

All market sizes except large ones dropped in staff size. Not by a lot, but they didn't start with a lot either. The average staff size edged down 0.2 people, and major markets took the biggest hit.

This survey breaks down radio numbers in a variety of ways, but the sharpest overall contrast in radio news is between commercial and non-commercial stations. And the differences have become sharper and deeper year after year with non-commercial stations growing much larger and faster than commercial stations. This year, commercial radio station staff went down, on average, by 0.2, but non-commercial station staff fell by 0.8. Note that non-commercial stations are more likely to be found in large and major markets.

As usual, the larger the market, the larger the news staff is likely to be.
Download Full Radio News Staffing Report
---
Bob Papper is Adjunct Professor of Broadcast and Digital Journalism at Syracuse University and has worked extensively in radio and TV news.

Keren Henderson is Associate Professor of Broadcast and Digital Journalism at Syracuse University. This research was supported by the S. I. Newhouse School of Public Communications at Syracuse University and the Radio Television Digital News Association.

About the Survey
The RTDNA/Newhouse School at Syracuse University Survey was conducted in the fourth quarter of 2021 among all 1,780 operating, non-satellite television stations and a random sample of 3,379 radio stations. Valid responses came from as many as 1,336 television stations (75.1%) and 765 radio news directors and general managers representing 2,310 radio stations. Some data sets (e.g. the number of TV stations originating local news, getting it from others and women TV news directors) are based on a complete census and are not projected from a smaller sample.