Nobel Committee Awards Peace Prize to Journalists
Date posted
December 8, 2021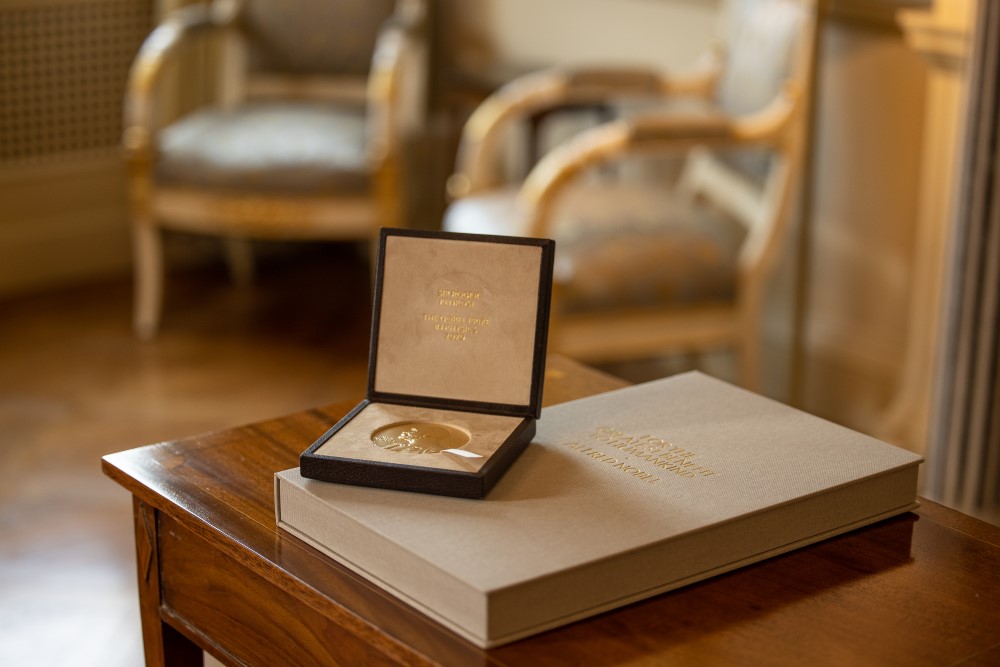 By Michael Castengera
RTDNA Contributor

The awarding of the Nobel Peace Prize to two journalists this year is clearly meant to send a message to politicians around the world, including here in America, about the importance of journalism. The chair of the Norwegian Nobel Committee put it bluntly in her announcement saying, "without media you cannot have a strong democracy."

Committee chair Berit Reiss-Andersen hammered home the importance of "freedom of expression," using that phrase repeatedly in her speech as well as in an interview with a journalist afterward. The two journalists who were awarded the Peace Prize this year were Maria Ressa in the Philippines and Dmitry Andreyevich Murato in Russia "for their efforts to safeguard freedom of expression, which is a precondition for democracy and lasting peace."
Maria Ressa
founded
"Rappler,"
a digital media company focused on investigative journalism that has exposed Philipine President Rodrigo Duterte's attacks on his own people.
Dmitry Andreyevich Murato
founded "
Novaya Gazeta
," which has seen six of its journalists killed as they pursued stories that other news outlets in Russia ignored.
Many of the things she said serve as a great reminder of the importance of our work —
your
work — as journalists.
"Free, independent and fact-based journalism serves to protect against abuse of power, lies and war propaganda."
"Freedom of expression and freedom of information help to ensure an informed public ... crucial prerequisites for democracy."
"Without freedom of expression and freedom of the press, it will be difficult to successfully promote fraternity between nations, disarmament and a better world order."
"Giving the Peace Prize to two courageous and outstanding journalists … illustrates what it means to be a journalist."
"This prize will not solve the problems. … What we do hope is that it will shed a light on the importance of the work of journalists."
Reiss-Andersen was asked during the news conference how important she thought the press was in light of the attacks by former U.S. President Donald Trump and the repeated "fake news" mantra. She didn't respond directly to the comment about Trump and you could see her gathering her thoughts carefully before speaking.

"Freedom of expression is full of paradoxes," she said. "… Conveying fake news and information that is propaganda and untrue is also a violation of freedom of expression."

She also echoed Ressa's concerns about the effect of social media on public discussion and specifically Facebook being used to manipulate public opinion. She said it was ironic that misinformation and fake news allegations are happening in a time when there is more information and more access to information than at any time in the history of the world.

In her news conference, she cited two earlier journalists who also received the Nobel Peace Prize: Italian journalist Ernesto Teodoro Moneta who was recognized in 1907, but more for his peace work than his journalism, and German Carl von Ossietzky who revealed Germany's efforts to re-arm itself in 1935 in violation of the Versailles agreement and who was killed as a result.

Four other journalists have been awarded the Peace Prize in its 120-year history in addition to these two and the two this year. That's a total of eight out of 108 people and 24 organizations recognized by the committee. And mostly the previous recognitions of journalists were more for their peace work than their journalism. Reiss-Andersen made it clear that the recognition given this year was for one very distinct reason.

"The Peace Prize has not previously isolated the values of freedom of expression as such … the right to have an informed public … and that the work of journalists is absolutely necessary to achieve these goals and, in that manner, develop democracy."
Michael Castengera is a newspaper reporter, turned television reporter, turned news manager, turned news consultant, turned university teacher. He is a senior lecturer at the Grady College of Journalism at the University of Georgia. You can read more of his writing on his Medium page.