RTDNA and NEFE Announce 2021 Personal Finance Reporting Awards
Date posted
August 30, 2021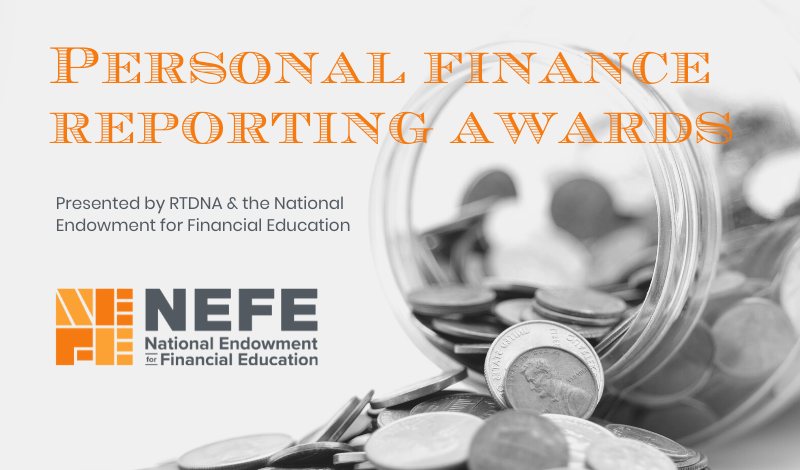 The Radio Television Digital News Association (RTDNA) and the National Endowment for Financial Education (NEFE) have announced the winners of the 2021 Excellence in Personal Finance Reporting Awards.

The awards recognize the best in personal finance reporting. Three awards for digital, TV and radio reporting will be presented at RTDNA21, where the winners will take part in a panel discussion to break down their award-winning pieces and share key reporting tools and best practices.

The 2021 winners are:
---
Digital
Robert Powell, Retirement Columnist, MarketWatch

How to pay for healthcare costs in retirement
Robert Powell, CFP®, is an award -winning personal finance journalist whose work appears in MarketWatch.com, USA TODAY, TheStreet.com, The Wall Street Journal, and AARP. He is the editor and publisher of TheStreet's Retirement Daily. Powell also serves as the co-founder of finStream.tv; the editor of the Retirement Management Journal; the host of the Exceptional Advisor podcast; and an instructor in Salem State University's Online Elder Planning Specialist program. Previously, Powell served as the editor of Retirement Weekly and the editor of Mutual Fund Market News. He was the co-author of "Decoding Wall Street," an investment primer published by McGraw-Hill. He and his wife are parents of four adult children and live in Swampscott, Mass.
---
TV
Chris Chmura, Consumer Investigative Reporter, KNTV-TV / NBC Bay Area

How To: Make Savvier Financial Decisions
Chris Chmura is the Consumer Investigative Reporter at KNTV-TV, NBC Bay Area in the San Francisco Bay Area. Since 2016, Chris and his team have responded to thousands of viewers' consumer complaints and helped those viewers recover more than $5.7M. His team is responsible for changing corporate policies, inspiring revisions to state law, and relentlessly bugging countless PR people. Prior to joining KNTV-TV, Chris worked as Consumer Reporter at WTVT-TV in Tampa, FL. He's also an alumnus of The Associated Press, where he worked in its Washington, D.C. broadcast bureau. Chris is a graduate of the University of Florida.
---
Radio
Stephannie Stokes, Reporter, WABE 90.1 FM, Atlanta's NPR station

As Property Values Rise In Atlanta, So Does The Exploitation Of Black Homeowners
Stephannie Stokes is a reporter for the NPR station in Atlanta, WABE 90.1 FM, where she covers housing issues. Her work explores the racial and social inequities that influence where people live and the consequences for their families' health, education and wealth. Her stories have aired nationally on NPR, Marketplace and Reveal from the Center for Investigative Reporting. In Atlanta, public officials also have changed policies and laws in response to her reporting. She has received several local, regional and national awards from organizations including the Atlanta Press Club, Georgia Associated Press Media Editors and the Public Media Journalists Association.

These awards are presented as part of the two organizations' ongoing efforts to encourage radio, television and online news outlets to report on personal finance issues.
---
About NEFE

The National Endowment for Financial Education (NEFE) champions effective financial education. NEFE is the independent, centralizing voice providing leadership, research and collaboration to advance financial well-being. As one of the first organizations to embark on the mission of wholly dedicating its efforts on improving the effectiveness of financial education, NEFE continues its legacy of strengthening action-oriented research agendas, mobilizing intermediaries, and creating better solutions for researchers, educators, practitioners and policymakers. For more information, visit www.nefe.org.

About RTDNA

RTDNA is the world's largest professional organization devoted exclusively to broadcast and digital journalism. Founded as a grassroots organization in 1946, RTDNA works to protect the rights of journalists throughout the country, promotes ethical standards in the industry, provides members with training and education and honors outstanding work in the profession through the Edward R. Murrow Awards.