RTDNA to Honor Pierre Thomas with 2023 Paul White Award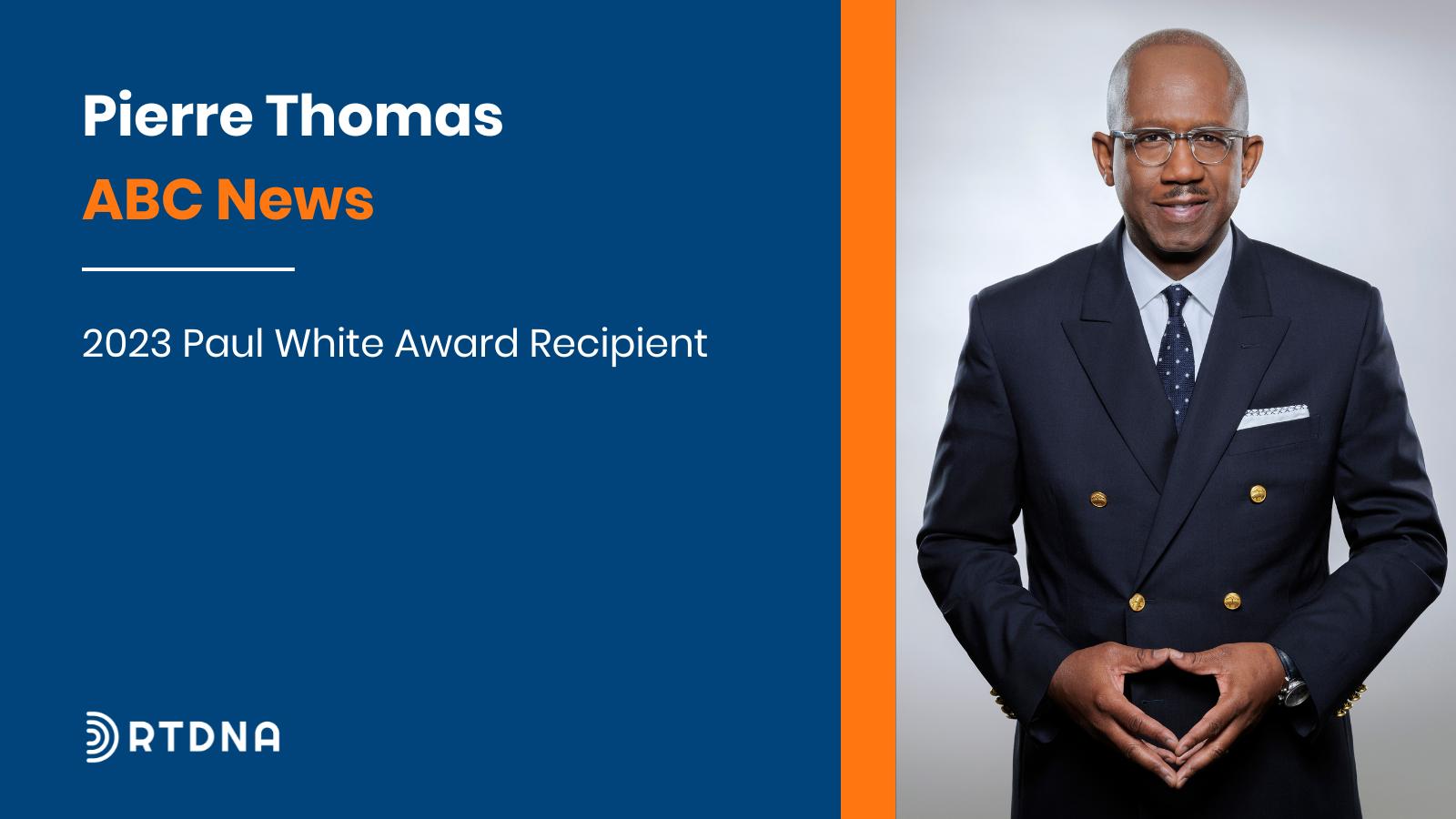 Pierre Thomas, Chief Justice Correspondent for ABC News and one of the most respected names in journalism, will be the 2023 recipient of the Radio Television Digital News Association's Paul White Award.
"The Paul White Award is RTDNA's highest honor, and Pierre Thomas is incredibly deserving," said RTDNA nominating committee chair Allison McGinley. "Pierre is a brilliant journalist whose tremendous work has helped Americans understand the most important stories of the past generation. We are proud to honor him."
Named for the first news director of CBS, the Paul White Award recognizes an individual's lifetime contributions to electronic journalism. Since 1956, honorees have included Edward R. Murrow, Walter Cronkite, Barbara Walters and Ted Koppel. Thomas will be recognized during an awards ceremony and reception Sept. 22 at RTDNA23 in Minneapolis.
Since joining ABC News in 2000, Thomas has earned a reputation as one of the most trusted names in journalism with his thorough, accurate and ethical reporting on the biggest stories of our time — 9/11, the election of President Barack Obama, the killing of Osama Bin Laden, the Boston Marathon bombing, the election and investigations of President Donald Trump, the Jan. 6 attack on the Capitol, the gun violence epidemic in the United States and countless others. Thomas has also secured a number of exclusive interviews, including Attorney General William Barr in 2020, FBI director Chris Wray, and the first television interview with U.S. Capitol Officer Harry Dunn following the Jan. 6 attack on the Capitol. His work has been recognized again and again, with multiple national Edward R. Murrow Awards, multiple Emmy Awards, a Peabody Award and Alfred I. duPont-Columbia University Award for team coverage, and more.
"Pierre is a remarkable journalist who has been holding power to account for decades," said ABC News President Kim Godwin. "His unflinching interviews, nuanced reporting on systemic issues affecting underrepresented communities and his unvarnished investigations uncovering hidden truths have contributed tremendously to the profession and audiences around the world. I am so incredibly proud of him for earning this distinguished honor."
In 2015, Thomas was named the recipient of RTDNA's John F. Hogan Distinguished Service Award, named for RTDNA's founder and given in recognition of contributions to the journalism profession and freedom of the press. He will become the third person to win both the White and Hogan awards, joining Cronkite and former CBS president Frank Stanton.
Thomas has given his time to help support multiple RTDNA projects. He twice has served as host of the RTDNA Foundation's First Amendment Awards (2016 and 2019), played a role in the 2020 virtual Murrow Awards Gala and last year recorded a video message extolling the virtues of journalism for RTDNA's National Murrow Winner Reveal.
"Pierre Thomas is one of the most respected reporters in America, and his decades of service to journalism have made this country a better, more just place to live," said RTDNA President and CEO Dan Shelley. "His dedication to his craft and to the First Amendment is an inspiration to all journalists, and we at RTDNA are proud to consider him a friend."
A former Washington Post reporter, Thomas was part of a team whose work was a finalist for the Pulitzer Prize for reporting on illegal gun use in the Washington, D.C., region. While at the Post, Thomas received the Pass Award from the National Council on Crime and Delinquency for his article "Beyond Grief and Fear," twice won the Mort Mintz Investigative Award and was a finalist for the Livingston Young Journalist Award.
Thomas joined CNN as the Justice Department correspondent in 1997. He broke news on many fronts, including terrorism, cyber-crime, the hunt for Osama bin Laden, the FBI's Most Wanted list and the Justice Department's involvement in the Elian Gonzalez case. He started his career at The Roanoke Times and World-News. He is a graduate of Virginia Polytechnic Institute and State University and is a member of the National Association of Black Journalists. Thomas is a past chairman of the Reporters Committee for Freedom of the Press and is a member of the Gridiron Club, the nation's oldest and one of its most prestigious journalistic organizations.