RTDNF awards more than $35,000 to scholars, fellows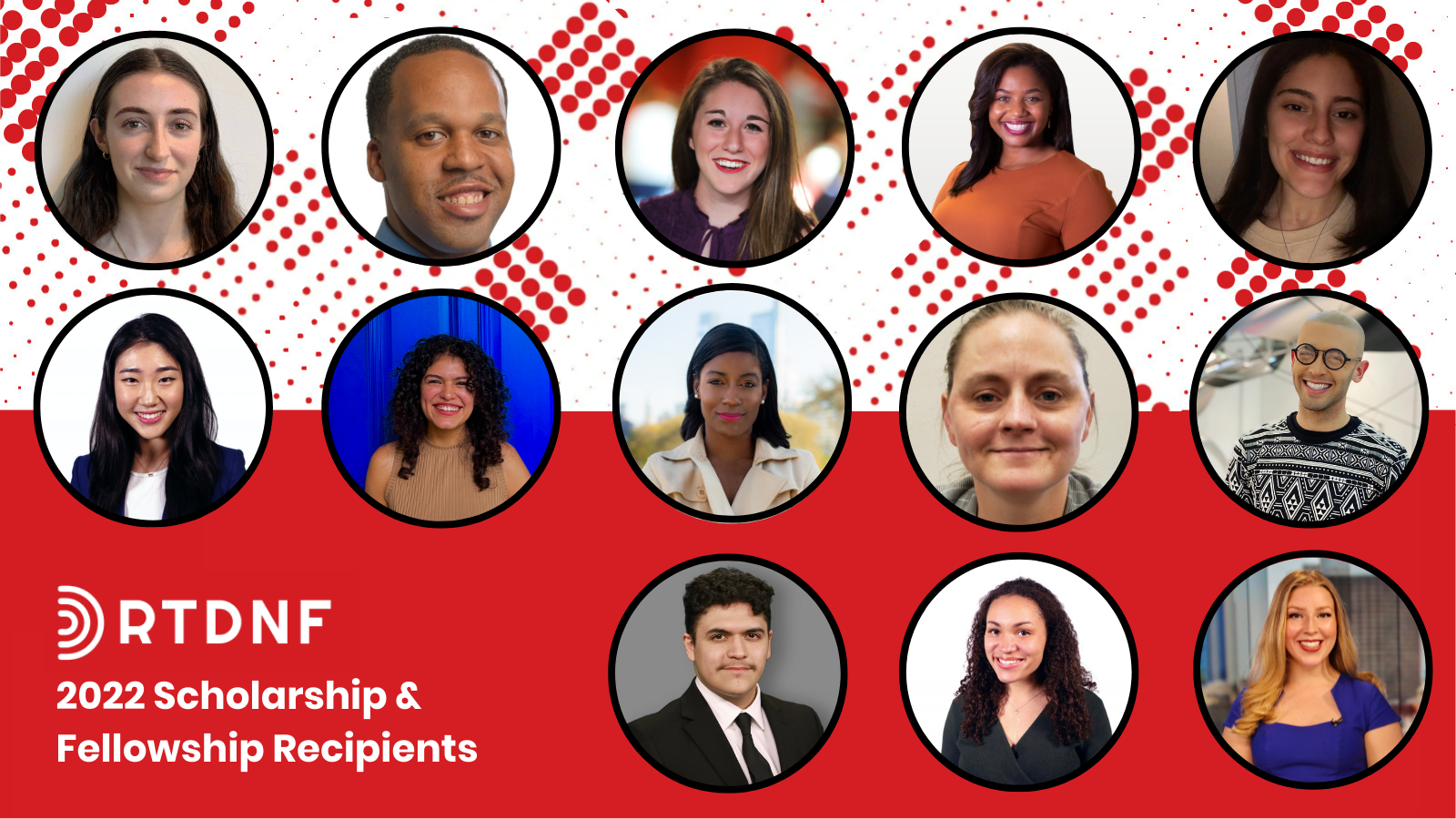 The Radio Television Digital News Foundation is proud to announce the recipients of the 2022 scholarship and fellowship program. This year, RTDNF is awarding more than $35,000 to 13 talented students and early career journalists.
Scholarship and fellowship winners also will attend RTDNA22, Sept. 14-16 in Indianapolis.
Since 1970, RTDNF has awarded more than $1 million in scholarships and fellowships to nearly 600 journalists as part of its mission as the educational and charitable arm of the Radio Television Digital News Association.
Many past recipients have enjoyed successful careers in journalism as reporters, anchors and news directors, or in related fields such as White House speechwriter, media regulatory attorney and journalism educator. Several former recipients have served as RTDNA board members and many are Murrow Award winners.
Here are this year's recipients:
---
David Louie Scholarship, presented by David Louie, the recipient of RTDNF's very first scholarship in 1970 while a student at Northwestern University's Medill School of Journalism. This $2,000 scholarship is given to full-time Northwestern/Medill students with a preference for applicants of Asian American descent.
Jenny Jiin Huh is a rising senior at Northwestern University studying journalism, marketing and Mandarin. Jenny is currently interning with the NBC News Los Angeles bureau and has previously been with the network as an intern for NBC Nightly News with Lester Holt. On campus, Jenny serves as co-news director for the Northwestern News Network, covering her school, as well as the local Evanston and Chicago communities. A Korean American, Jenny takes great pride in her bilingual, bicultural identity and dreams of incorporating real-time translation in her reporting.
---
Mike Reynolds Scholarship, in memory of the late KCCI-TV editor, this $1,000 award recognizes a student's writing and dedication to news.
Brooklyn Learned is a senior, studying journalism and mass communication at the University of Oklahoma. She is a single parent and a nontraditional student whose lessons learned through overcoming adversity have given her the tenacity she needs to achieve higher education and a career in journalism. She began her journalism journey as an editor and reporter for the student newspaper at a community college. Now at one of the top journalism programs in the country, she works as the editorial intern for Oklahoma's largest monthly magazine publication. She has a strong passion for telling stories that are not only a voice for the voiceless but that also evoke a desire for the community to listen and be greater connected.
---
Carole Simpson Scholarship, presented by barrier-breaking journalist Carole Simpson, this $2,000 award is given annually to a student of color and supports media diversity.
Julia Richardson is a senior at Northwestern University studying Journalism and Political Science. A reporter and producer at Northwestern News Network, Julia has also interned with Meet the Press and NBC Palm Springs. She spent the winter of 2022 in Washington, D.C. reporting on Capitol Hill. She loves political and social justice reporting and hopes to tell stories that make a difference.
---
Pete Wilson Scholarship, honoring the late San Francisco broadcast journalist, this $2,000 grant is awarded to a Bay Area journalism student.
Julietta Bisharyan is a multimedia and investigative journalist from the Bay Area. She hopes to tell the stories of communities whose voices are often ignored and to provoke change. Her work has been published in the Sacramento Bee, Berkeleyside, Armenian Weekly and the East Bay Times. Bisharyan is currently earning her master's degree at the University of California, Berkeley, Graduate School of Journalism.
---
Lee Thornton Scholarship, a $2,000 scholarship awarded to an undergraduate student in honor of Lee Thornton, the first African American woman to cover the White House for a major news network and the first African American host of All Things Considered on NPR.
Amanda Hernández is a rising senior at the University of Maryland, pursuing degrees in journalism and information science. Amanda has worked for both local and national news outlets, including The Diamondback, NBC4, and USA Today. She's currently working as a data intern for ABC News. Upon graduation, Amanda plans to pursue a career in data journalism where she can report in both English and Spanish.
---
Bob Horner Scholarship, presented by veteran reporter Robert Horner, this $2,500 scholarship is awarded to an undergraduate student studying journalism or communications with aspirations of a career in broadcast or video journalism.
Lexi Esterle is a Senior Telecommunications and Journalism student at Ball State University. She grew up in Fishers, IN. Today, Lexi is working toward a career in Television News Producing. She would like to write and produce broadcast content for a national media organization in the future.
---
Presidents Scholarship, a $2,500 award in memory of past RTDNA presidents in recognition of two broadcast journalism students' excellence.
Maximillian Boudreaux was born in Detroit, MI, and developed a love of storytelling early on during childhood. After serving in the military and being deployed to Iraq he further gained an appreciation of video when he witnessed public affairs soldiers sharing stories about the military. He attended the University of Michigan majoring in journalism but his aspirations to become a journalist were solidified when he worked for ABC News during the Ahmaud Arbery trial.
Kaylee Staral is a multimedia journalist and rising senior at Marquette University in Milwaukee. Graduating in December, she is pursuing a degree in journalism with concentrations in digital media and communication leadership. Kaylee is currently a CNN Newsource Production Intern at the CNN headquarters in Atlanta and has previously worked with the Milwaukee Journal Sentinel, WTMJ-TV and her school's student media program. With a passion for meaningful storytelling, she hopes to pursue a career as a broadcast journalist, educating and informing the community she serves.
---
George Foreman Tribute to Lyndon B. Johnson Scholarship, presented to a student at the University of Texas at Austin, this $6,000 award established by the boxing champion honors his inspirations, President Johnson and RTDNF Founder Barney Oldfield.
Jackie Ibarra is a first-generation journalism student from San Antonio, TX. She's a rising senior at the University of Texas where she currently works at The Drag, an audio production house in the Moody College of Communication, as a host and producer of a true crime podcast. At UT, she's also a writing coach who helps students perfect their craft. She's worked at publications like The Daily Dot, Latinitas, and The Daily Texan.
---
Ed Bradley Scholarship, a $10,000 award presented to an outstanding student of color in memory of the late CBS News' 60 Minutes correspondent and groundbreaking journalist.
Kevin Palomino is fond of stories that move hearts and change mindsets, and that's why he is a junior pursuing a bachelor's in broadcast journalism at the University of Oklahoma. For the past two years, he worked as a full-time reporter for Telemundo Oklahoma — the only Hispanic news station in the state. During his tenure with Telemundo, he worked for the Hispanic population with the objective of telling their stories truthfully and humanely. Kevin uses his identity as a Mexican immigrant to perfect his reporting skills in English and Spanish. He hopes to work as a bilingual reporter after graduation.
---
N.S. Bienstock Fellowship, established by Richard Leibner and Carole Cooper of the talent firm now known as Bienstock, a UTA Company, this $2,500 award supports a new professional minority broadcast journalist.
Antionette Lee is a general assignment reporter at KYW Newsradio in Philadelphia. She created and developed the positive news segment, Philly Rising, which has helped establish her as a well-known and trusted voice for communities across the Delaware Valley. She is also a contributor for Bridging Philly, an in-depth community affairs show and podcast which examines critical issues facing underserved communities in the region. Her efforts contributed to an award from the Pennsylvania Association of Broadcasters for Outstanding Radio Public Affairs Program in 2022.
---
Michele Clark Fellowship, named for the CBS News correspondent tragically killed in a plane crash while on assignment, this $1,000 award supports a new professional minority broadcast journalist.
Raquel Harrington is an Emmy-Award-winning journalist at FOX61 News in Hartford, CT. She joined the FOX61 team as the first Race and Culture reporter/multimedia journalist in 2021, built on the foundation of "representation matters." In her role, she works with the sole mission of amplifying the voice of underserved and underrepresented communities and highlights programs, events, and happenings that impact Connecticut's melting pot of cultures. Raquel prides herself on showing up as her authentic self and wearing her natural hair on-air to be the representation she always wanted to see as a child.
---
Jacque I. Minnotte Health Reporting Fellowship, created to honor former news director and Medstar executive Jacque Minnotte, who died in 1993. This fellowship recognizes excellence in health or medical television and radio reporting.
Michael Nedelman is an Emmy-nominated TV producer, most recently covering health and medicine for CNN. He's also pursuing his MD at Stanford School of Medicine, where he was previously named its Global Health Media Fellow. Coming to medical school with a film degree from Yale, Michael has focused on merging his health and media backgrounds in order to cover a range of stories including the rise of vaping among youth and the COVID-19 pandemic.