The Newsroom Animator Experiment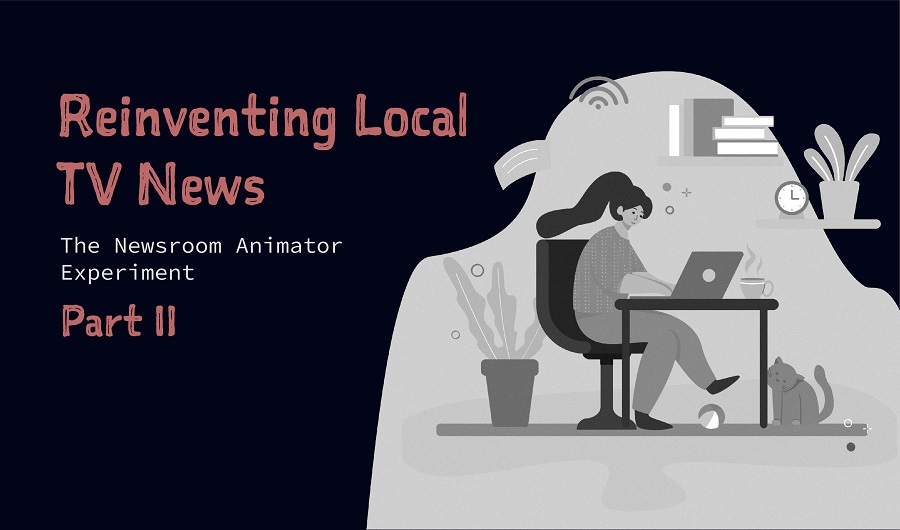 By Mike Beaudet, Anna Campbell, and John Wihbey
Introduction
The experiment with animation began with a simple design: start with quality journalism covering meaningful topics, add in creative storytelling using animation, and see if more people will watch.
We teamed up with WLS-TV ABC7 Chicago and WCVB-TV NewsCenter 5 Boston, helping them hire animators, known as Visual Content Producers (VCPs), for one-year fellowships with the support of the Stanton Foundation.
It happened at a time when many television station groups have consolidated their graphic design departments into hubs that provide content for multiple newsrooms. But we wanted to take graphics and animation to the next level by prioritizing them and creating a new editorial position directly inside the newsroom. We hoped the closer working environment would foster one-on-one collaboration with other producers, reporters, photographers, and editors, and leverage the power of animation in video news storytelling to help viewers better understand what they're watching.
The experiment was part of the Reinventing Local TV News (RLTVN) Project at Northeastern University. We started researching the future of local television news in 2017 and two years later recommended stations consider hiring animators as they work to break the decades-old and often stale local TV news formula. We unveiled our new research last week, which makes the case for video innovation and animation.
But animation doesn't happen without a special type of creative force: animators.
The Animators
Adriana Aguilar and Bob Curran began their work at WLS-TV and WCVB-TV, respectively, in the fall of 2019. Both had recently graduated with art degrees specializing in animation, and have been enchanted by the medium from a young age.
"My childhood was not an easy one," explained Aguilar in a Q&A with Storybench in 2020. "I emigrated from Central America with my mom and siblings as she attempted to escape domestic violence and poverty." She went on to emphasize the positive impact that visual media had on her upbringing. "We would check out a ton of animated DVDs and graphic novels [from the library] and despite everything else, we managed to have some really nice moments because of it."
Adriana Aguilar worked as a Visual Content Producer at WLS-TV
Curran also recalls early influences. "I started as a kid just consuming a lot of animation, whether it be, you know, Nickelodeon, Cartoon Network or some really good feature films," he says. "Animation helps the audience understand the topic and be engaged with it rather than just listening, and it going through one ear and out the other."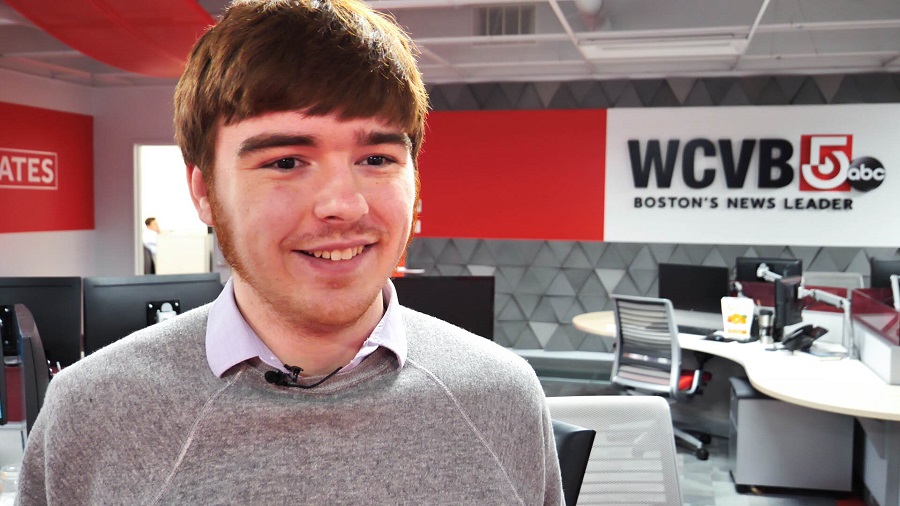 Bob Curran worked as a Visual Content Producer at WCVB-TV
Neither had any journalism experience as they suddenly found themselves working in newsrooms in two of the country's largest media markets. But their love of creating animation to tell stories attracted them to these new positions––and helped them speak directly to members of a younger demographic who have come to expect these elements in their media.
"It's been very fulfilling for me," says Aguilar. "It's not only about what you say, but also how you say it. That's a very important aspect of storytelling."
Both of their mornings started in the editorial meeting in the newsroom where the stories of the day are discussed. They often had the same questions on their minds as they tried to figure out how animation could improve the news of the day: Which story lacks video? What data needs visualizing? Which complex process can be simplified?
"Having Adriana's voice in our morning meeting every morning and having her pitch in with ideas on how she can use her skills to take our storytelling to the next level has been terrific," says Jennifer Graves, Vice President and News Director at WLS-TV ABC7 Chicago. "We were really able to innovate and tell a story through those graphics, not just add a relevant piece of information, but really try to enhance the storytelling and bring some value for the viewers."
As the day's news plan developed, and Aguilar and Curran juggled multiple projects, their days would include back-and-forth brainstorming of ideas with members of the news team about the vision for the animation, drawing sketches and storyboards (if time allowed) of what the animation would look like, and then spending hours in front of their computers creating the animation.
They used tools from the Adobe Creative Cloud including After Effects with plugins like GeoLayers, Illustrator, and Photoshop, along with Google Earth Studio and Autodesk Maya to produce animated drafts. After ongoing discussions with everyone from reporters to editors, a final animated product was eventually delivered and ready for broadcast and online platforms. With some stories it took only a few hours to produce the animation. In other, more complicated reports, the animation required days of work.
"Not all stories lend themselves to video. Economic stories: vitally important to the average American right now. But how do you make them interesting?" says Bill Fine, the recently retired General Manager at WCVB-TV Boston. "For those stories that are hard to tell with video, animation helps bridge that gap."
Breaking the Mold
Aguilar and Curran kept journals chronicling their acclimation to their newsrooms as this "in the wild" experiment unfolded.
After a year embedded with the stations, our VCPs noted that despite feeling like they were somewhat "thrown in the deep end" on day one, it was exciting to watch "the evolution of the news industry in real-time."
It wasn't always easy. Some TV station employees didn't understand why the stations hired animators and treated Aguilar and Curran as producers, when they already had graphic designers working in their creative services departments. Plus, the stations relied heavily on an established graphic look for their news product.
"In short, they're the mold, and I'm here to break it," wrote Curran in his journal. As his time with the station came to a close, he noted, "For future VCPs, I would recommend immediately discussing details about workflow that includes file formats, timing, general style guides, and maybe some incorporation with the creative services department while still remaining stalwart in the fact that this position is meant to expand the visual style of the newscasts."
Aguilar agreed that it was sometimes difficult to be the station's designated non-conformist. "We were brought on to a mold, but it becomes difficult to deviate outside of that without support and safe spaces to make our ideas and work be heard and hold a significant weight." Nonetheless, she felt her animation made a real difference.
"It is the hope for me that the media and output of the work that I do impacts other people," says Aguilar. "That it will help them understand things that were maybe outside their realm… blind spots in how they view the world."
A Demanding Role
There were also challenges as the animators tried to balance the demands of working on daily news stories with longer-term projects.
"Extremely busy day," Aguilar wrote in her journal two months into the job. "Worked on three animations and had to stay a bit late."
Because of the time it can take to create animation, both Aguilar and Curran gravitated toward longer special projects and investigative stories, which allowed greater collaboration and lead time before the deadline. But the realities of the news business required them to be nimble and shift gears without warning.
Another unexpected obstacle: the pandemic. As it hit hard in March 2020 and newsrooms shifted much of their operations out of their buildings, Aguilar and Curran were forced to move their workspaces to their apartments. But they adapted.
"This past year has been challenging and rewarding in many ways," says Curran. "Challenging in improving my craft in a way where I can produce a quality animation without compromising and in a very short amount of time."
Evidence of Success
But for Curran, Aguilar, and both station's news teams, the perks of prioritizing visual content were more than worth the effort they put in.
"We've proven that adding animation to local news stories improves their performances in both views and viewer retention," Curran comments. "A newsroom that has an animator is going to have a better chance at gaining the younger audience… we're talking millennials and GenZ."
"I sincerely hope that more newsrooms start considering this role a little bit more seriously," says Aguilar. "You can start innovating and catering to audiences that you may not even be aware of."
Those audiences are of course, increasingly, online. As stations and publishers turn their attention to building and maintaining a robust digital presence, integrating a VCP role is likely to become a key investment.
Our research project produced compelling early evidence that animation may lead to empirical gains with existing and new audiences. Our controlled experiments suggest this sort of content is promising in terms of activating audiences, meeting emerging consumer preferences, and differentiating media products. Audiences favored animated versions of stories over conventional ones by significant margins.
Further, the VCPs work also produced some promising internal station data.
For example, compared to the average video news segment WCVB-TV posted on its website over a one-year period, stories that included enhanced animation sequences by Curran garnered a 5% higher engagement rate (video plays per pageview) and a slightly higher completion rate (viewers who watched a video through to the end) as well.
After her fellowship ended, Aguilar was hired full-time to ABC's budding Data Journalism team, creating animated content across the network's O&O platforms. In the years to come, doubling down on innovative visual resources may pay off in big ways in parallel in both linear and digital frameworks.
What's Next
In our next post here at RTDNA, we'll take a deeper dive into the data that shows how viewers interact with and respond to animation in video news storytelling. Our final post will provide a roadmap for stations that want to integrate more animation into their on-air and digital news products.
If you're interested in the project, please reach out to us. We would be happy to advise, chat about our experiences, or hear about yours. Contact project lead Mike Beaudet at m.beaudet@northeastern.edu.
---
Mike Beaudet and John Wihbey are professors at Northeastern University's School of Journalism. Anna Campbell is a Video Innovation Scholar in the graduate program at Northeastern. Beaudet is also an investigative reporter for WCVB-TV Boston.
---
Watch How Aguilar and Curran Made Stories More Visual, Clear and Understandable
WLS-TV Plane Crash A/B Test Stories
WCVB-TV Tax Fight A/B Test Stories