The Nobel Prize-Winning Journalists and their Call to Action
Date posted
December 17, 2021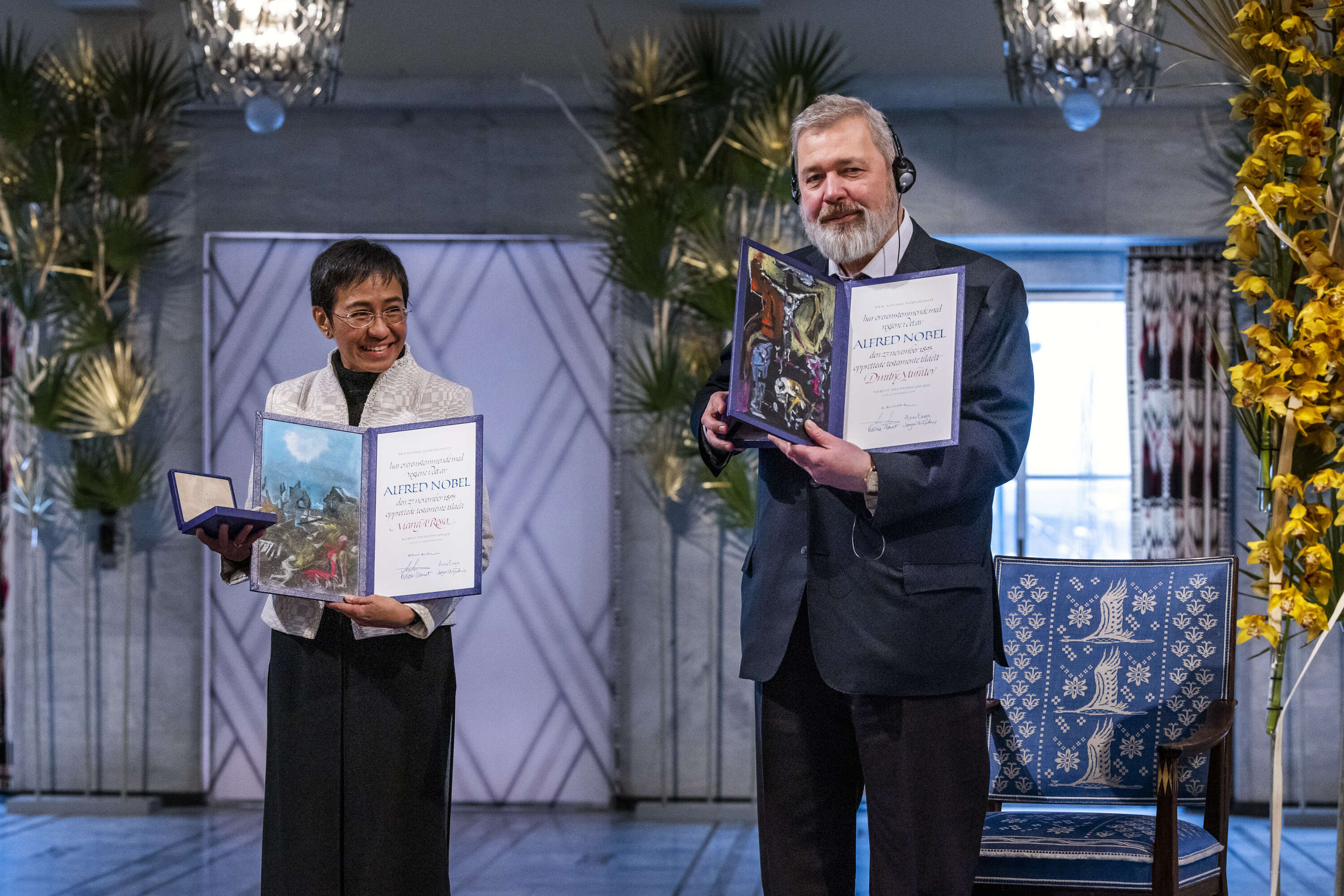 By Michael Castengera
RTDNA Contributor

The two journalists awarded the Nobel Peace Prize made a plea to journalists around the world, and for journalists around the world, in their acceptance speeches. It was especially striking because the two of them face challenges we can't even imagine — not just to their livelihood but to their lives.

Maria Ressa of the Philippines has been arrested 10 times, bailed out each time at huge expense, but still faces the possibility of life imprisonment. Dmitry Muratov of Russia has been threatened numerous times and has seen six of his co-workers killed. He may have put it most succinctly when he simply said in his speech, "I want journalists to grow old."
What are YOU Willing to Sacrifice for the Truth?

That was the challenge Ressa issued to journalists in her speech. She said she wasn't sure what she faced when she returned to the Philippines just because she's a journalist. She made clear that she believed in three principles underlying journalism:
Without facts, you can't have truth
Without truth, you can't have trust
Without trust, we have no shared reality, no democracy
Ressa leveled much of her criticism at the various social media companies — specifically naming Facebook — that she says are spreading anger and hate, dividing and radicalizing people and that she says "are biased against facts, biased against journalism." She specifically called for Section 230 of the Communications Decency Act, which protects web publishes from content posted by third parties, to be either reformed or revoked.

She likened the misinformation and disinformation being spread around the world to "an invisible atom bomb (that) has exploded in our information ecosystem." She called it "an algorithm of amplification ... a sleight of hand ... programmed by humans with coded bias" driven only by profit. She called it a kind of behavior modification system "in which we are all Pavlov's dogs, experimented on in real time with disastrous consequences."
---
Antidote to Tyranny

That was Muratov's description of journalists. He explained it by telling the group about a Russian saying: "When the dogs bark, but the caravan keeps walking." Muratov said some people interpret that as meaning nothing can hinder the progress of a caravan. But he says there is another meaning: that the caravan moves forward because of the dogs barking. Some politicians liken journalists to barking dogs who affect nothing. He sees it differently.
"They growl and savage the predators in the mountains and the desert," he said. "The caravan can move forward only with the dogs around. Yes, we growl and bite. Yes, we have sharp teeth and strong grip. But we are the prerequisite for progress."

And that prerequisite is the antidote to tyranny. But he fears that "the world has fallen out of love of Democracy" and "has begun to turn to dictatorship." But he made it clear journalists need to keep on fighting for freedom.

He said too many people believe progress can be achieved only through technology and the use of violence, but he said progress without freedom "is as impossible as getting milk without a cow." The story was one of many that Muratov told the group as he recounted the challenges facing journalists around the world, but particularly in Russia where he said journalism "is going through a dark valley."

It's not only the journalists but others as well who are being beaten, tortured and sexually assaulted in Russian jails. "Torture must be recognized as the most serious crime against humanity," he said.
---
Both Nobel Prize-winning journalists mentioned international groups with which they are involved. Muratov is working to get funding for an International Tribune Against Torture. Ressa is co-chair of the International Fund for Public Interest Media.

Both talked about the importance of "freedom of speech" and "freedom of the press," but the most interesting freedom cited may have come from Muratov. He cited an earlier Peace Prize awardee, Andrei Sakharov, who said that just as important was "freedom of conscience." Both emphasized the need for people, especially journalists, to take personal responsibility for what they say and do.

Ressa told a story about the first time she was arrested. The officer arresting her was obviously uncomfortable and told her, "I'm only doing my job." It's an excuse that many bureaucrats use — that they're only following orders. In a way, some journalists are doing a variation of that.

"That's how a nation – and a world – loses its soul," she told the group.

Michael Castengera is a newspaper reporter, turned television reporter, turned news manager, turned news consultant, turned university teacher. He is a senior lecturer at the Grady College of Journalism at the University of Georgia. You can read more of his writing on his Medium page.