---
RTDNA23, hosted by the Radio Television Digital News Association (RTDNA), will bring together hundreds of news directors, producers, reporters, editors, photographers, and other media professionals September 20-22, 2023 at The Renaissance Minneapolis The Depot, Minneapolis, MN
Attendees are interested in learning about journalism and media trends, new digital tools, emerging technologies, career opportunities, and more. RTDNA23 will provide job seekers and recruiters with a place to network and explore new opportunities.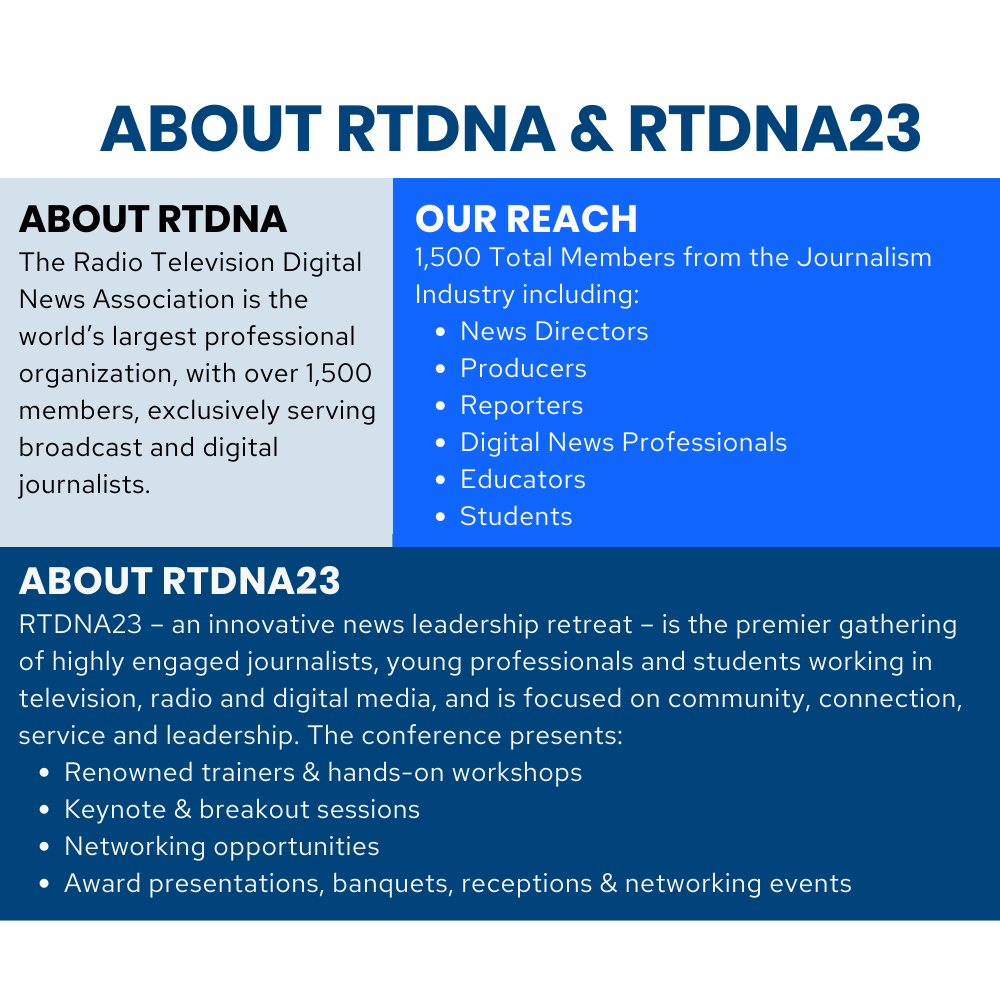 Sponsors Get All the Rewards!
Networking Opportunities
With a small, exclusive number of exhibitors, you will have multiple unopposed time periods each day to engage with the attendees. Exhibit space will also host a variety of activities to bring in the attendees.
Access
Highlight your company, job openings, services or opportunities branding conference lanyards, Wi-Fi or T-Shirts or becoming the exclusive sponsor of a Happy Hour or the Headshot Studio. Be the exclusive sponsor of a hospitality event like a breakfast or lunch, sponsor a snack break, and more! Create and maintain business relationships during some of the more "social" aspects!
Exposure
Looking for a way to make an impression? We offer a number of branded and experiential marketing opportunities to engage our audience. Our sponsor recognition package offers optimal exposure. Ads in our Program Guide allow you to put your message in the hands of attendees and serves as a great take-home reference.
Take a Look at All the Opportunities!
---
Important Deadlines
JULY 26 | Last day to reserve exhibits at Early Bird Rate
AUGUST 1 | Last day to submit ad artwork for printed program book
AUGUST 24 | Last day to reserve hotel room at group rate
AUGUST 25 | Registration "Missed Slot Rate"
---
Sponsorship Levels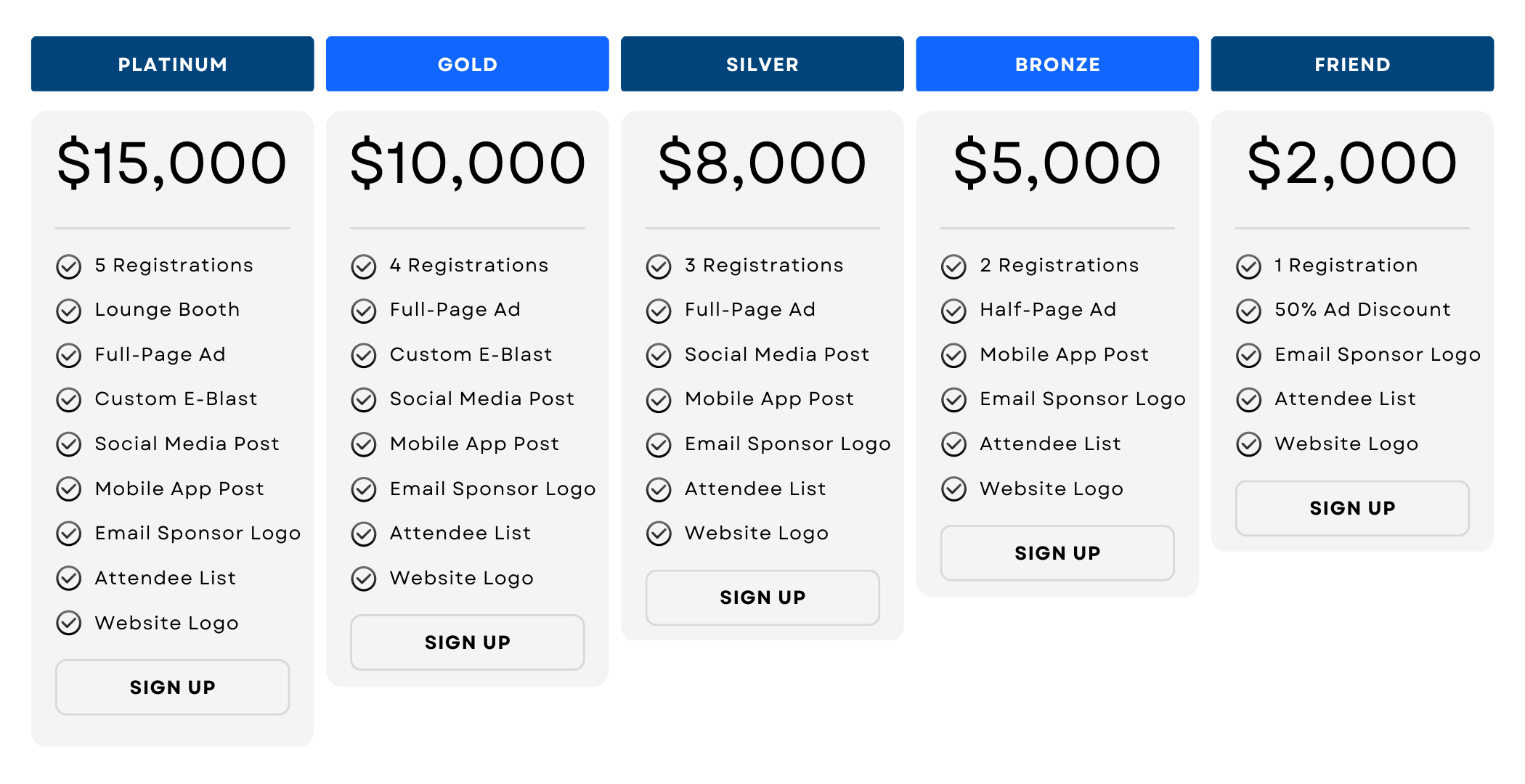 ---
Lounge Exhibit Space
Secure your space early! Booth selection is based on a first-come, first-served basis and is limited.

Exhibitor Benefits:
8' high back wall

6' table and 2 chairs

Recognition on the RTDNA23 Website

Listing on RTDNA23 mobile app with booth number, logo and description

Pre and post-conference attendee list (no emails), distributed as Excel file

Free conference WiFi

Time with the attendees!
Lounge Hours:
Wednesday, September 20 | 2 – 4:30 p.m.: Recruiter/Sponsor Lounge Move-In

Wednesday, September 20 | 5 – 7 p.m.: Welcome Happy Hour in Sponsor Lounge

Thursday, September 21 | 10 a.m. – 5 p.m.: Sponsor Lounge Hours

Friday, September 22 | 9 a.m. – 4 p.m.: Sponsor Lounge Hours

Friday, September 22 | 4 – 6 p.m.: Recruiter/Sponsor Lounge Move-Out
If booth payment is not received within 60 days of contract signing, RTDNA has the right to resell your booth. All payments must be received by September 14 or booths will be released to those on waiting list.
---
Additional Opportunities
Opening Night Party |
SOLD
Receive Platinum Level Benefits
Put your brand front and center at the RTDNA23 kickoff event on September 21. All attendees are invited for a night of networking fun!
Next Gen Luncheon with Introduction |
$10,000
Receive Platinum Level Benefits
The 2023 class of RTDNA Foundation Scholarship and Fellowship recipients will be recognized at this popular annual celebration. This diverse group of future journalists will travel to RTDNA23 to attend training and networking events. Many of these students are looking for their first jobs in journalism. Your sponsorship gives this class of recipients the opportunity to attend the conference and meet today's industry leaders at an event in their honor. Sponsorship includes an opportunity to give a brief introduction at this event. All food and beverage will be arranged separately and are the responsibility of the sponsor. Estimated F&B costs of $8-$15k.
Purchase Next Gen Luncheon with Introduction Sponsorship
RTDNA PAUL WHITE & JOHN F. HOGAN AWARDS RECEPTION |
$8,000
Receive Silver Level Benefits
RTDNA recognizes lifetime contributions to broadcast and digital journalism with these two awards. Position your brand with the best in journalism and esteemed recipients at this signature 1-hour reception immediately following the awards ceremony. Approximately 200-250 people attend this event each year. Multiple sponsors are welcome. All sponsorships include branding on event signage and promotions leading up to the event.
Purchase Paul White & John F. Hogan Awards Reception Sponsorship
WELCOME HAPPY HOUR |
$7,000
Receive Silver Level Benefits
Host a 1-hour cocktail reception at the conference hotel September 20, the night before the conference officially begins and be the talk of all attendees while they're picking up their registration materials. Sponsorship includes branded napkins, signage, and marketing of your exclusive event! All food and beverage will be arranged separately and are the responsibility of the sponsor. Estimated F&B costs of $3-5k.
Purchase Welcome Happy Hour Sponsorship
MIMOSAS, MARYS & MURROWS |
$7,000
Receive Silver Level Benefits
Host a morning informal reception with food and drinks at the conference hotel where all attendees are invited for more networking. Many Murrow winners will attend to help others learn their tips and tricks to winning! This is a great opportunity to meet with the best of the best award-winning journalists! All food and beverage will be arranged separately and are the responsibility of the sponsor. Estimated F&B costs of $3-5k.
Purchase Mimosas, Marys & Murrows Sponsorship
JOY & HAPPINESS SPONSOR |
$6,000
Receive Bronze Level Benefits
Looking to spotlight your company while also bringing surprise and delight to our attendees? Massages? Pet puppies? Flower arranging? RTDNA will work with Sponsor to organize and host a concept at or near the Train Depot to enhance the attendee experience. Sponsor concepts must be approved by RTDNA. Sponsor is responsible for all necessary costs associated with this joyful experience.
Purchase Joy & Happiness Sponsorship
RTDNA FOUNDATION STUDENT SUPPORTER |
$6,000
Receive Bronze Level Benefits
RTDNA Foundation awards more than $30,000 each year to deserving scholarship and fellowship recipients, most of whom are from traditionally underrepresented communities. We welcome these scholars and the next generation of journalists to join us for networking and training that will jump-start their careers. Your support defrays the cost of their travel and activities at the conference, which includes a three-night stay, transportation and events aimed at pairing scholars with News Directors.
Become a RTDNA Foundation Student Supporter
---
Brand Sponsorship
BRANDED CONFERENCE WIFI |
$10,000
Receive Gold Level Benefits
Partner with RTDNA23 and become our official Annual Meeting Wi-Fi sponsor! Conference Wi-Fi is a crucial productivity tool for all conference attendees. Wireless users will learn about the Wi-Fi network in the program guide and on-site signage. A quick search for nearby networks will produce the RTDNA23 WIFI network name and can be opened with the sponsor's custom password (character restrictions may apply). Users will be redirected to a "splash page" with an opportunity to feature your branding (depending on availability and provider).
Purchase Branded Conference Wi-Fi Sponsorship
NAME BADGE LANYARDS |
$9,000
Receive Silver Level Benefits
This exclusive sponsorship provides visibility on 300+ lanyards as your logo is printed alongside the RTDNA logo. They are distributed and restocked at our Registration areas throughout the show. RTDNA handles the arrangements for printing, shipping, and displaying this popular keepsake.
Purchase Name Badge Lanyards Sponsrship
SNACK BREAKS |
$8,000
Receive Silver Level Benefits
Conference-goers are eager to refuel every day. Be the one to supply them with a refreshment or snack plus introduce your company to attendees and invite them to connect directly with you. Sponsorship includes signage near snack stations, which are placed in the exhibit area.
Purchase a Snack Break Sponsorship
T-SHIRT SPONSOR
|
$6,500
Receive Bronze Level Benefits
An annual favorite and visibility that lasts for years! Sponsor's color logo + brief text on the back of RTDNA23 t-shirt offered to all 250 (projected) + attendees; RTDNA23 logo will be displayed on front. Additional benefits include: 4 full conference passes. Deadline to purchase: August 1st
Purchase a T-Shirt Sponsorship
COMMUNITY SERVICE PROJECT |
$5,000
Receive Bronze Level Benefits
Join attendees as we host a community service project to benefit a local Minneapolis-area organization. Align your brand with this volunteer activity we are so proud to host each year.
Become a Community Service Project Sponsor
OFFICIAL RTDNA23 HEADSHOT STUDIO |
$5,000
Receive Bronze Level Benefits
Whether you're a seasoned pro or just starting out, conference attendees won't want to miss the chance to boost their materials with a free professional photo. Brand this space in one of the lounges and get all the credit for providing attendees with this necessary element for all their personal marketing. Exclusive opportunity. Sponsor is responsible for any costs related to the headshot lounge set up (including lighting and photographer/digital capture), specialty furniture, A/V and/or F&B.
Purchase the Official RTDNA23 Headshot Studio Sponsorship
HYDRATION STATION |
$7,000
Receive Bronze Level Benefits
Provide refreshing infused water throughout the conference and keep the attendees in front of your brand! Hydration station to be set up in the thick of the conference traffic for the two days of conference, with branded signage. You may display literature at the station as well!
Purchase Hydration Station Sponsorship
SESSION SPONSOR | $3,000/each session

Receive Friend Level Benefits

Sponsor one of our many educational sessions and you'll have the opportunity to give a brief introduction of the trainer plus signage in the room and in the program recognizing your company. Session assignment made by RTDNA with an attempt to coordinate sponsorship of a topic of interest to your company.
MERCHANDISE SPONSOR |
$2,000
Put your brand in the hands of attendees and guarantee that it's seen everywhere! Send your schwag items (think hand sanitizer, tumblers, fidget games, and more) for all full conference attendees. Items to be available throughout the venue.
CUSTOM SPONSORSHIP
| $10,000 – $20,000
Benefits determined by Level of Support
Engage with the audience of your choice at this year's exclusive RTDNA23 retreat. Host a breakfast or luncheon. We can get creative and come up with other ideas as well that are customized to meet your corporate objectives.
---
Mobile App Opportunities
ANNUAL MEETING MOBILE APP SPONSORSHIP |
$7,000
Receive Silver Level Benefits
This useful tool is downloaded by conference attendees to their mobile devices and provides quick access to the program schedule, exhibitors, sponsors, and any other new or recent developments during RTDNA23. An exclusive sponsor-branded banner will appear each time the app is accessed, providing optimal exposure for your brand. Last year, the app had more than 30,000 different clicks, messages, and posts throughout the conference. Deadline for commitment is July 1 to allow for design and implementation time.
Purchase the Mobile App Sponsorship
PUSH NOTIFICATION
| $750
Create a personalized message to send out to conference attendees through the mobile app, like a text message. Push notifications are 140 characters and can include a link to an external website.
Purchase a Mobile App Push Notification
---
Communication Opportunities
DEDICATED ATTENDEE EMAIL BLAST
These emails are created by you and sent out by RTDNA23 staff on your behalf to all registered attendees.
August - $1,200
September - $1,500
PROGRAM BOOK AD
Full Page - $2,000 | Half Page - $1,800
Ads are available in the program book that attendees can purchase during registration. Ad artwork must be submitted by August 1 to make the program book.
KEYNOTE SEAT DROP
| $2,000
Create a branded message to drop on each of the seats in one of the Keynote events. The room will be set for about 200-300 participants. There will be at least two separate opportunities to purchase.
CONFERENCE WEBSITE
Place an ad on the conference website, the place where all those registered, or thinking about registering, go for their RTDNA23 updates and information! Ads run through the conference date.
Conference Homepage Leaderboard | $1,000
Conference Homepage Tower | $800